O'Neill's Hardware: Everything But the Kitchen Sink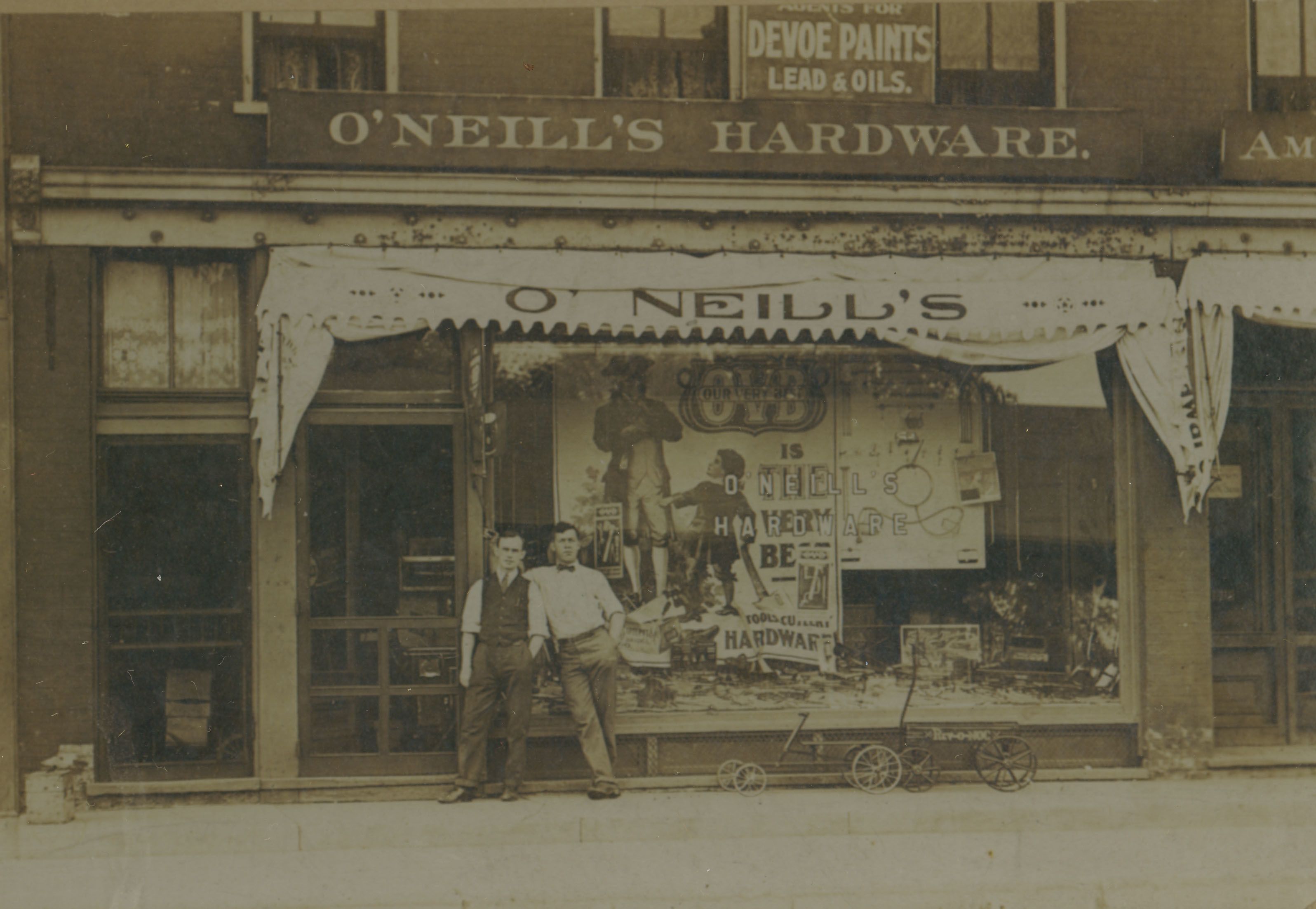 O'Neill's Western Avenue location, c. 1900-1910.
In 1868, Joseph O'Neill opened Lake Forest's first hardware store, O'Neill's Hardware. First located on Western Avenue near the current location of Gerhard's, sales for the initial $1,000 worth of stock were so brisk that in 1869, the store moved half a block south, opposite the train station, and expanded.
This 1905 receipt shows the purchases that Delevan Smith made at the store during the month of August, include a can of paint, wire, and plyers. Rather than each purchase being a one-time transaction like today, at the time customers had accounts with Lake Forest merchants like O'Neill's Hardware and settled them each month.
O'Neill's offered a diverse range of goods to appeal to a growing community. A 1905 newspaper advertisement lists: house furnishings, paints, oils, cutlery, tools, sporting goods, building papers, glass, stoves and ranges and garden supplies. In the autumn, displays of hunting equipment appealed to those who journeyed up to the country for sport.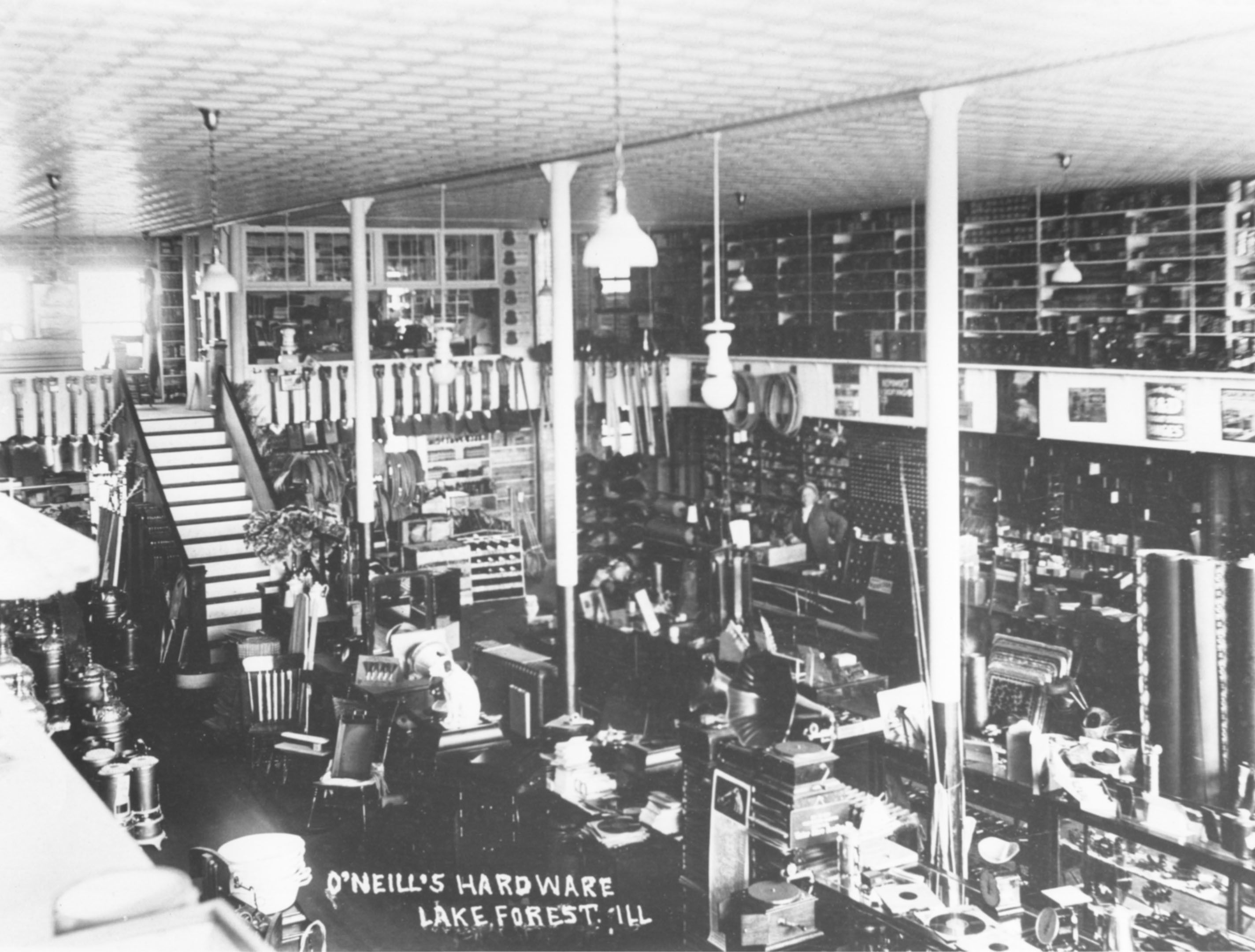 O'Neill's interior, c. 1910s, shortly after the move from Western Avenue to Westminster. Visible are fast-selling items of the times like kerosene room heaters (left) and Victrolas (center).
After an 1882 fire burned much of the small downtown, Joseph O'Neill erected Lake Forest's first brick business house for the hardware store. In 1913, with the Market Square shopping center in the works, O'Neill's relocated to Westminster just east of Western Avenue. The new building was large enough to house Lake Forest's first movie theater alongside the hardware store.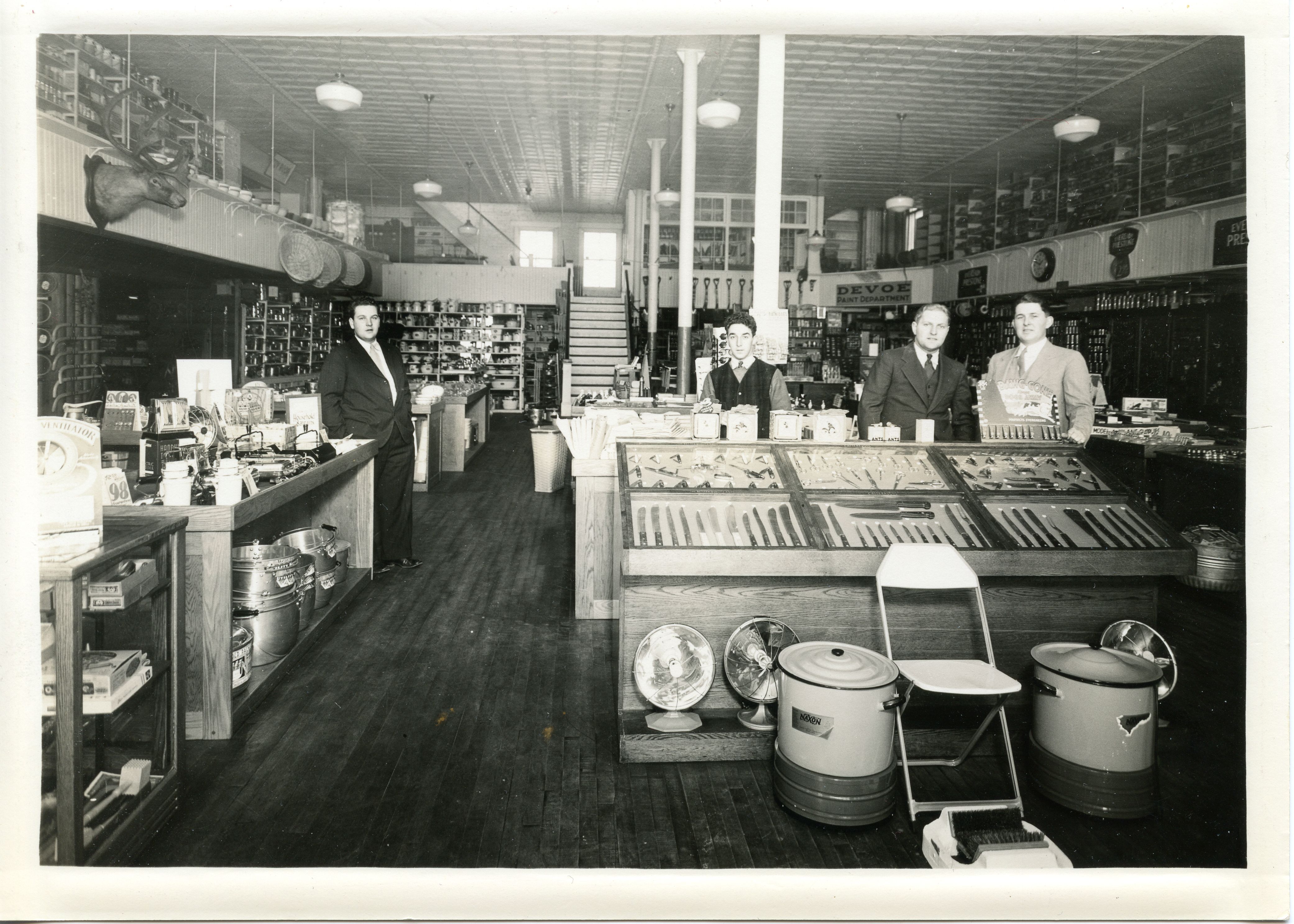 O'Neill's interior, c. 1940s. Left to right: Joseph O'Neill, Harold Julian, Ed O'Neill, unidentified. The prominent display of fans suggests it may be summertime.
The shop became a Lake Forest staple, operating for 130 years, 120 of them family-run. It passed down through four generations of Joseph O'Neills. In 1976, it was sold to Georgia and Bob Buckholtz and became O'Neill's TrueValue Hardware. They retired in 1997; the store building was sold and demolished.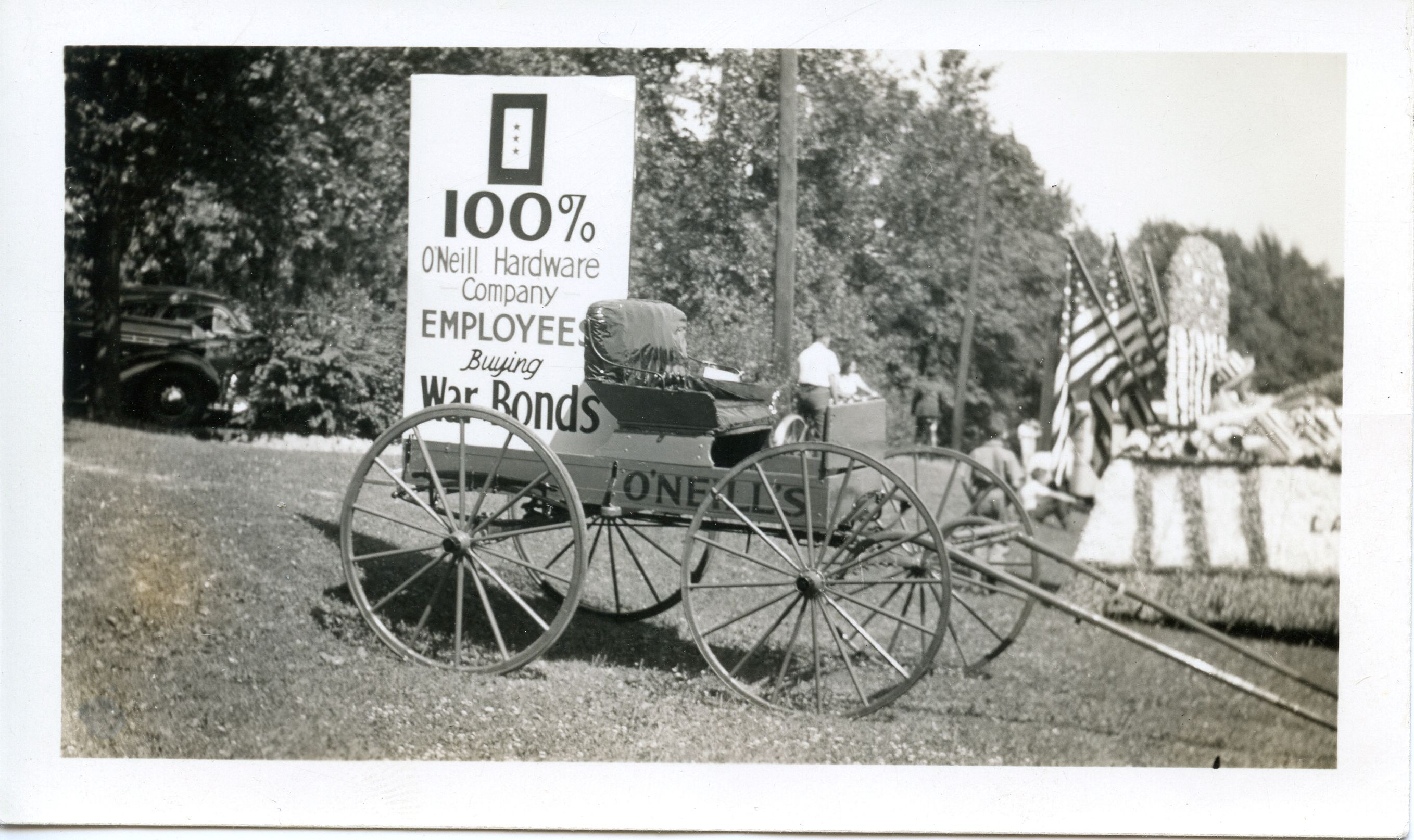 O'Neill's Hardware entry in the Lake Forest Day parade, c. 1941-1946.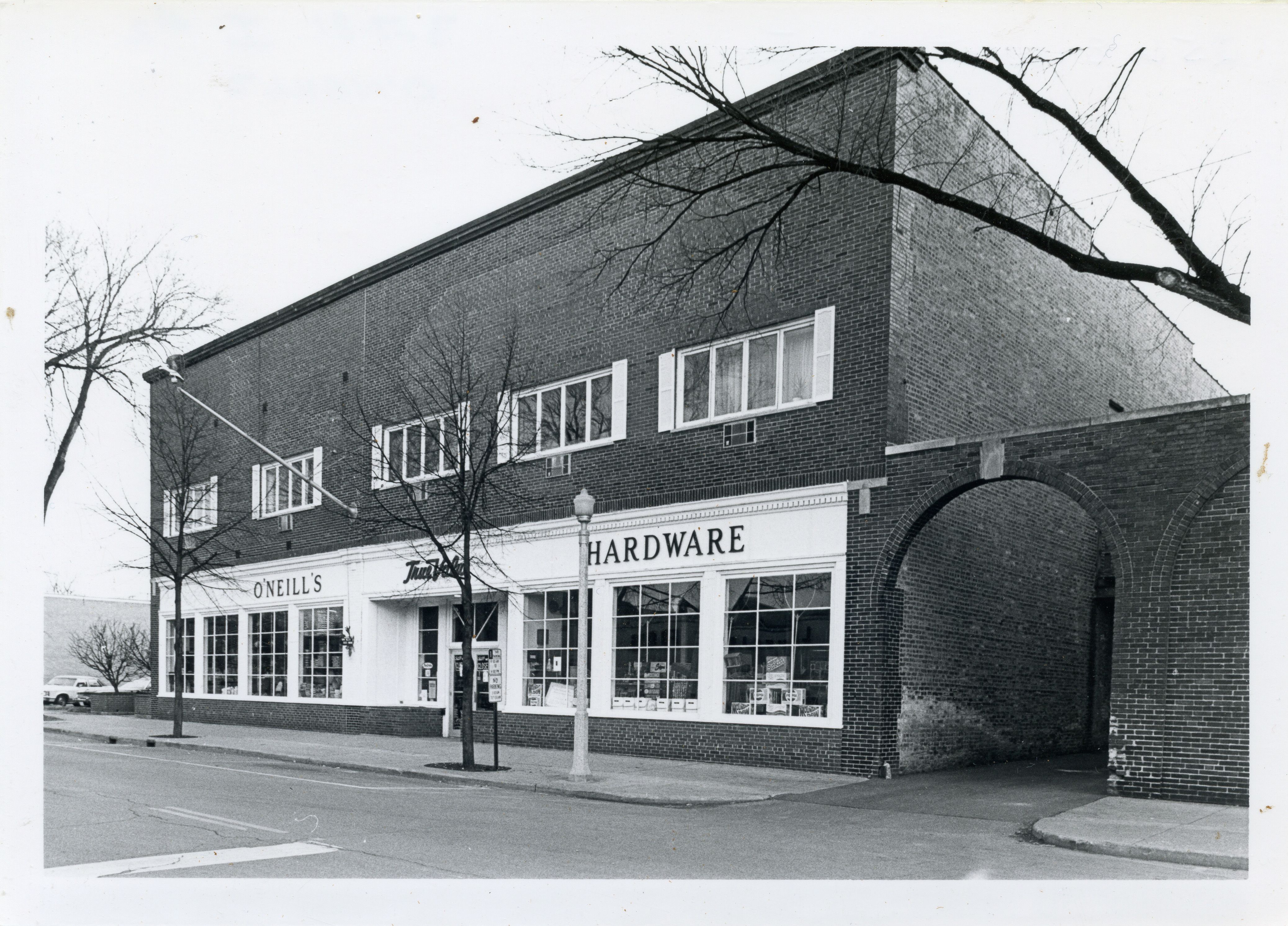 Looking northwest at O'Neill's Westminster store, c. 1970s.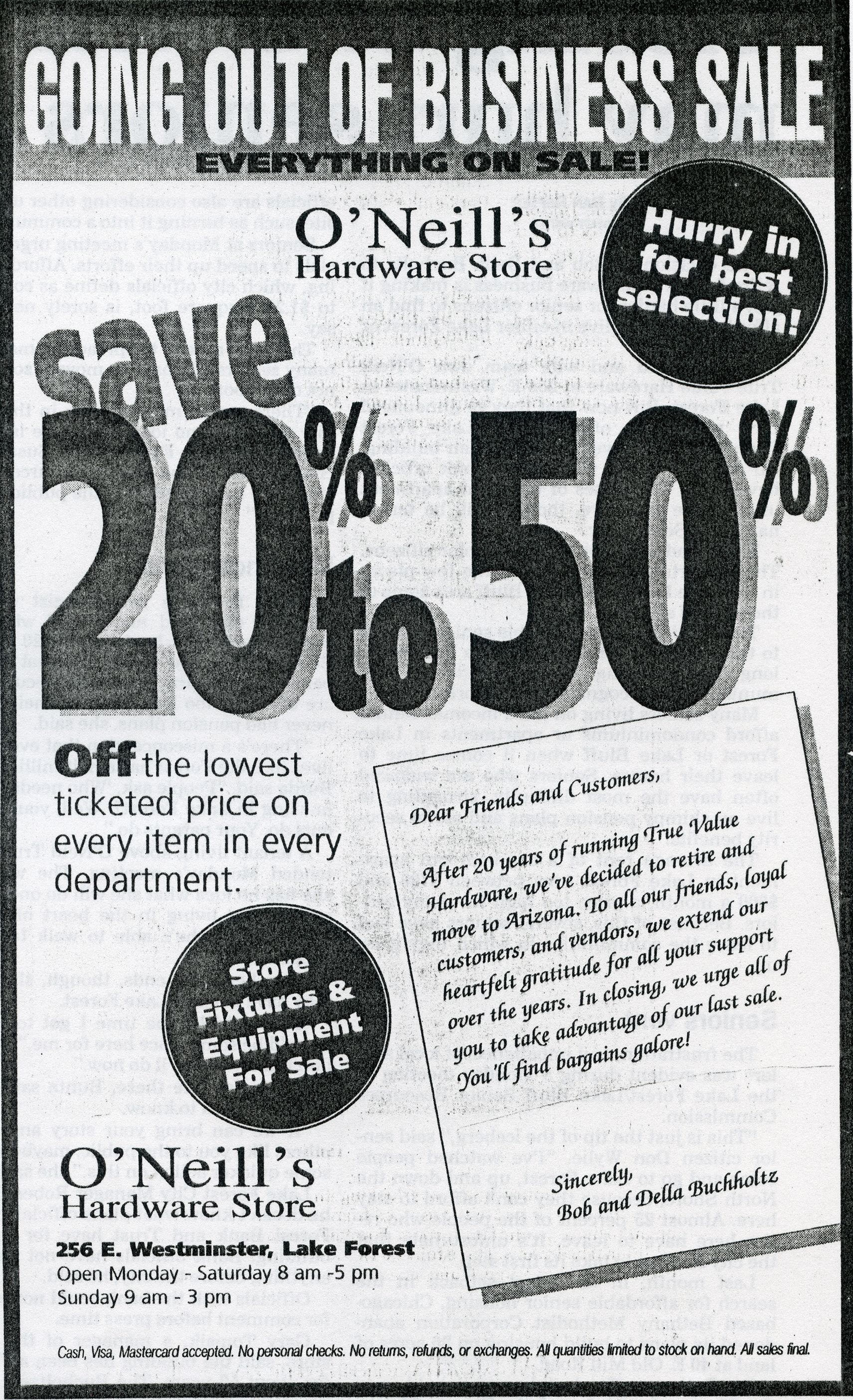 Ad in the July 17, 1997 Lake Forester, signaling O'Neill's going out of business sale. The closing of the store and sale of the building also affected the occupants of eight apartment units on the upper floor, raising questions about Lake Forest's stock of affordable housing.