Preston Family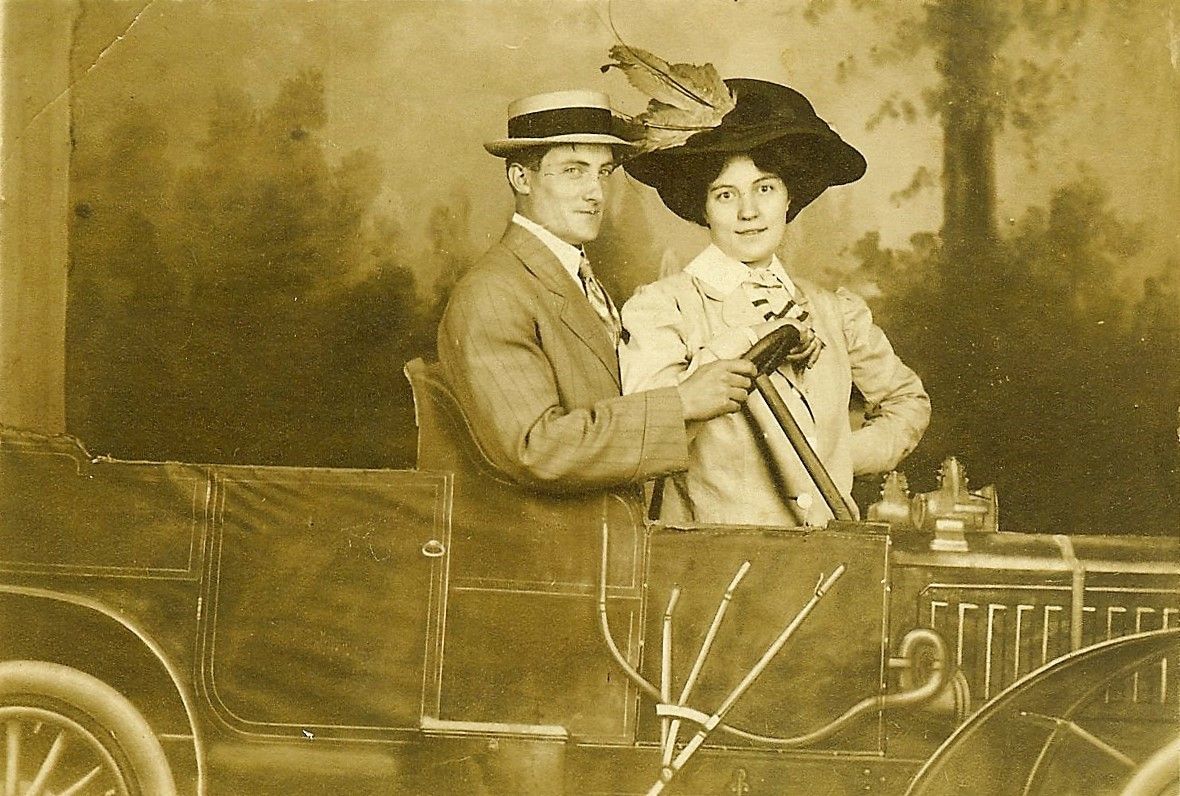 The Preston family's roots trace back to Edinburgh, Scotland. James and Catherine Preston had seven children – two, Robert and George F., would make their way to Lake Forest in the early 1900s.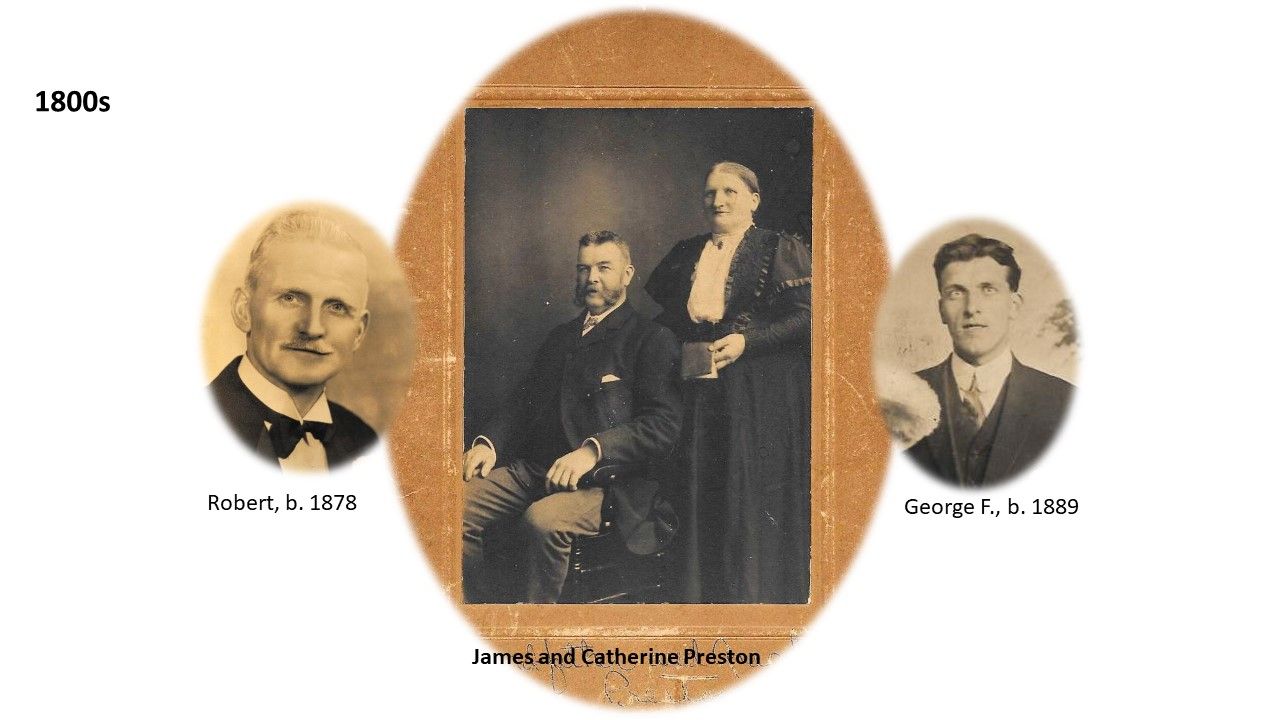 James Preston worked as a head gardener at an estate in Midlothian. He was well-respected in his profession and was instrumental in 1903 in helping to create the famous floral clock in West Princes Street Gardens, the first of its kind in the world.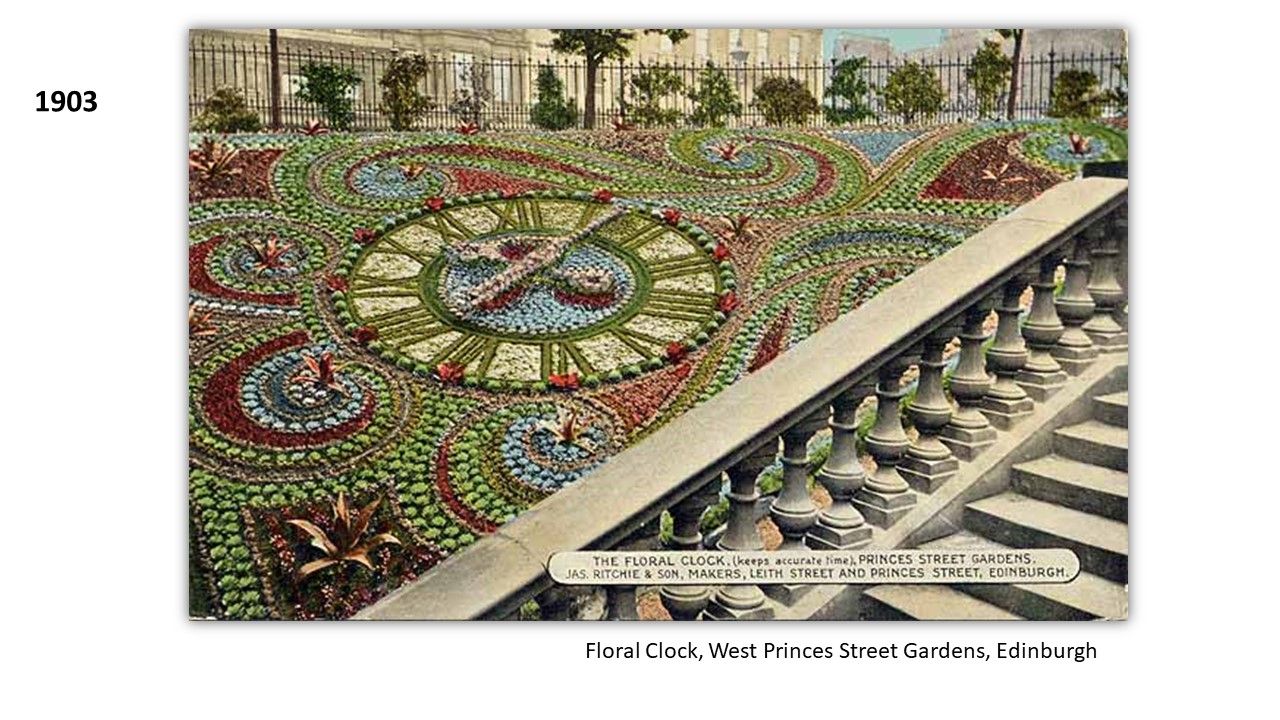 Robert Preston came to the United States in 1906 and three years later, his younger brother George followed, aboard the S.S. Caledonia from Glasgow. You can see the ship's manifest here, which indicates that George was a 20-year-old single male clerk, that he could read and write, that he was of British nationality and the Scotch "race," and that he was departing from Edinburgh and headed for Grayslake, Illinois.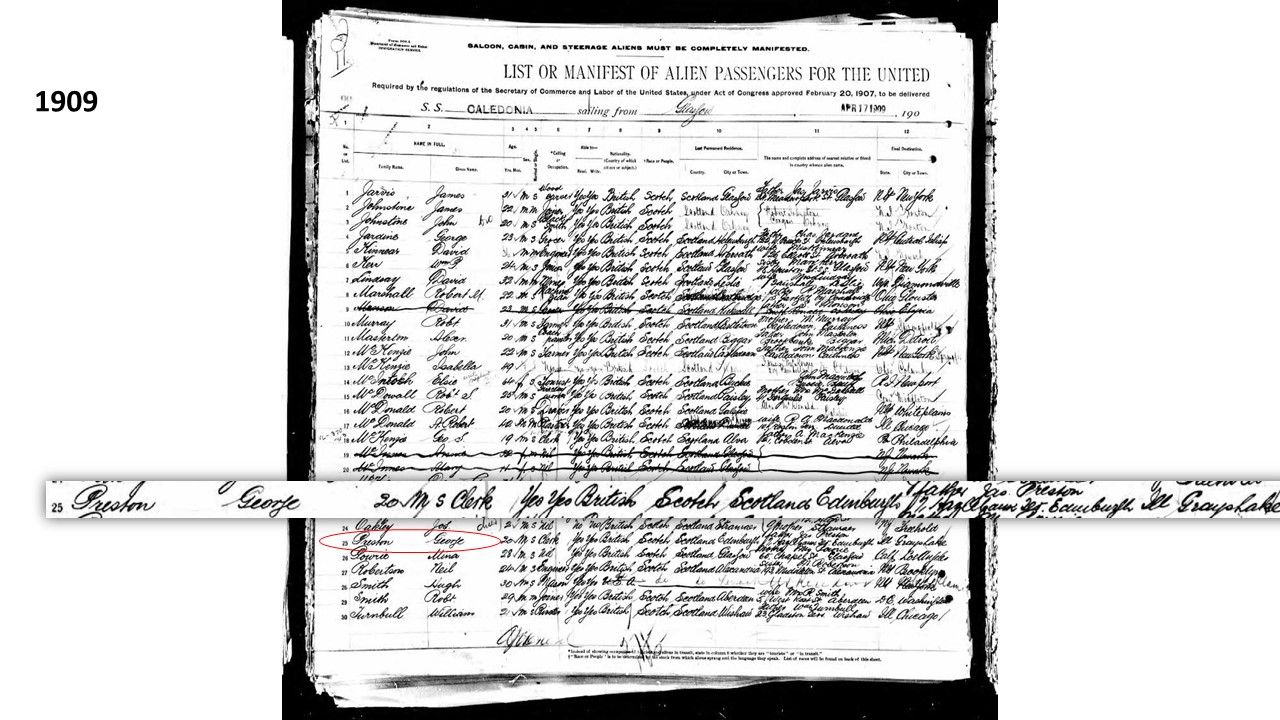 He and Robert joined a large and growing population of Scots in the Lake Forest area, drawn by connections with family and friends, by the area's large Presbyterian community, and by available positions in familiar professions, on estates or farms, as with Robert, or in the service industry, as with George.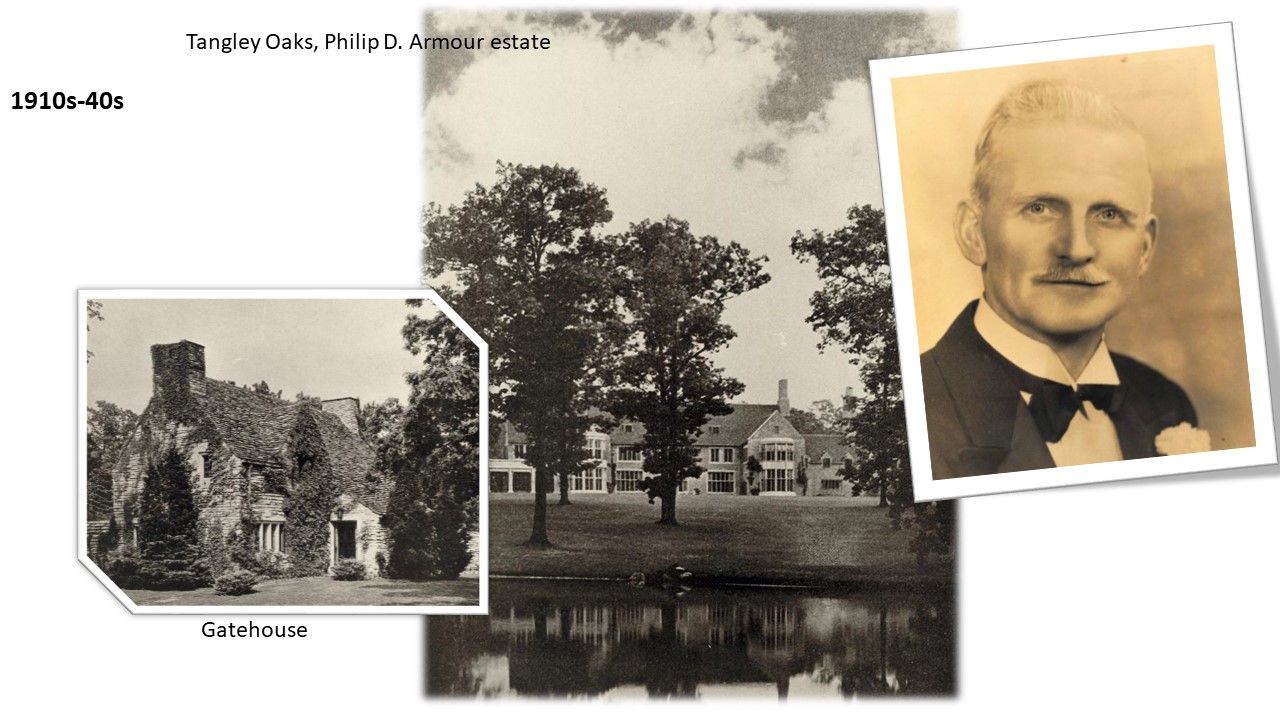 Robert Preston followed in his father's footsteps and became a master gardener. He belonged to the National Association of Gardeners and the North Shore Horticultural Society, winning awards in flower show competitions. The family lived in Lake Bluff in the gatehouse at Tangley Oaks, the Philip D. Armour estate, where Robert was head gardener.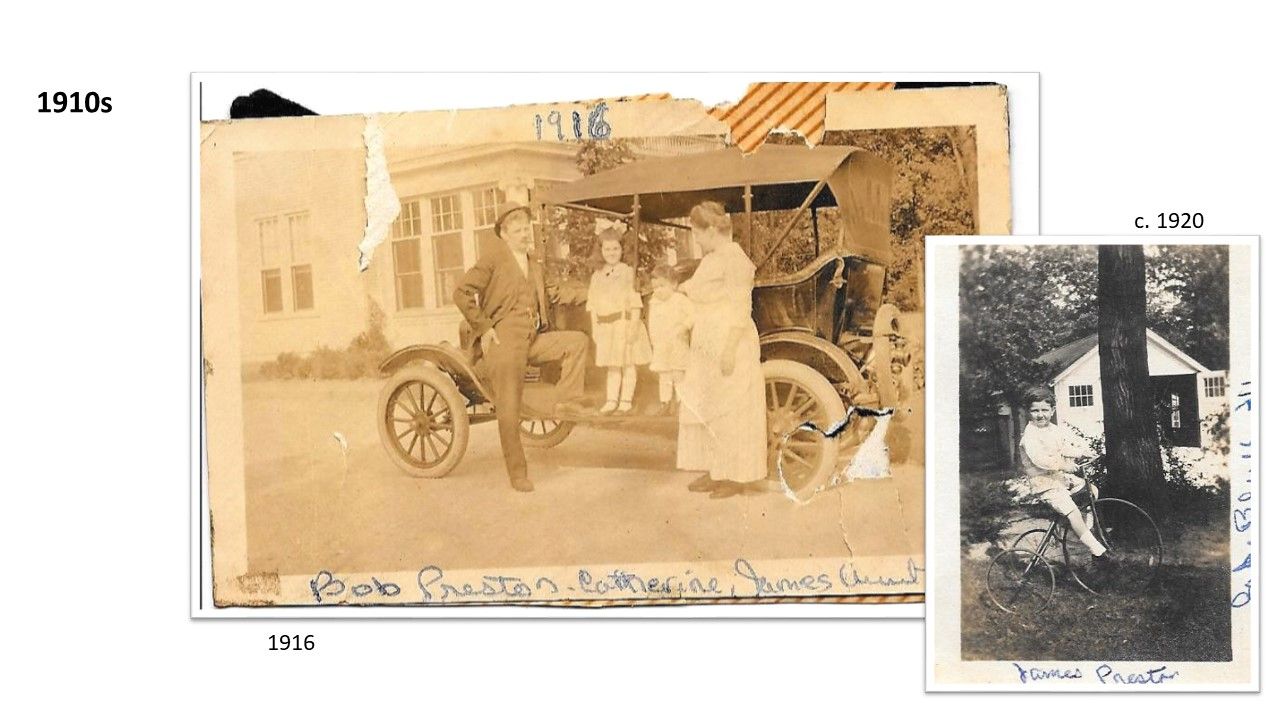 Robert married Katherine Martin in 1910; the pair had two children, Catherine and James. Catherine went on to be a teacher in the Lake Bluff public schools; James was a policeman and later a supervisor at Abbott Labs.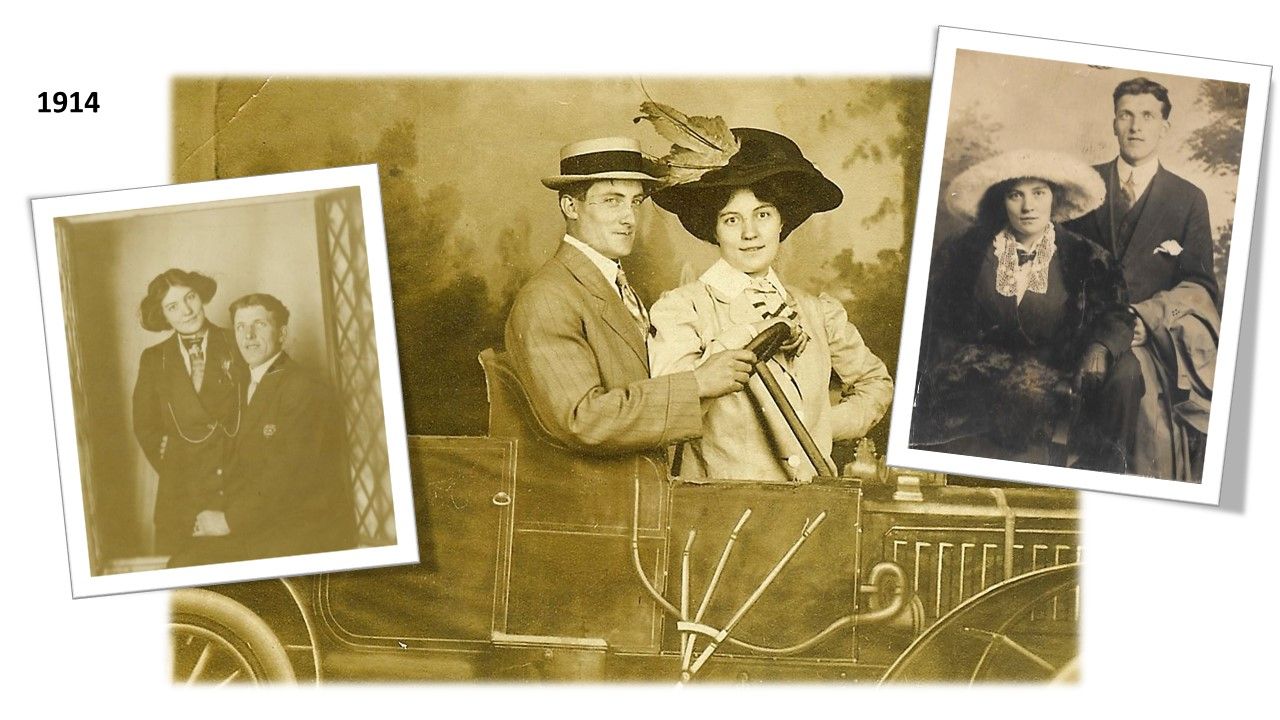 Upon arriving in the area, George F. Preston worked as a clerk at Anderson's General Store (where Walgreen's is today) and boarded with the Monahan family. He met Irish immigrant Agnes McDonnell and they married in 1914.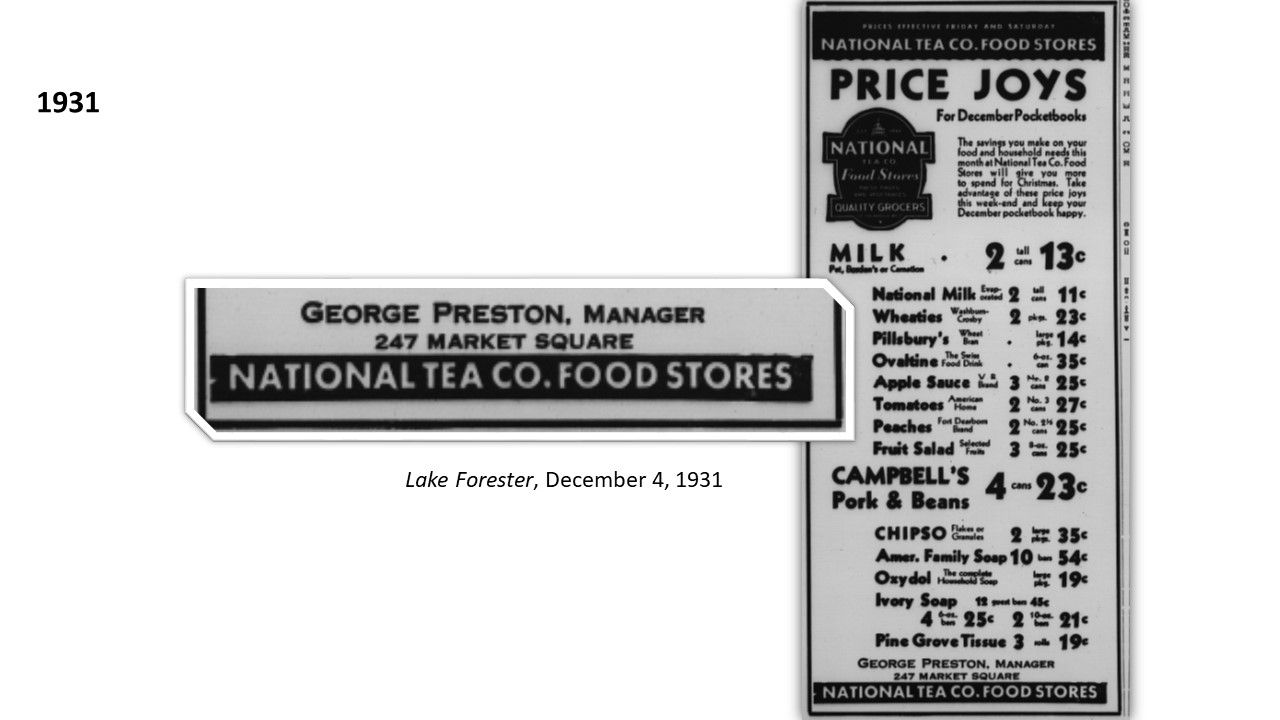 George Preston continued to rise in his profession. As Lake Forest's population increased in the 1910s and 1920s, so did the array of local grocery options. In the 1920s he worked for National Tea Company, a large Midwestern grocery chain owned by Lake Forest resident George Rasmussen (located in Market Square, where Talbot's is today). You can see an advertisement for National Tea from the Lake Forester here with some familiar brand names – Wheaties, Ovaltine, Pillsbury, Campbell's.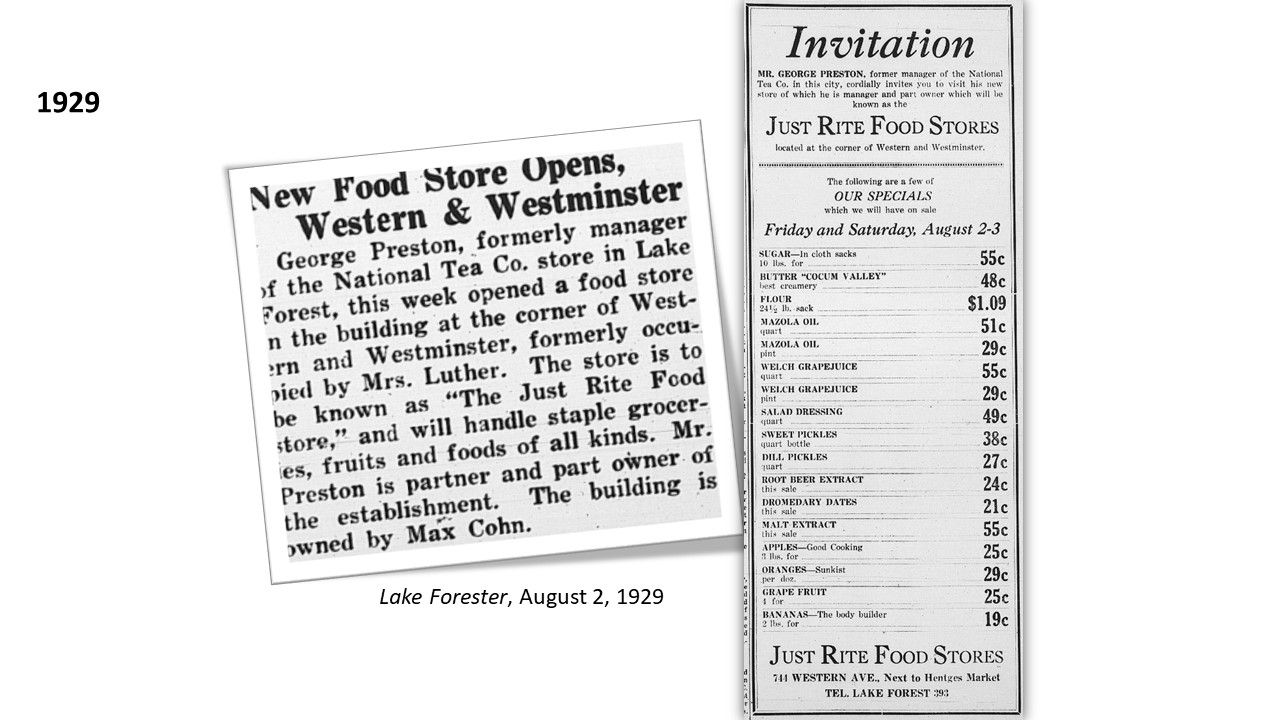 George F. Preston eventually amassed enough experience, capital, and connections in the community to launch his own business – a new grocery he called "The Just Rite Food Store," located at the corner of Western and Westminster. He sold "staple groceries, fruits and foods of all kinds." A notice in the newspaper just after he opened advertised Sunkist oranges, 29 cents a dozen; Welch grape juice, 55 cents a quart; root beer extract for 24 cents; and flour, $1.09 for a 24½ pound sack.

This was an exciting venture, for George and for his family. Unfortunately, the historial moment was less than perfect. "The Just Rite Food Store" opened at just the wrong time – August, 1929, a few short months before the crash and onset of the Great Depression. It was a short-lived concern.

Respect for George F. Preston in the community was high, however, and he soon reobtained his position as manager at National Tea Company, much better situated to last through the Depression. Over his career in the grocery business in Lake Forest, George Preston also worked at Royal Blue, Janowitz and Hahn Brothers.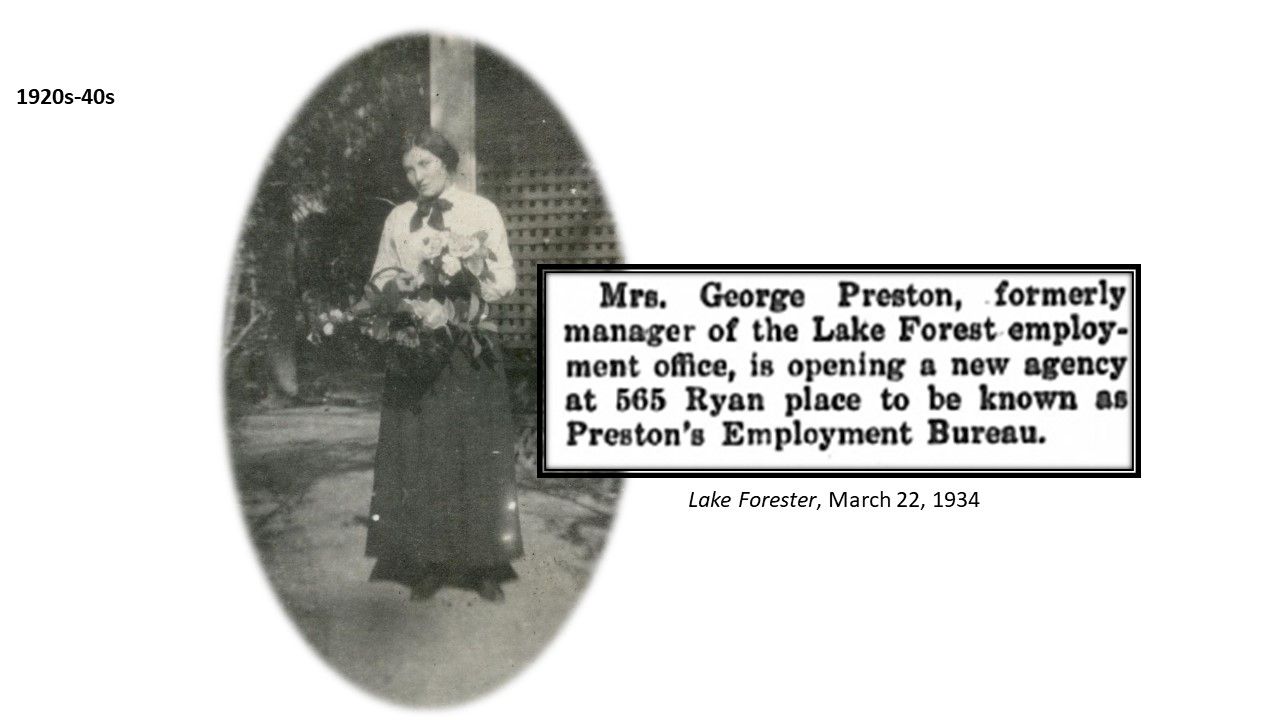 Fortunately for the family, George's wife Agnes Preston was also an entrepreneur, and in a field was peculiarly suited for stability during the Depression: she was employed in finding other people employment. Agnes headed the Lake Forest Employment Agency at 2 Market Square in the 1920s. In the 1930s she opened a new agency in her own name, called Preston's Employment Bureau.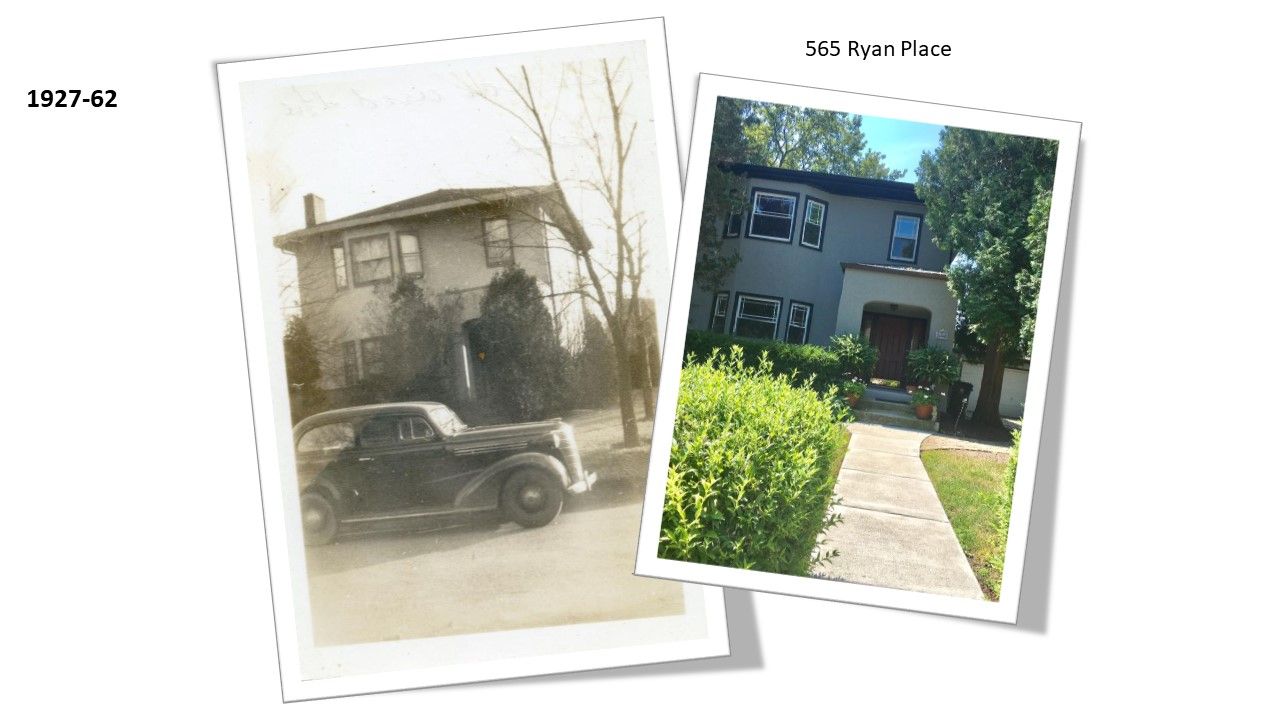 She ran the Bureau out of the new family home at 565 Ryan Place, where the Prestons moved in 1927. Agnes Preston, an Irish immigrant herself who had worked in the service field, drew on that experience, and on her large acquaintance in the community. She would help acclimate young immigrant girls, train them, and secure positions for them in the homes of wealthy Lake Forest and Lake Bluff residents.

At the time, there was a train stop at Ryan Place on the North Shore line; those seeking work would get off and walk down the block to meet with her. Others who already had jobs – thanks to Agnes – often would stop by on their way to east Lake Forest houses. She always had a pot of soup going and would serve job seekers lemonade in the family crystal, filling their bellies and offering a bit of dignity.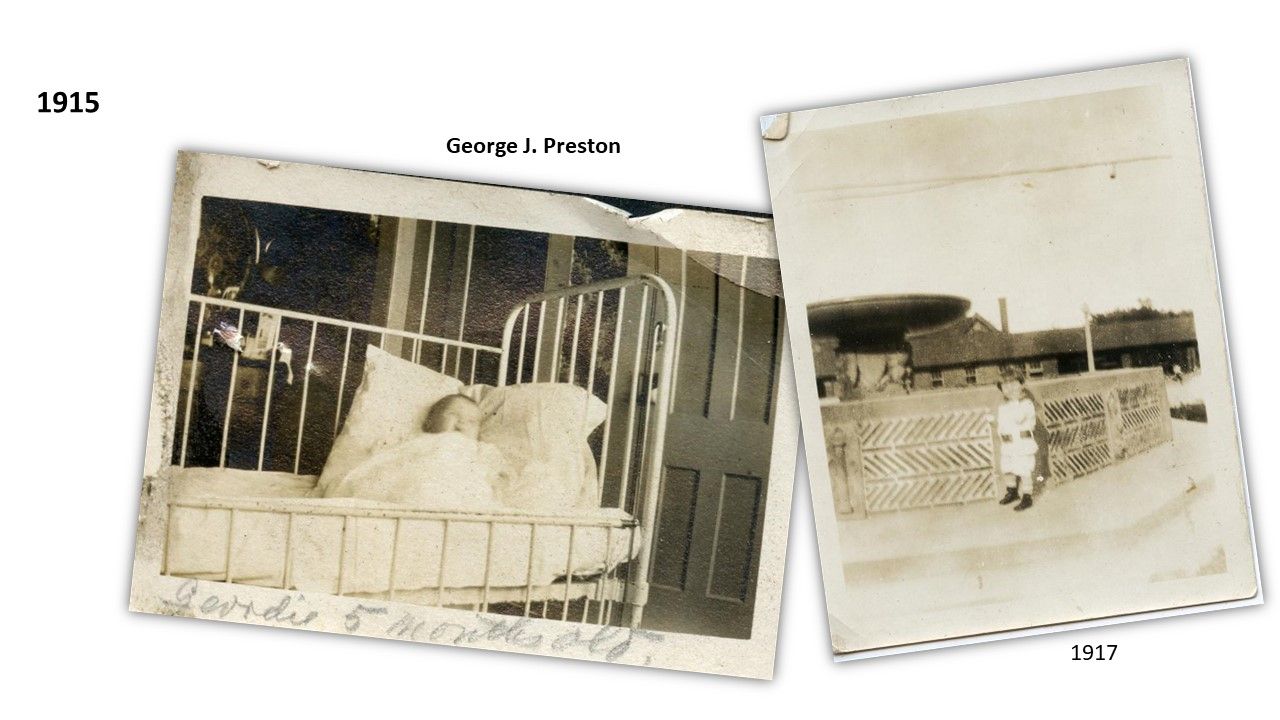 The eldest of the Preston children, George J., was born in 1915. The next year, Market Square was built. Soon, the family was residing in one of Market Square's second floor apartments. If you're keeping track, you'll remember that both George F. (at National Tea, where Talbot's is) and Agnes, at her employment agency in in one of the upstairs offices, worked in Market Square, giving them a combined commute of about 30 seconds apiece. (Their situation was actually one of the ideals that Howard Van Doren Shaw had in mind when he designed Market Square. He wanted to create true live-work space, which sounds like a modern formula – think artist "lofts – but was also very much of the Arts and Crafts ethic at the time.)
The Preston children grew up with Market Square, its green space, and its fountain as their front yard, as you can see from the photo here.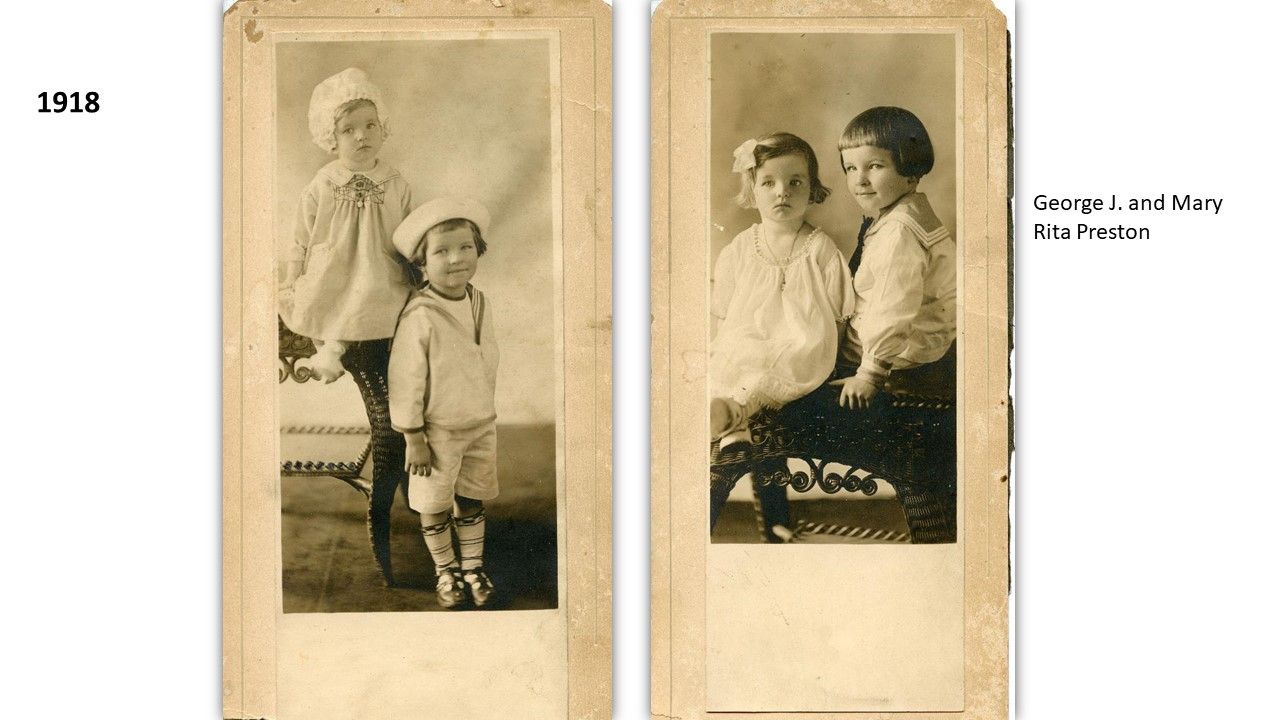 George J.'s sister Mary Rita Preston was born the next year, in 1916.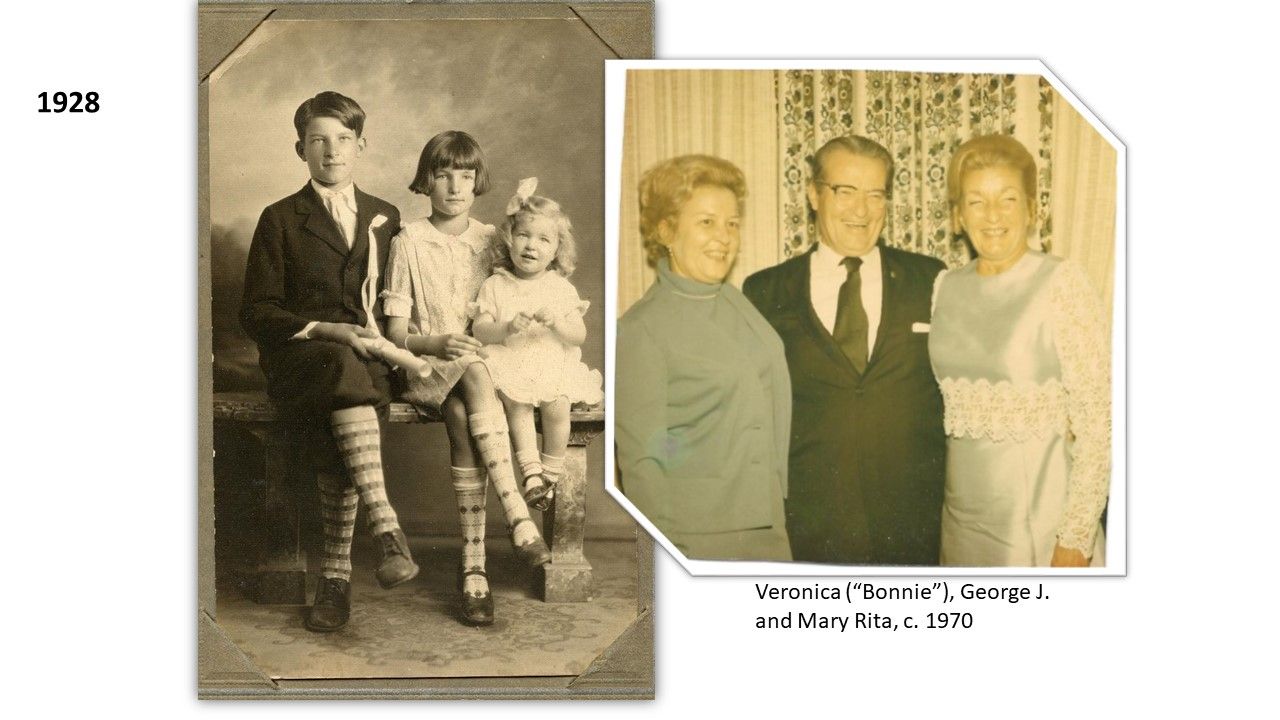 A second sister, Veronica or "Bonnie," was born in 1925. You can see the Preston siblings pictured here in 1928, and then much later, around 1970.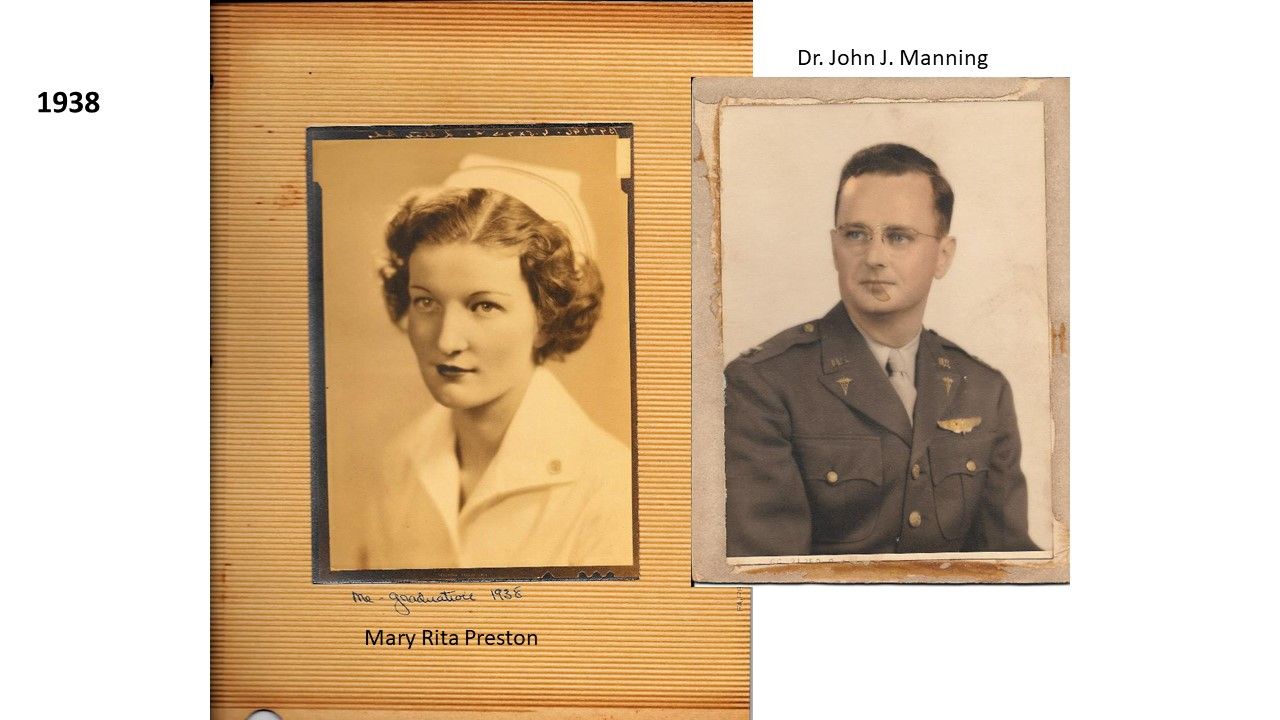 Mary Rita Preston grew up to become a nurse. She attended nursing school at Loyola and worked at Lake Forest Hospital by 1940. Soon, she met John J. Manning, a physician in the U.S. Army. They married in 1942, before Major Manning, a flight surgeon, departed for England.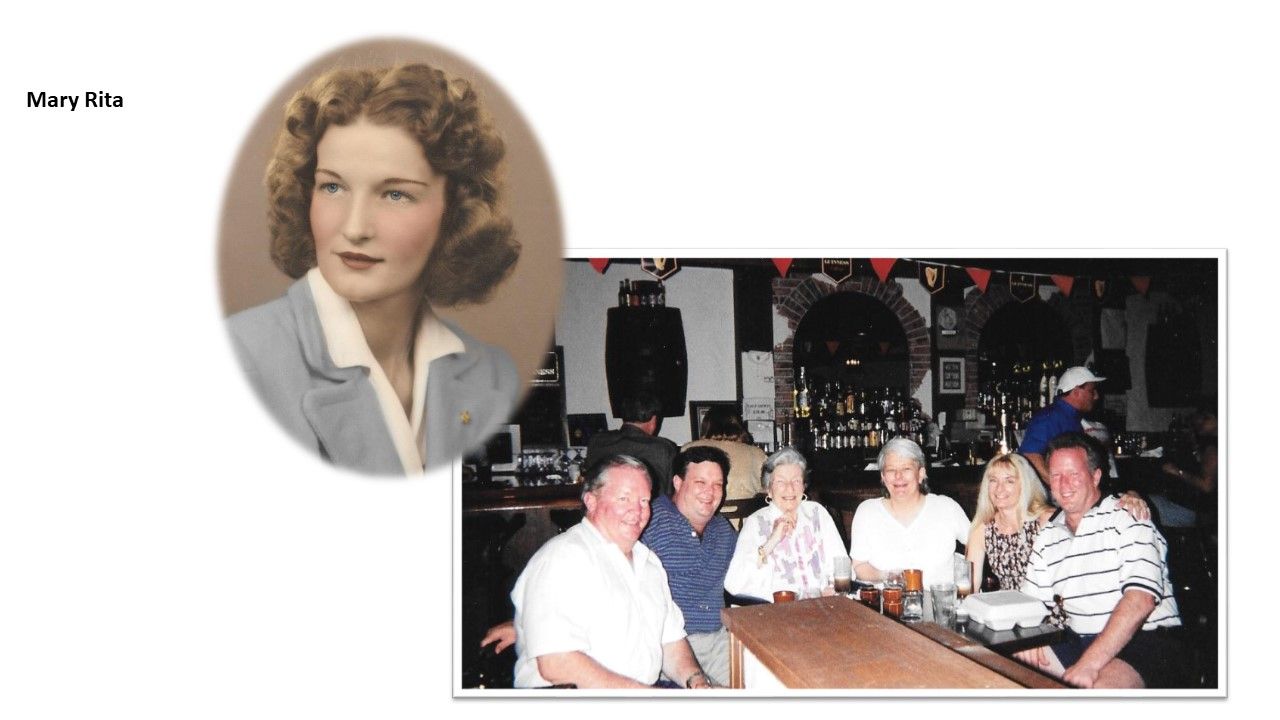 After the war, the Mannings eventually settled in Park Ridge, where John was on staff at Lutheran General, and raised five children.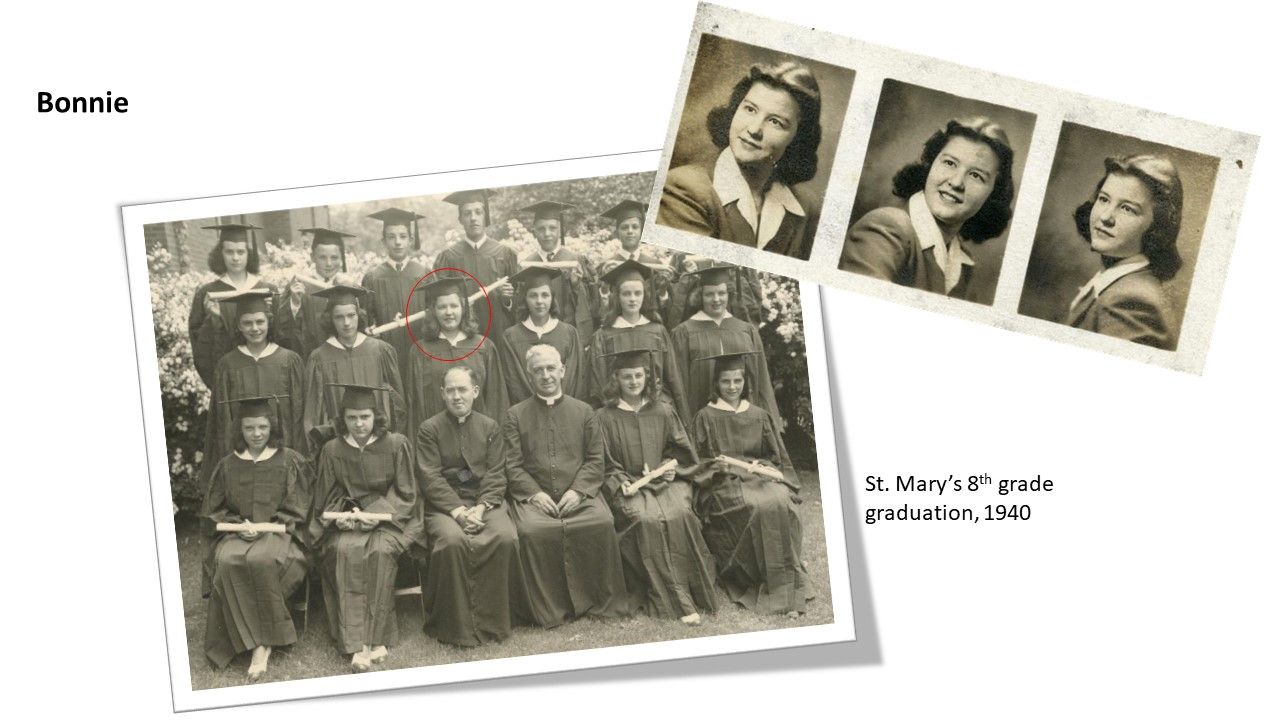 The Prestons all attended School of St. Mary in Lake Forest. Here you can see Bonnie's 8th grade graduation photo from 1940. She went on to a career as a government employee, working for the 5th Army out of Fort Sheridan.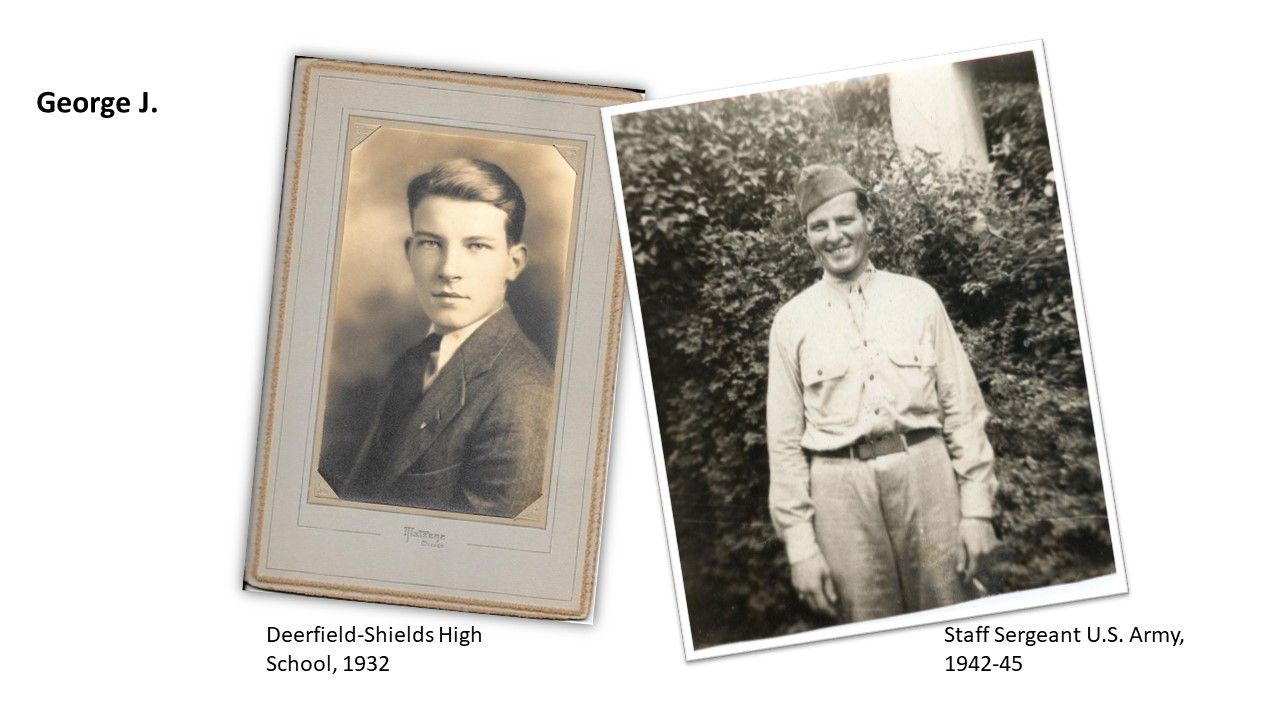 George J. Preston graduated from Deerfield-Shields High School in Highland Park. He served as a staff sergeant with the 9th Army during World War II, in the signal corps, stationed in France and Belgium, then Germany and England. His children remember that he did not talk much about his experience, but never wanted to go on family or Scout camping trips – he said he'd had more than enough of camping during the war, thank you very much.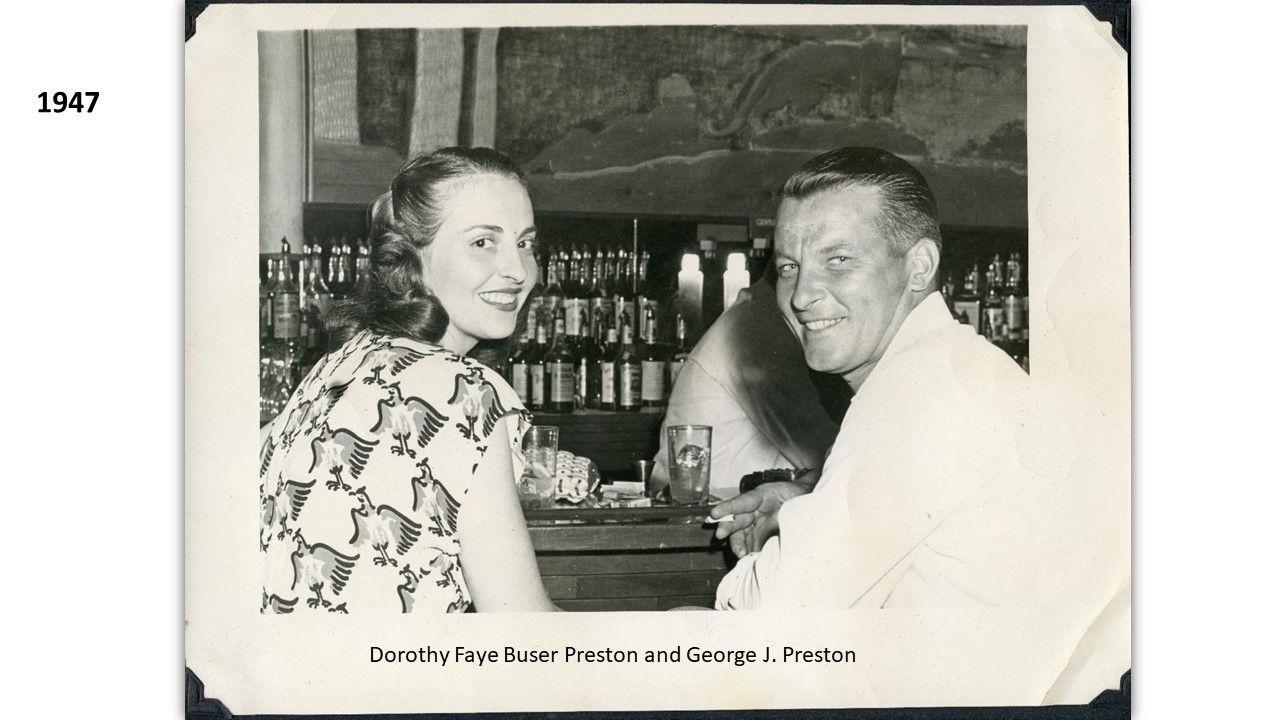 After the war, in 1947 George J. married Dorothy Faye Buser, who originally hailed from southern Illinois. Here you can see them pictured on their honeymoon trip down south. George became an electrician, working as a lineman for ComEd, then as foreman supervisor. Dorothy worked at Krafft's Drug Store before their marriage, as a clerk and at the soda fountain – much later, after her kids were grown, she returned to Krafft's, becoming the maven of the cosmetics counter. While raising her family she worked from home doing custom sewing work for Robertson's.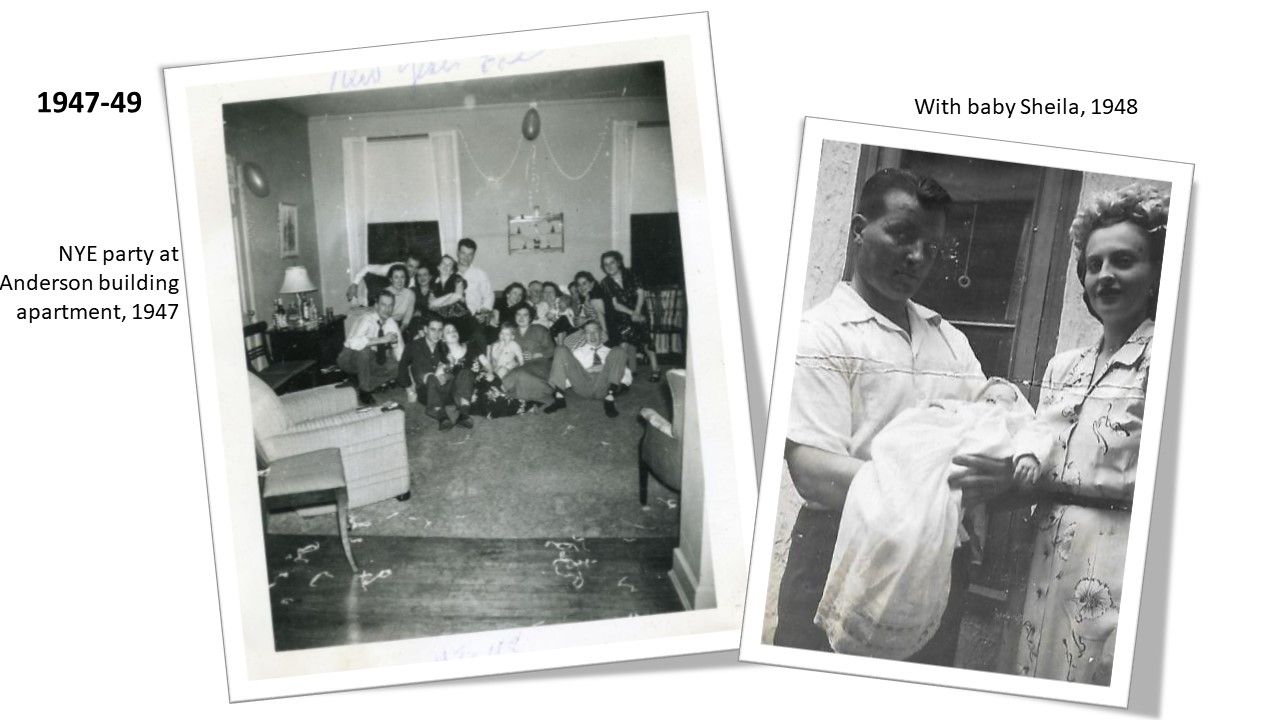 After their wedding, George and Dorothy Preston lived for a few years in one of the apartments above Walgreen's, across the hall from several other young couples – as you can see from this New Year's Eve photo, this was party central in Lake Forest. Their first child Sheila was born in 1948.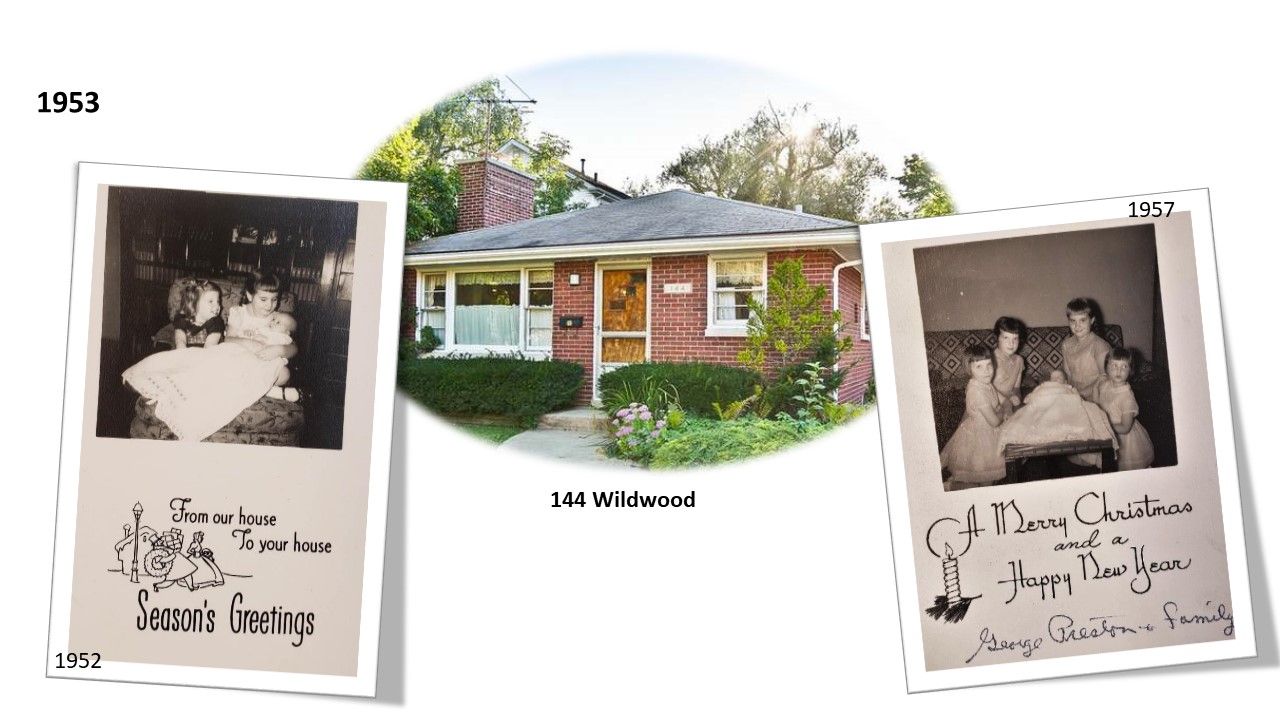 As is clear from their 1950s Christmas cards, the Prestons fully embraced the postwar baby boom, and with their expanding family bought a home at 144 Wildwood in Lake Forest in 1953.

Below are family photos through the decades - 1960s, 1970s, 1980s and 1990s.

By 1960, there were six Preston children. You can see them dressed in adorable matching outfits and lined up by height – and age – here: Sheila, Mary Karen, Linda, Renee, George J. Jr., known as Rocky, and Susan.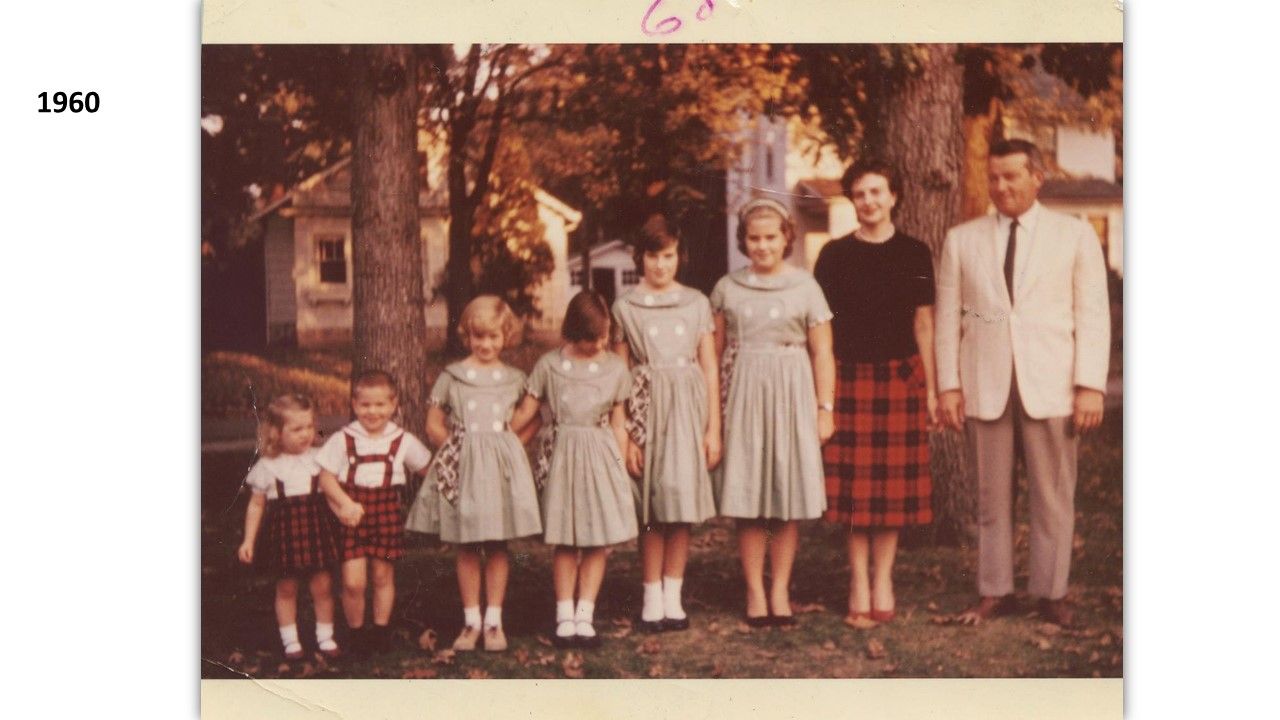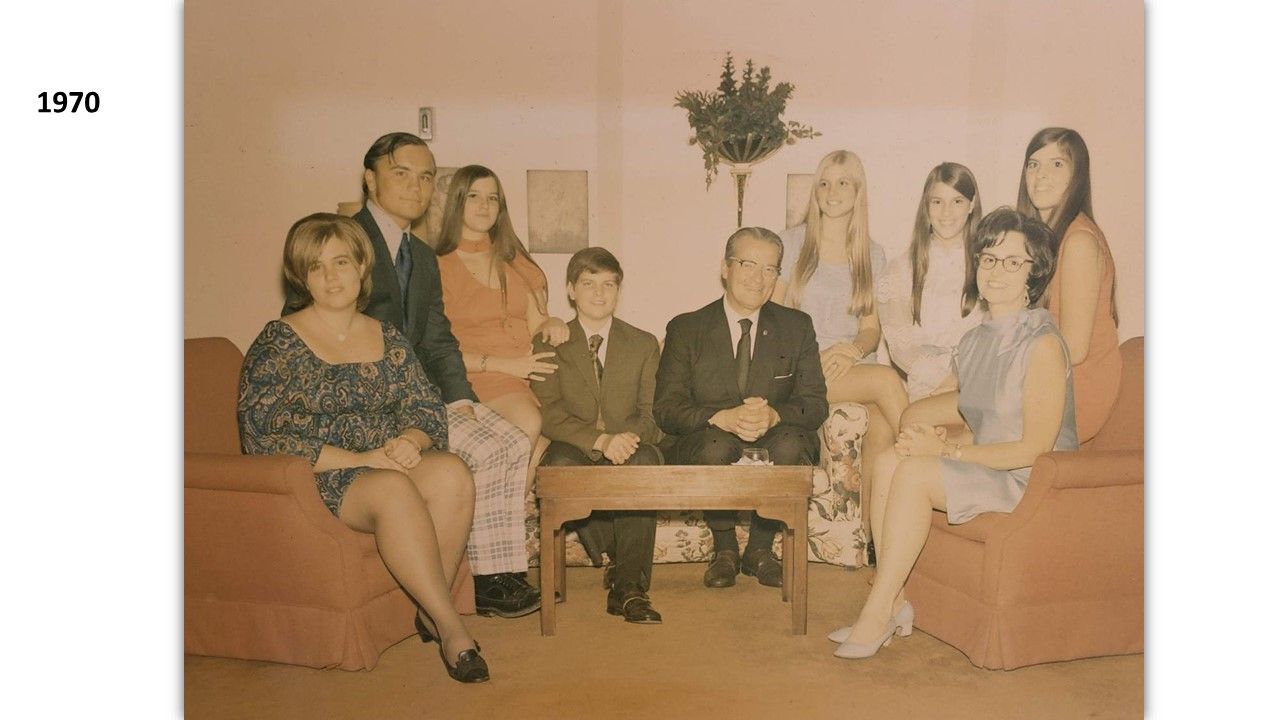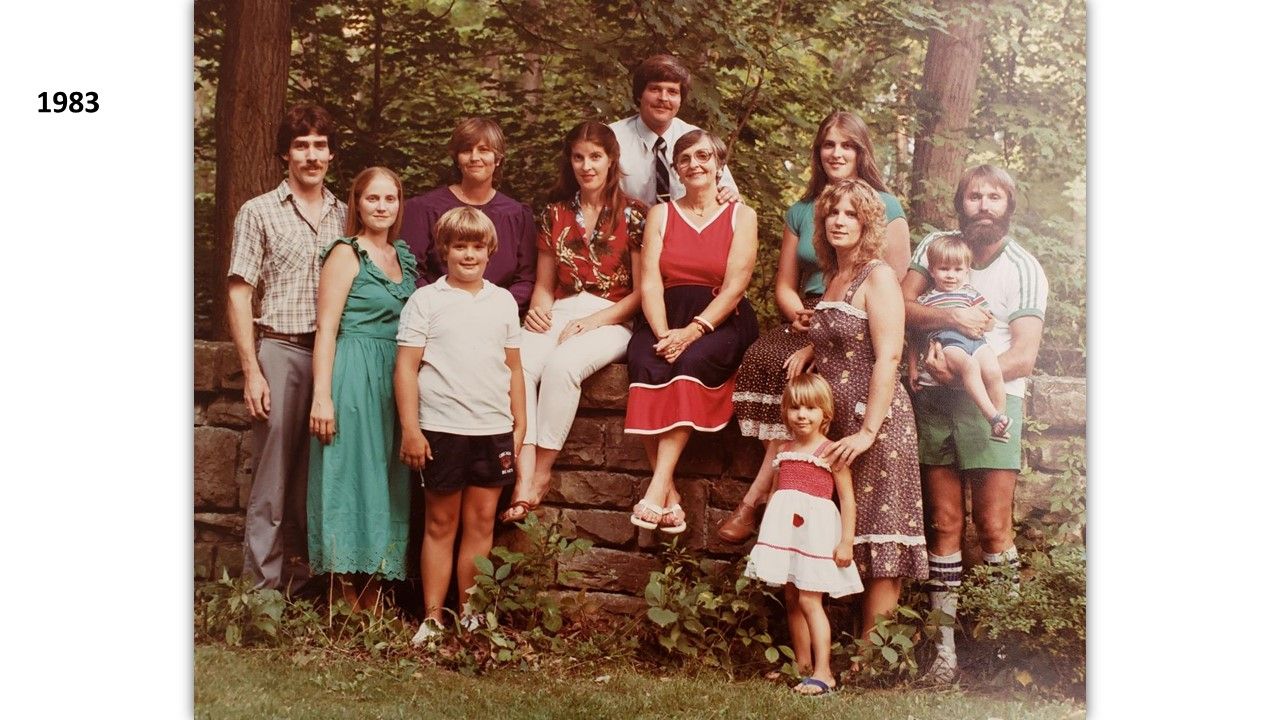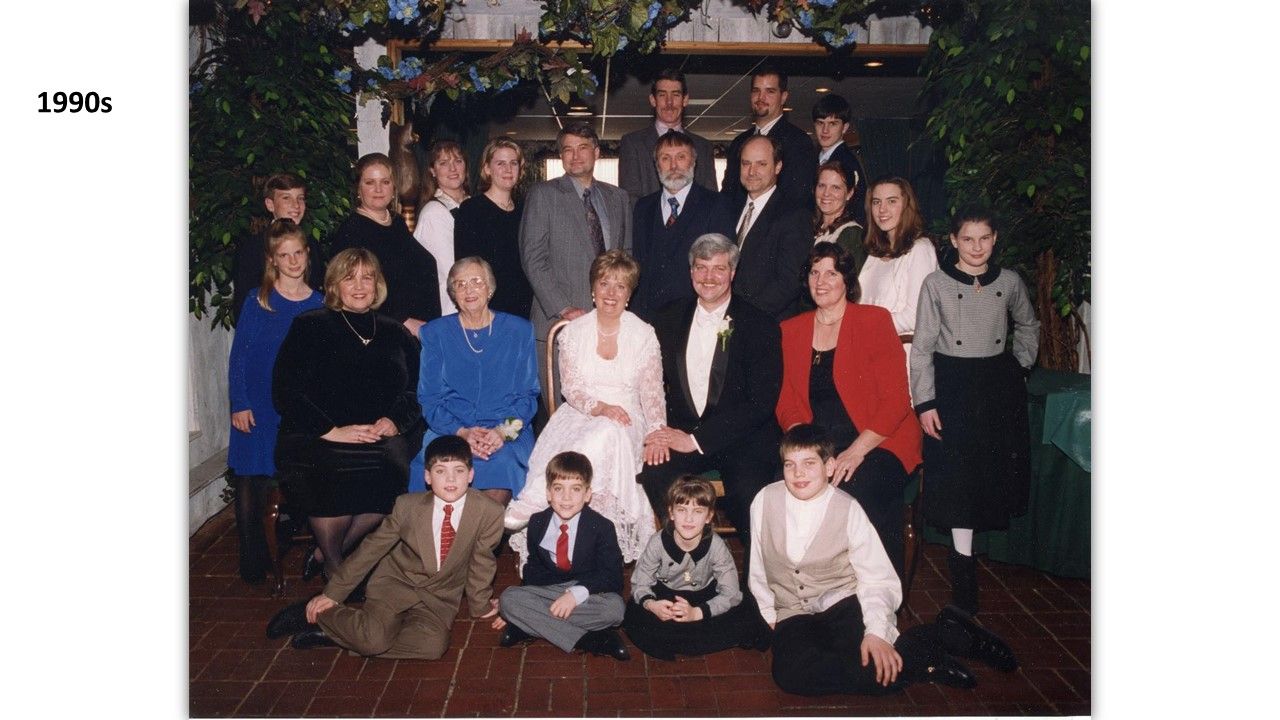 Through the generations, the Prestons have been deeply involved in the community, whether with the Church of St. Mary, schools, Scouts or sports.

After World War II, George quickly became a leader in Lake Forest's American Legion Post 264. He served as post commander in 1949 and in 1959, for the Legion's 50th anniversary (pictured at right). Incidentally, this year, 2019, is the American Legion's 100th anniversary.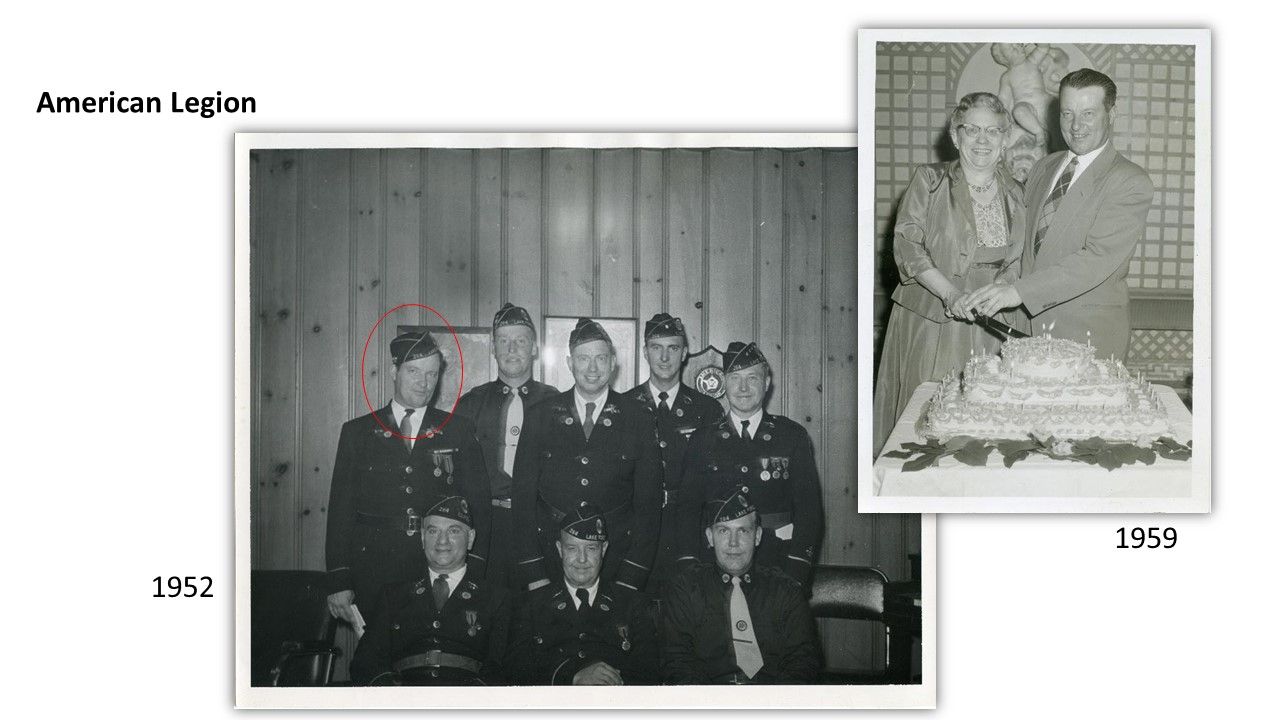 Over the years, George Preston served in many different roles – chaplain, rifle squad, color guard, poppy day chairman, service chairman.

But to many, these last two roles were by far the most important: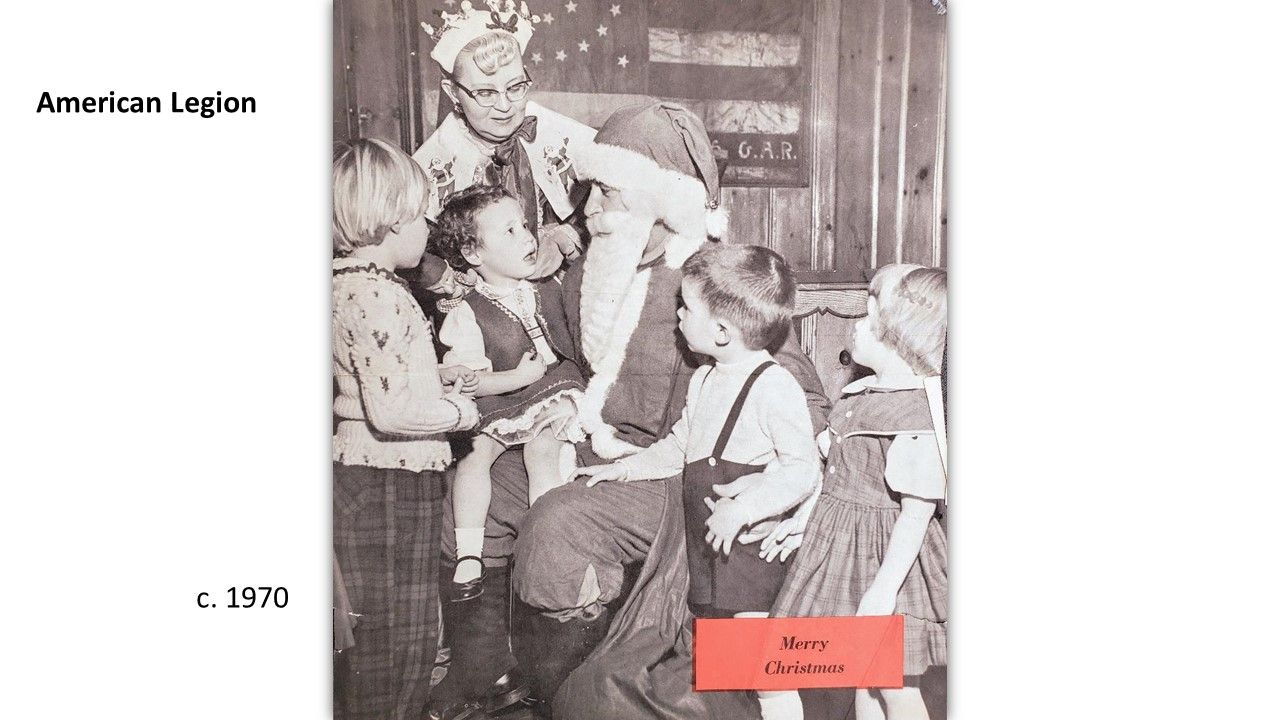 1. As the post's very own Santa Claus (with Dorothy as Mrs. Claus).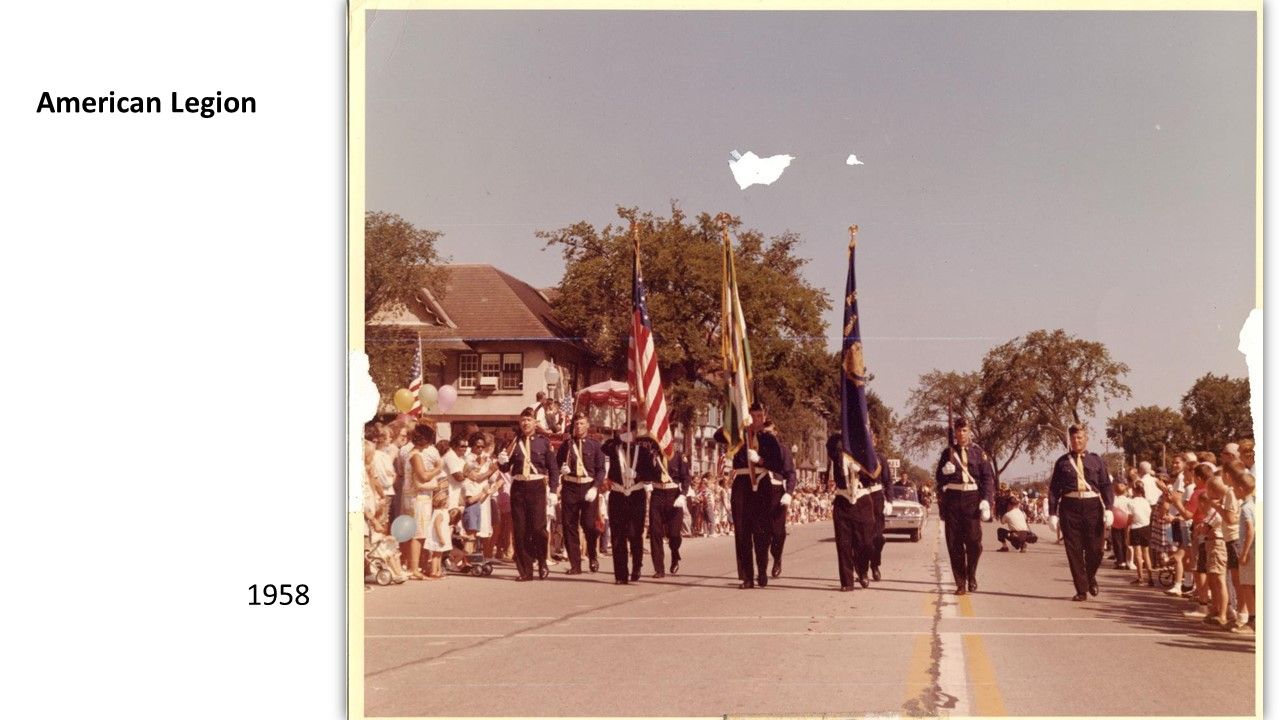 And 2.) as a leading force behind Lake Forest Day. Not only did George put flags in town, march in the parade, work the raffle booth, and flip burgers in the hamburger stand, but he used his experience as an electrician to set up all the electrical needs for the carnival at West Park.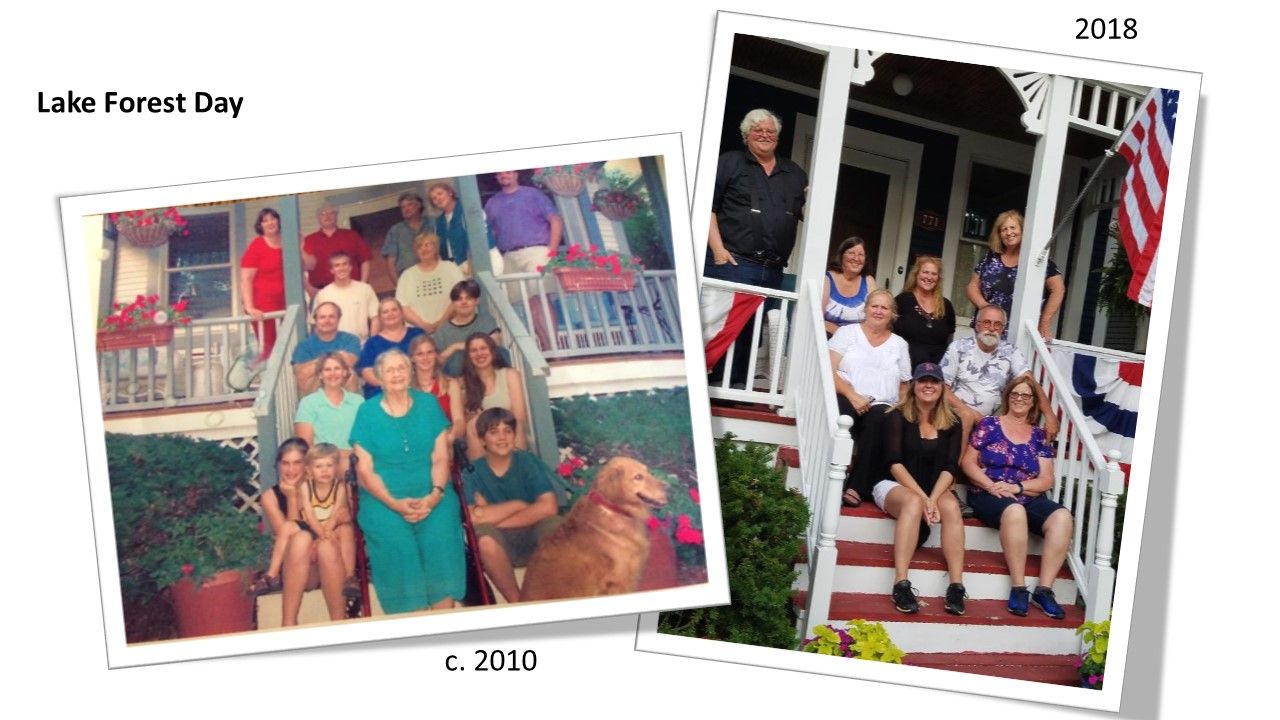 For the Prestons, Lake Forest Day has been a special time to gather and celebrate over the years. Here you can see the family gathered at Rocky's house on Summit Avenue.