Fairlawn and Beyond: Lake Forest's Farwell-Winston Family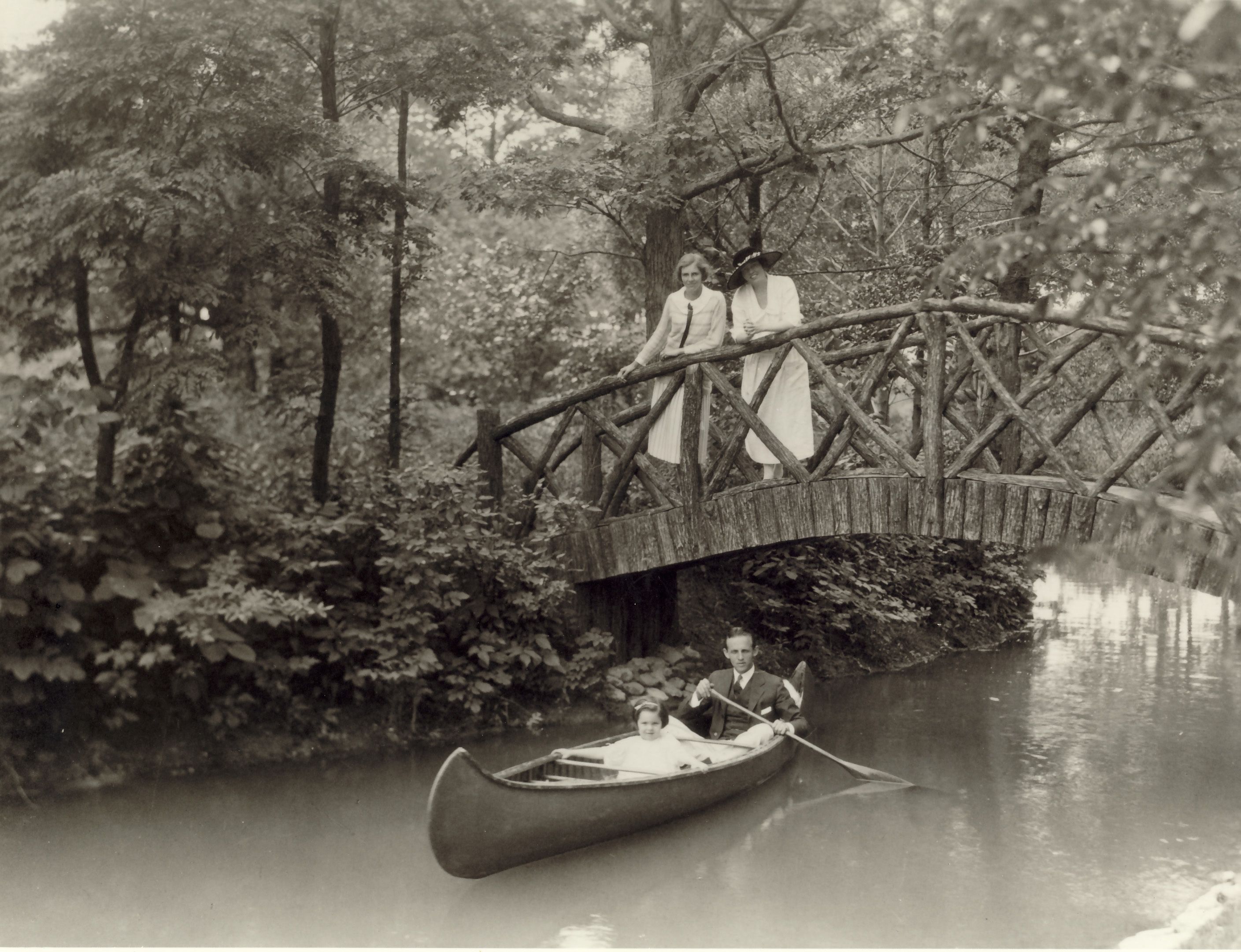 In 1838, Henry and Nancy Farwell and their children migrated from Steuben, in western New York, to Ogle County, Illinois, where they established a farm near Mount Morris, southwest of Rockford.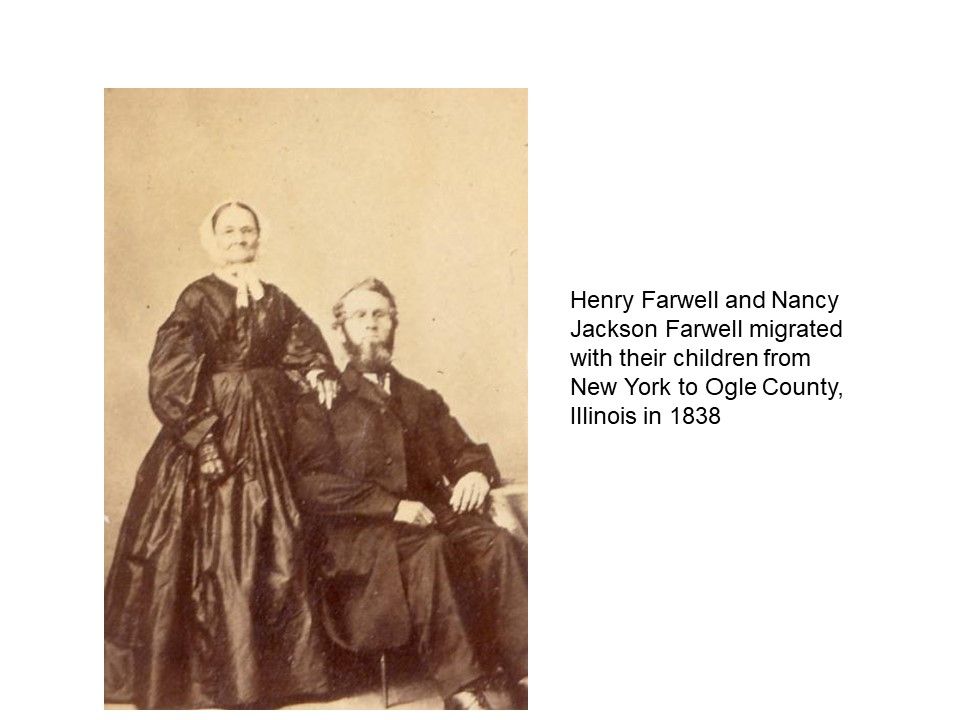 In 1844, when he was barely 20 years old, Henry and Nancy's son Charles B. Farwell came to Chicago. He had glimpsed the fledging city before, on trips transporting the family farm's wheat to Chicago markets. He soon secured a position in the office of the county clerk, sleeping in his office the first few weeks and earning $8 a month. Charles Farwell saw around him a city on the make and wisely chose to invest even his first few paychecks in real estate.

The clerk fell ill shortly after hiring Charles Farwell and so the young man was quickly thrust into the spotlight, having to take on additional duties. Within a few short years he himself was serving as a clerk of the Cook County court and becoming one of the leaders of Chicago's new Republican party.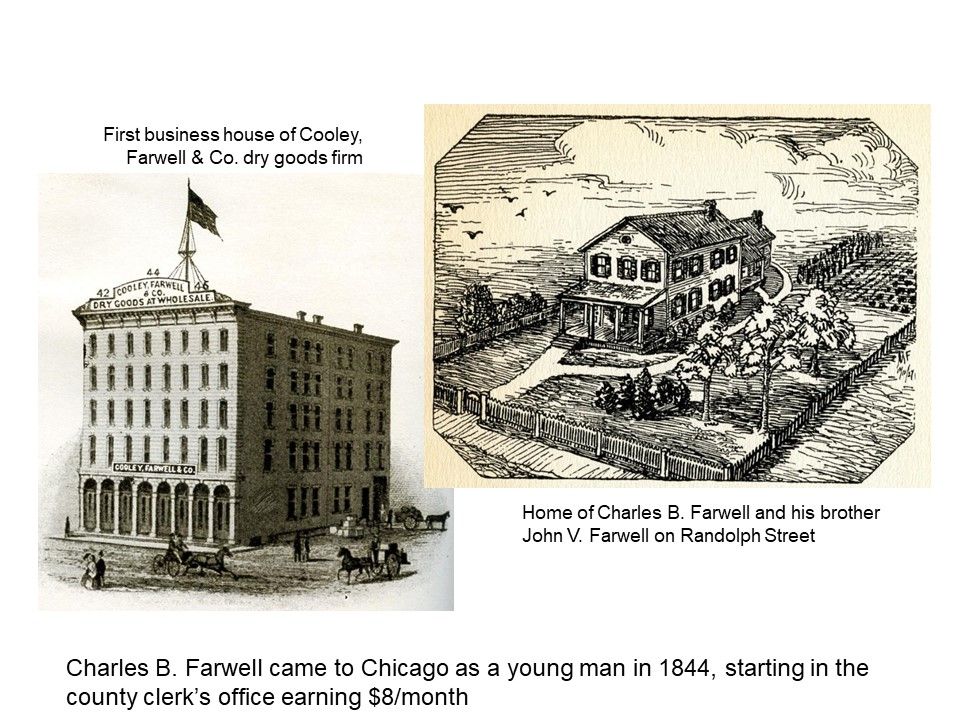 Meanwhile, his younger brother John entered the dry goods business and became a principal in the firm that by the 1860s would be known as J. V. Farwell & Company. Charles B. Farwell became a partner in the firm at that time and gave it years of business management. J. V. Farwell & Co. was a dry goods wholesaler that operated on a very large scale, with $10 million in sales by 1870 and $20 million by 1883. By the end of the 1880s it was one of the top three wholesalers in the country.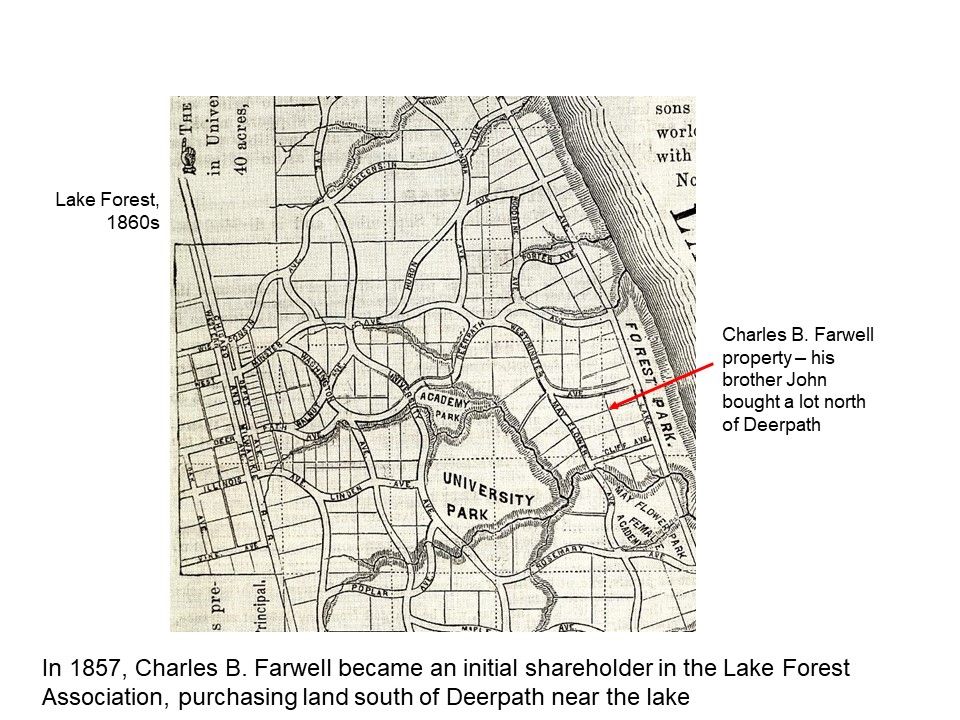 Charles B. Farwell's willingness to invest in property would pay dividends for the future of Lake Forest. In 1857, he and his brother John became initial shareholders in the Lake Forest Association, purchasing lots near the lake on either side of Deerpath. They became two of the most prominent subscribers to this new community, their confidence and investment in the future of the enterprise encouraging others to join them.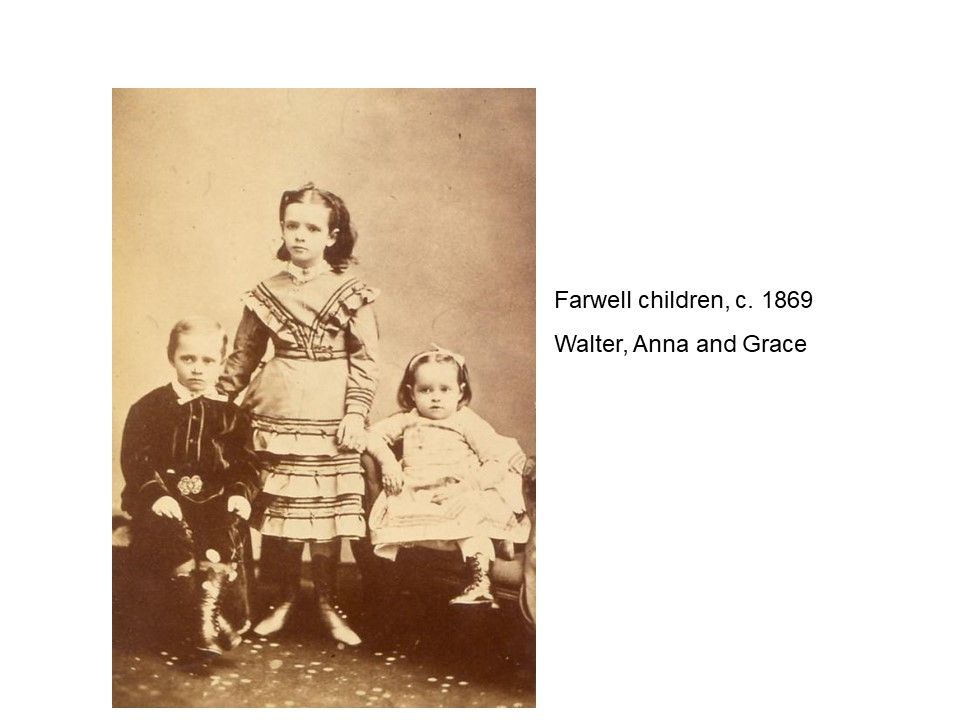 One reason to contemplate a move up to the suburbs was the prospect of a growing family. In 1852 Charles B. Farwell married Mary Eveline Smith, known in the family as Eveline. Their eldest daughter Anna was born in 1860, followed by a son, Walter, in 1863, and another daughter, Grace, in 1867. The three of them are pictured here around 1869, shortly before the birth of two additional siblings, twins Rose and Robert, in 1870 – however, only Rose would survive to adulthood.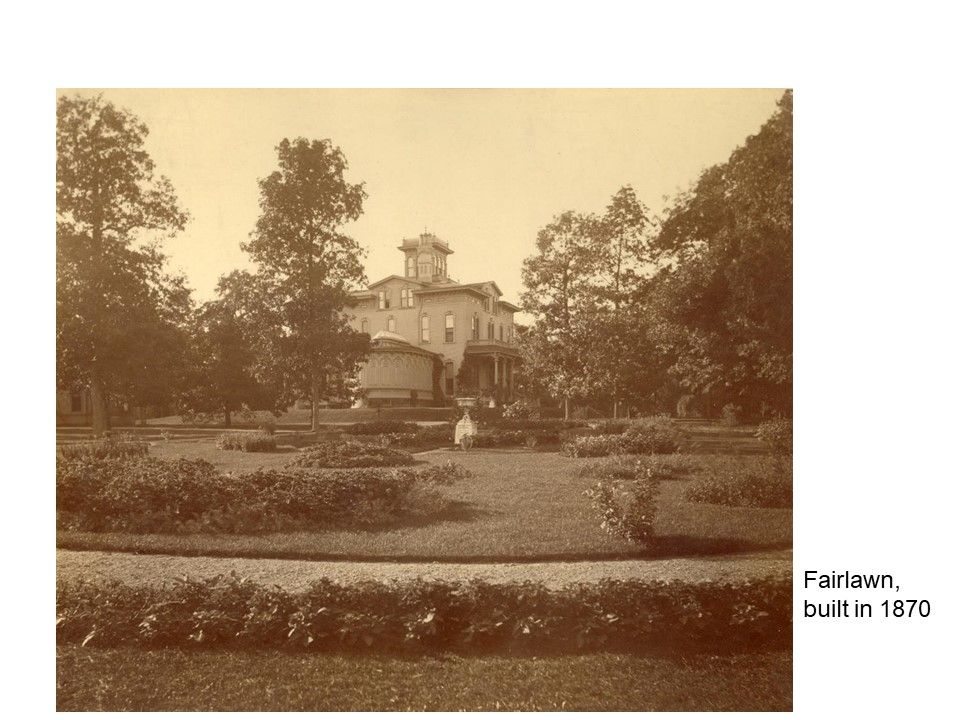 Throughout the 1860s, the family had been spending summers in Lake Forest, occupying a house owned by Sylvester Lind on Deerpath. In 1870, the Farwells' own Lake Forest residence was completed. Fairlawn was a large wood-frame Tuscan villa, with a conservatory wing extending toward the lake. Local tradition holds that famed landscape architect Frederick Law Olmstead had a hand in designing the grounds, which filled the entire block bordered by Deerpath, Lake Road, Spring Lane, and Mayflower, and included a picturesque pond.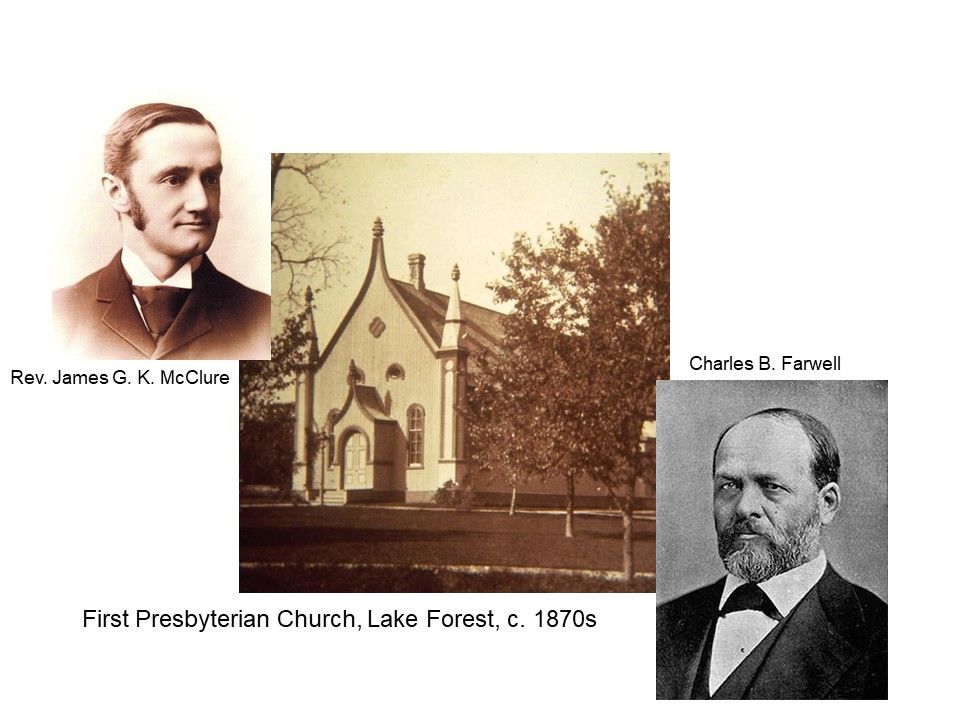 The Farwells attended First Presbyterian Church down the street. The pastor, Reverend James G. K. McClure, had a story he would tell about Charles B. Farwell, who sent the new minister a gift during his first few months on the job. The story, in Reverend McClure's own words:

"One freezingly cold winter day, I looked out from my study window and saw approaching, the station master, Mr. William A. Morgan. He was holding his overcoat over something that he was carrying with great care. I went to the front door to meet him. As I opened it he said mysteriously, "Are you alone?" "Yes," I replied. "Where is your private room?" "Here," I replied, and into the study we went. He carefully shut the door. Then he drew out from under his coat a jug. It had a wax seal over the cork. He said: "Mr. Charles B. Farwell has asked me to bring you this jug. He wanted me to bring it so that nobody would see it and he said that he hoped you would have a good time drinking it – and nobody would ever know that you had it." So he placed the jug on the study table – said that he must get back to the station and off he went. I was speechless. A jug of whiskey for me who had preached and urged total abstinence with all my soul! What did it mean? What was I to do about it? So I called my wife and I showed her the jug. Then I said, "Here I have been preaching total abstinence and Mr. Farwell evidently thinks I am a hypocrite!" My heart sank. It was as though my ministry was a failure. I looked at the lady and saw her confused and downcast face. She said, "It's too bad. I didn't think he distrusted you." It was all distressing. I took up the jug – shook it and held it to my ear. As I shook it I heard what sounded like liquid. We looked at one another in sorrow. Our ministry was indeed in vain; we were not believed in. The she said, "I think that we better open the jug and see what's in it, anyway." It was a relief in the intensity of the moment to do something. So I broke the seal – removed the cork, and smelled! I was not very familiar with the smell of whiskey – but it did not smell as I supposed whiskey smelled. So I said: "It is funny smelling stuff." Then the lady said, "Pour some of it out." She handed me a glass. I poured from the jug – and it was maple syrup! Needless to say Mr. Farwell had his joke on me, and our friendship was cemented."

Although Lake Forest at that time was a dry community, it was not a stretch for Reverend McClure to imagine Charles B. Farwell might have a jug of whiskey – as a politician, he represented wet as well as dry parts of Lake County and so remained more neutral on the temperance issue than many of his neighbors.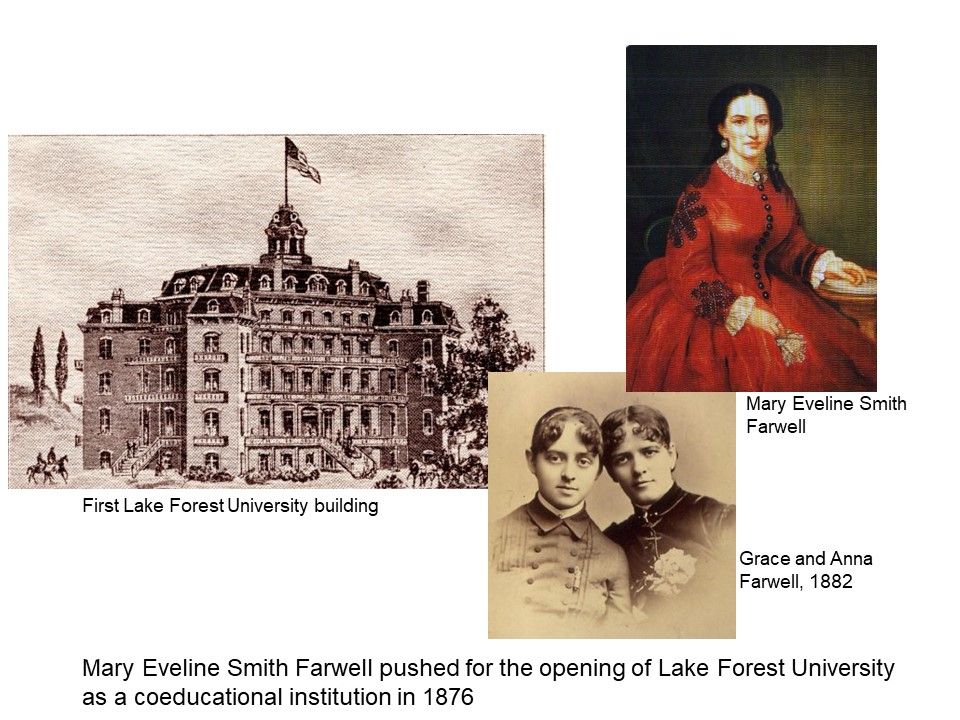 While Lake Forest Academy and Ferry Hall were going strong by the end of the 1860s, a combination of factors meant that the fledgling university in Lake Forest had never got off the ground. First, the young men of college age went off to fight in the Civil War. Second, the university's main backer, Sylvester Lind, suffered a series of financial reversals and so could not sustain the enterprise.
As her daughter Grace Farwell recalled years later, "There had never been a college until my mother decided she would like to have one (a coeducational one at that) that my sister Anna could have a college education without leaving home. She then set forth, first to convince the people in Lake Forest that they wanted one, and then to procure scholars, for there were none."
Mary Eveline Farwell grew up in Massachusetts, attending the Pittsfield Young Ladies Institute and then teaching school until her marriage. She was naturally very interested in her daughters receiving a quality education and, since it had been one of the purposes of Lake Forest from the beginning, hoped for them to have it close to home.
She had to take her sales pitch to the residents of Lake Forest, first. According to her daughter Grace, "Miss Annie Williams tells me that in asking her family for their support, she told them how nice it would be for the three young women in the family to have so many young men in town. Miss Williams said she mentioned that she thought they would be rather too young to be interesting, so my mother quickly said, 'Oh, but think of the professors!'"
Mary Eveline Farwell then influenced the graduating class of the Chicago High School, where Anna Farwell attended, to come to the new Lake Forest University to continue their work. The Farwells offered all of the first 12 students scholarships to attend – except Anna, whose parents had to pay her tuition.
Then in the fall of 1876 the University formally took possession of the defunct Lake Forest Hotel building and turned the interior into classrooms and dormitory space.
When that building burned down in 1877, the Farwells gave a majority of the funds for the new College Hall. Anna Farwell was Lake Forest University's first valedictorian when she graduated in 1880.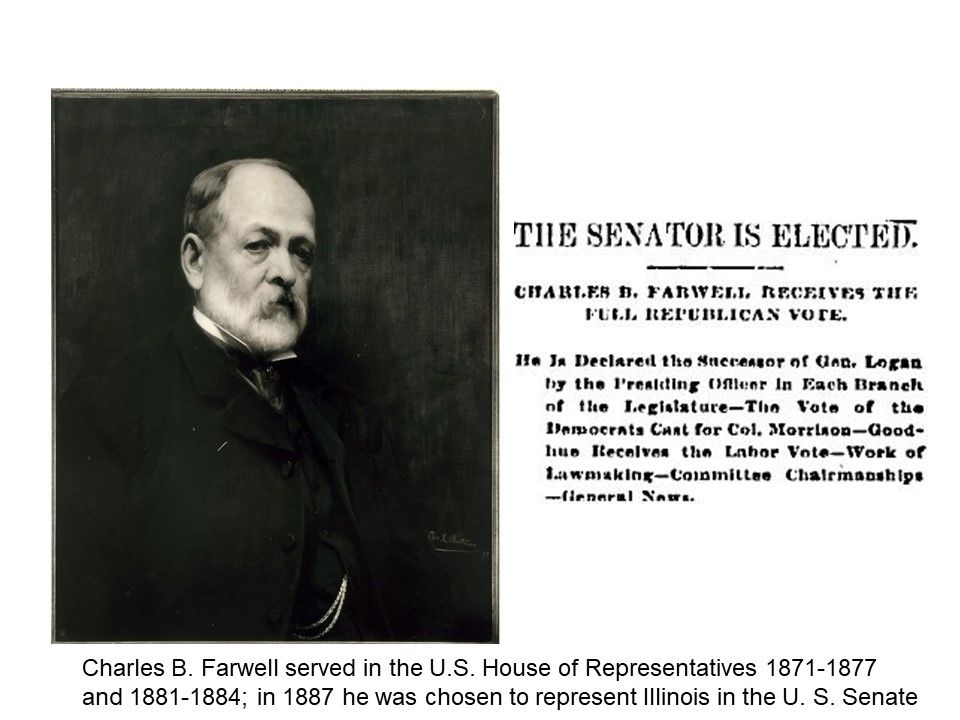 In 1871, Charles B. Farwell was elected to the U. S. House of Representatives. He served a total of five terms in the House, from 1871 to 1877 and again from 1881 to 1884. Then, from 1887 to 1891, he served in the U.S. Senate. Remember, at this time we did not yet have direct election of Senators. He was selected by the Illinois State Senate to fill the unexpired term in office of former Senator John A. Logan, who died in office.
As Senator, Charles B. Farwell was instrumental in establishing Fort Sheridan south of Lake Forest after the Haymarket Riots in Chicago. He also exerted his influence to ensure that Chicago was selected to host the 1893 World's Fair.
By the 1890s, Senator Farwell was advancing in years and the newspapers were constantly publishing updates on his health. One article bore the headline, "C. B. Farwell Operated Upon," with the rather foreboding subhead, "Two large stones removed from bladder without use of anesthetic." Fortunately, he rallied from the operation.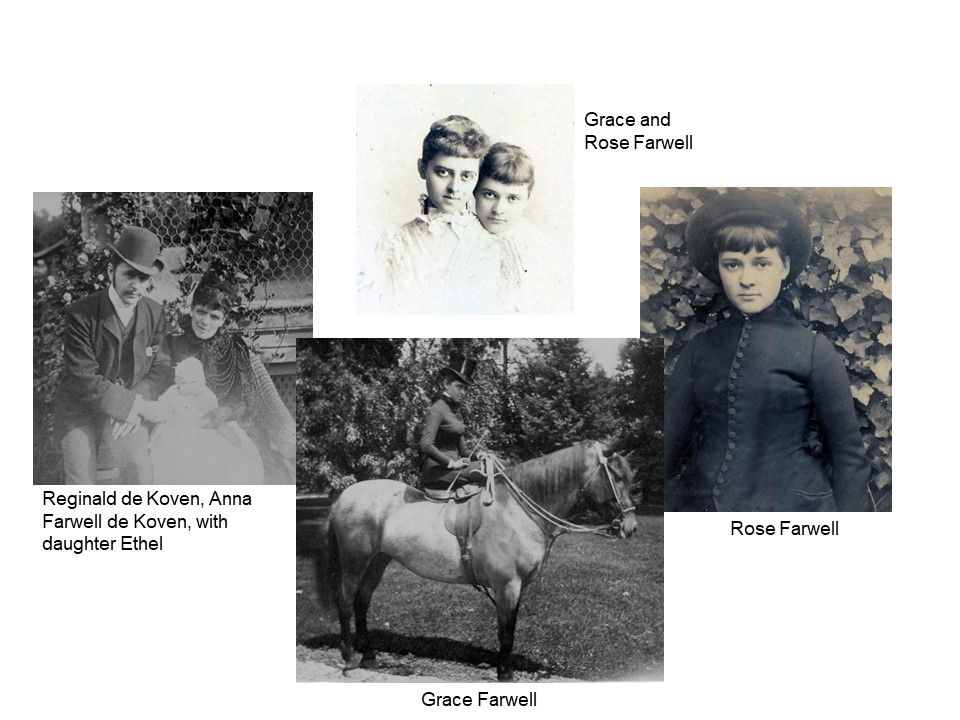 The Farwells' three daughters, Anna, Grace and Rose, were all close and exceedingly artistic and creative. They were all three very fashionable – their neighbor Ellen Holt recalled that her mother used to say she never knew whether or not her children liked their clothes until the Farwells had seen them.

Anna was the writer – she authored articles, short stories, novels, even a biography of John Paul Jones. Her husband Reginald de Koven was a musician – they married in 1884.

Rose Farwell was an accomplished athlete – it was her talent and interest in golf that led the Farwells to have the very first golf course in the Midwest laid out on Fairlawn's grounds in 1892 by Charles Blair MacDonald. She and her husband Hobart Chatfield Chatfield-Taylor helped found the Onwentsia Club in Lake Forest and also became social leaders in Chicago, gathering a salon of literary figures and artists around them.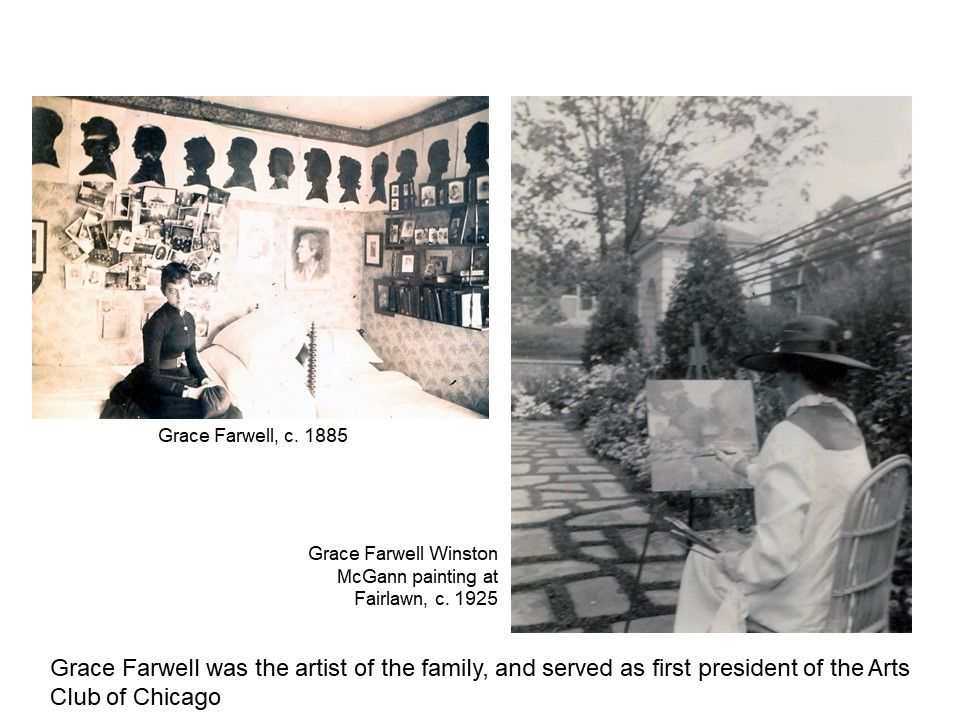 Grace Farwell was the artist of the family. You can see her room here in 1885 filled with silhouettes she made and photographs that she took. As a young girl, she spent several months studying in Paris. She recalled that at the Wednesday night prayer meeting before she left, First Presbyterian Elder Presbyterian Samuel Dexter Ward prayed with extra fervor for Grace and her cousin Fannie, entreating the Lord "that his two young friends who were going to Paris to school, might return safely and uncontaminated."

Grace also studied at the School of the Art Institute, focusing much of her attention on the art of portrait painting – several of her portraits were later exhibited at the Art Institute. In 1916, she became the first president of the Arts Club of Chicago.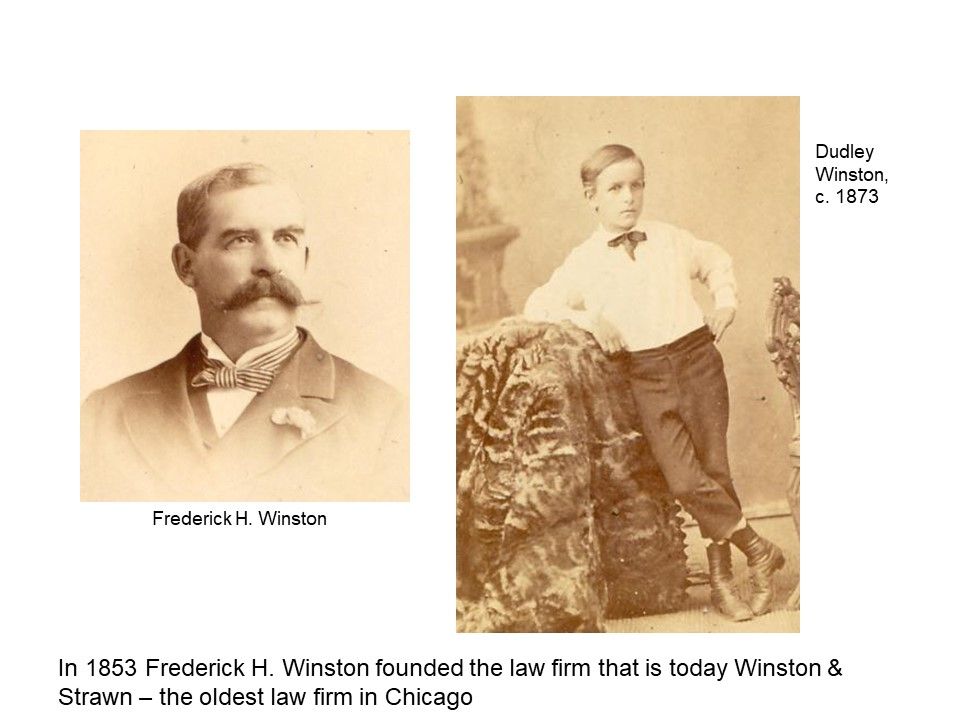 Now we'll introduce the family of Grace Farwell's future husband, Dudley Winston. His father was Frederick Hampden Winston, a Harvard Law Graduate who arrived in Chicago in 1853 to begin a law practice that became Winston & Strawn, today Chicago's oldest law firm. He focused on corporate law, organizing the Union Stock Yard and serving as general counsel to several of Chicago's major railroad companies. He was a delegate to three Democratic National Conventions.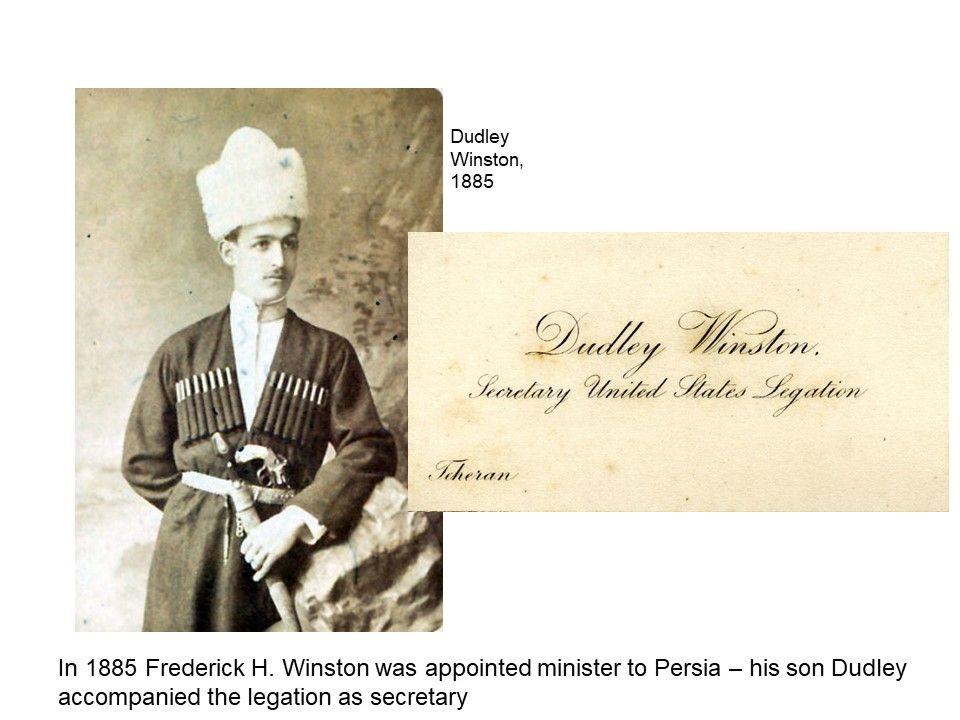 In 1885, Frederick H. Winston was appointed by President Grover Cleveland as Minister to Persia (what is today Iran). His son Dudley, nearly finished by then with his degree from Yale, accompanied him as the legation's secretary.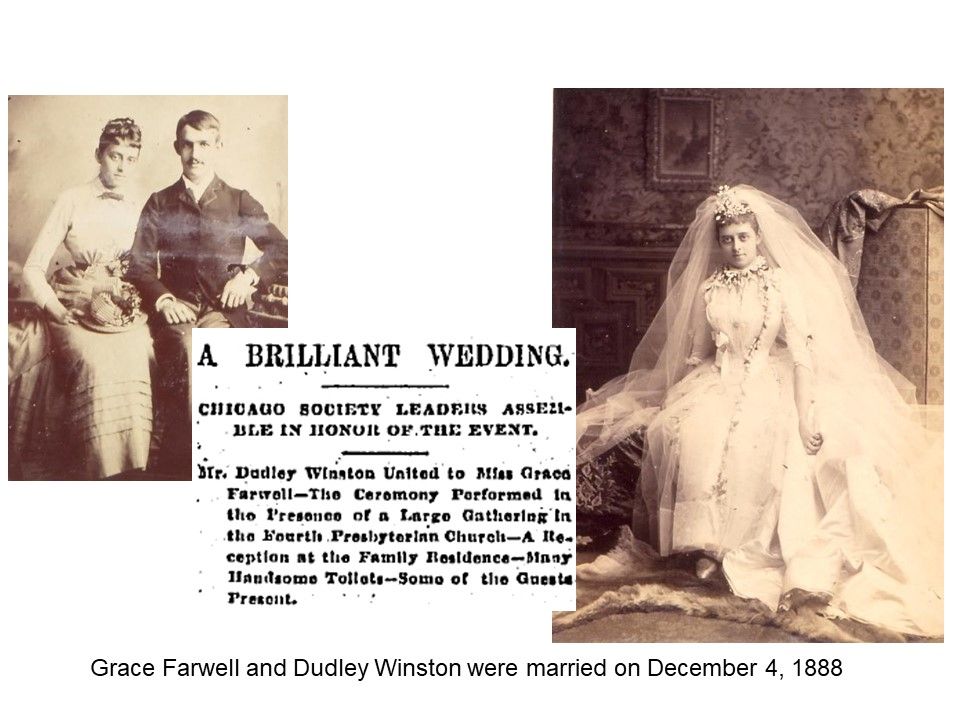 Dudley Winston and Grace Farwell had become acquainted as teenagers and in December 1888, were married at Fourth Presbyterian Church in Chicago. Before the wedding, however, there were one or two obstacles to overcome – the Winstons and Farwells shared neither religion nor politics. Before her marriage, Grace's father, the Republican Senator Charles B. Farwell, told her, "I don't mind if you become an Episcopalian, but you must never become a Democrat."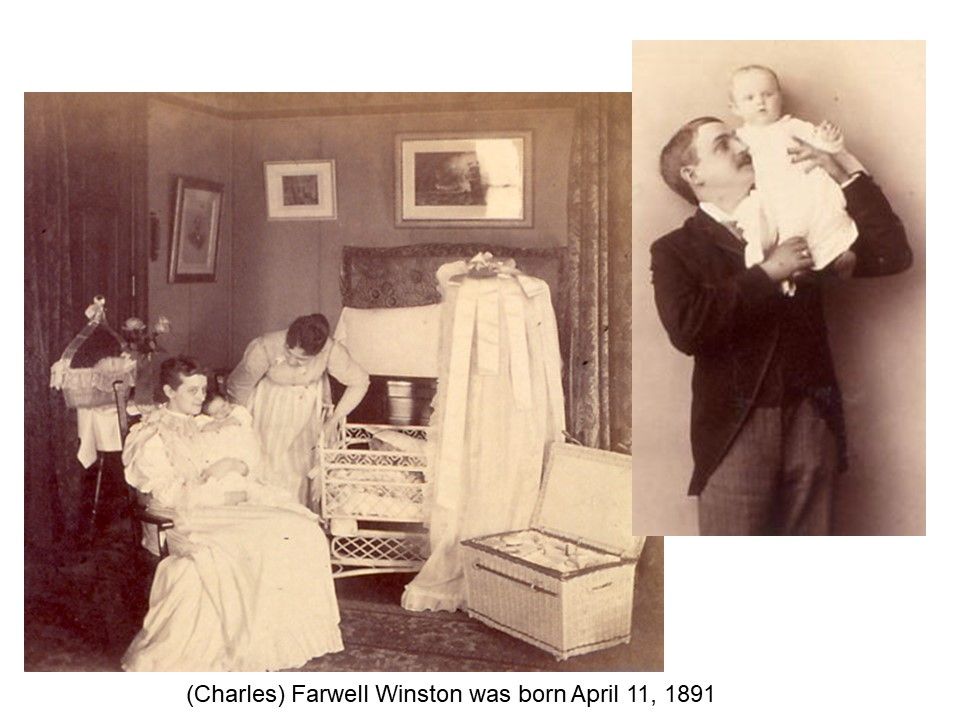 In 1891, Grace Farwell Winston gave birth to a son, named Charles Farwell Winston after his grandfather, but called Farwell. I love both of these photographs, but particularly the one on the left, with Grace in her bedroom with some nursery furniture added, holding a clearly very young infant while his nurse looks on.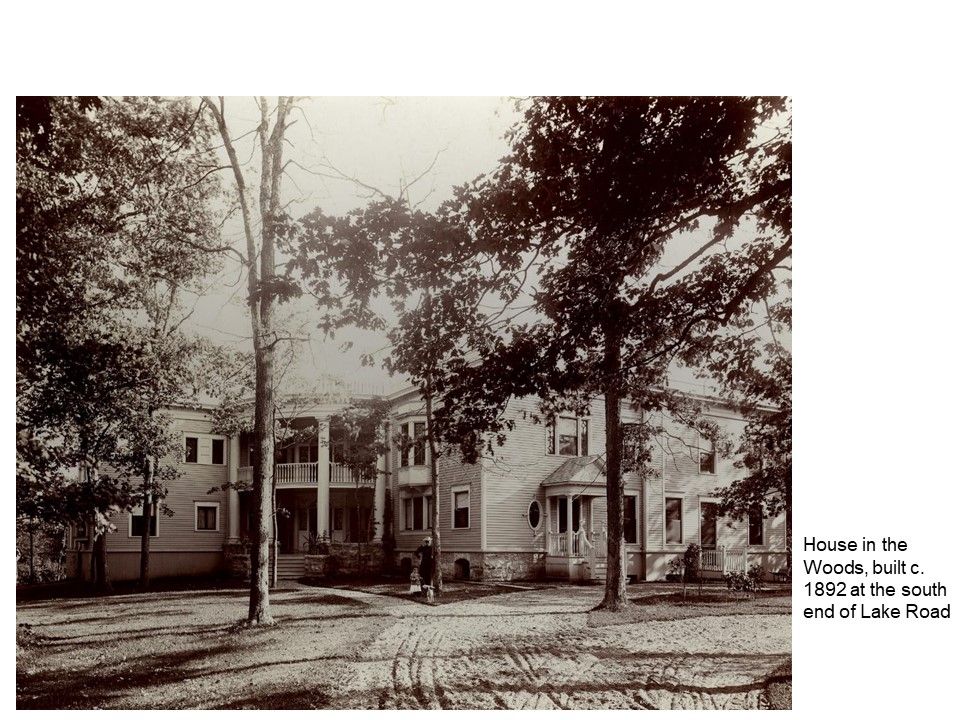 In 1892, Dudley and Grace Winston built a new home adjacent to the Farwell property at the south end of Lake Road. They called it House in the Woods – you can see it here, with Grace and small Farwell Winston standing in front. This home was demolished in the 1920s, when Grace's nephew Wayne Chatfield-Taylor built the house that now stands at 620 Lake Road.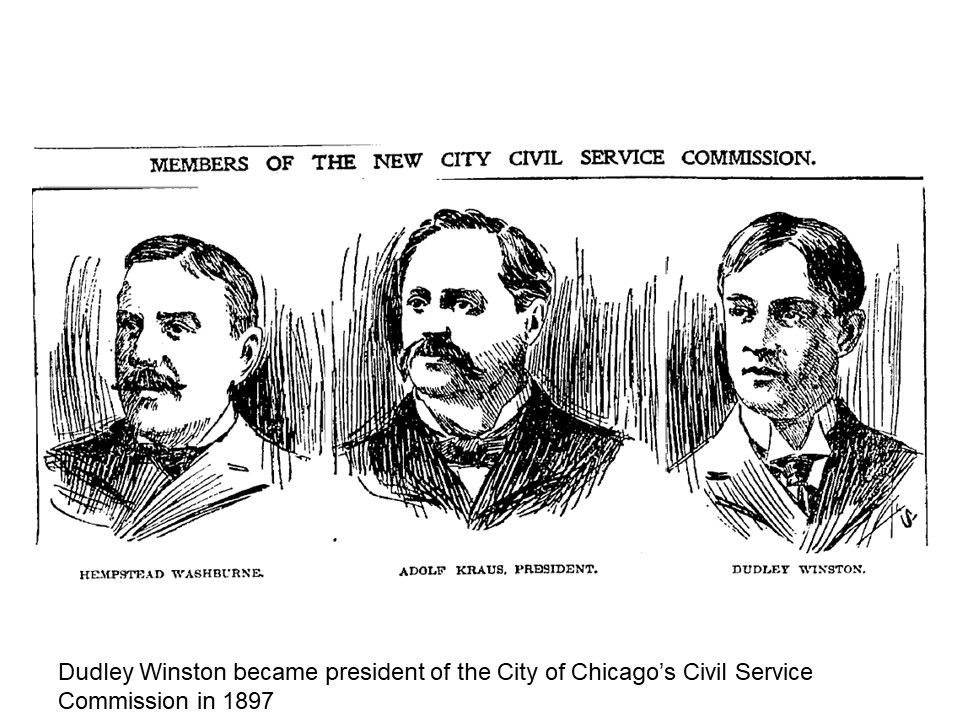 Dudley Winston had studied law with his father and then entered the real estate and loan business. In 1896, he was named to the city of Chicago's Civil Service Commission under Mayor Carter Harrison, becoming president of the commission the next year.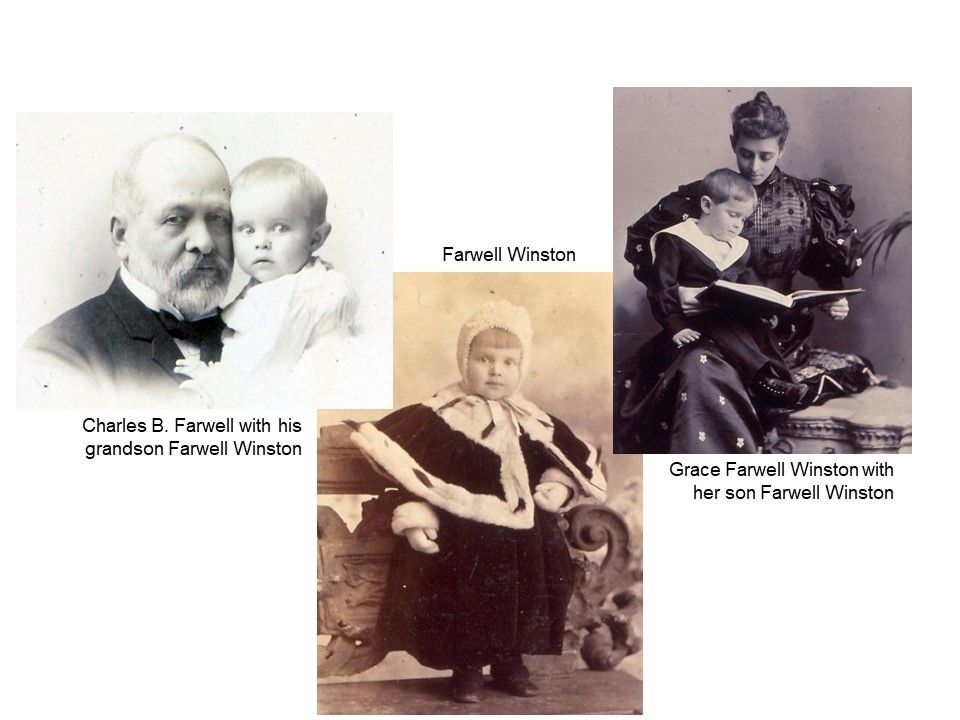 Farwell Winston was a much loved only child and the first grandson of Charles B. Farwell. (Anna and Rose both had daughters, Ethel and Adelaide, though Rose would later go on to have three sons). Farwell had rheumatic fever as a child, and occasionally had to be carried around on a pillow because his joints were so swollen. His parents traveled around a good deal for the benefit of his health, to various hot springs in south, and in Germany.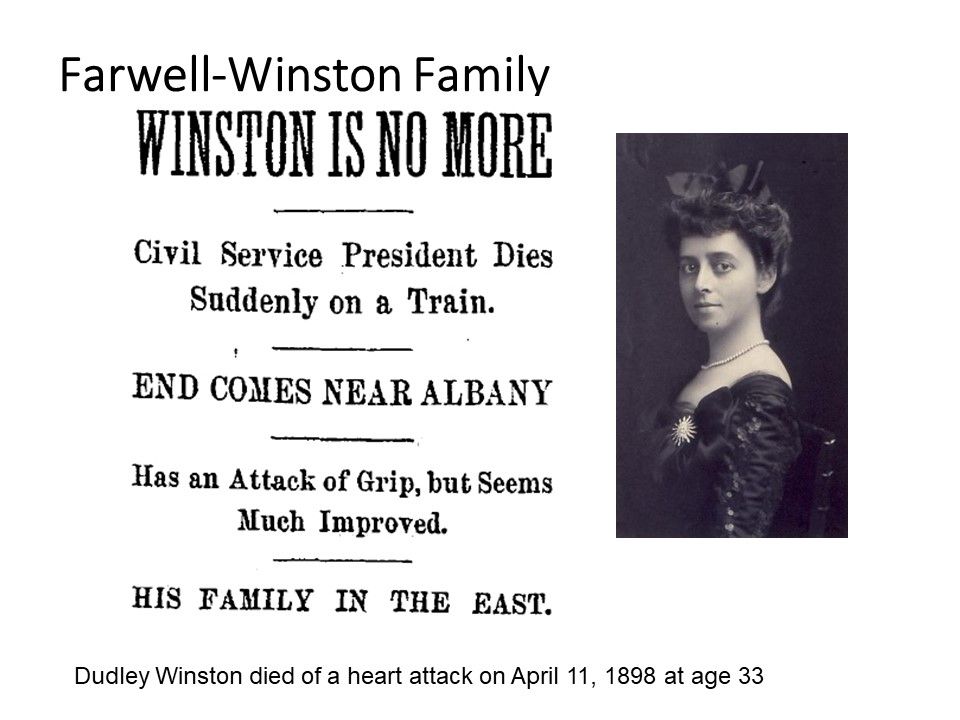 Sadly, it was on his son Farwell's seventh birthday – April 11, 1898 – that Dudley Winston passed away while on a train trip to meet his family in New York. He was only 33. His health, like his son's, had never been overly strong, and he was just getting over a bout of the flu. Doctors at the time thought his intense congestion of the brain and lungs led to an attack that killed him in his sleep in his overnight car.

After his death, the Chicago City Council passed a resolution honoring Dudley Winston as "a man of sterling character, of unimpeachable honesty, full of zeal for the public good – a true friend, a faithful husband, and a loving son and father."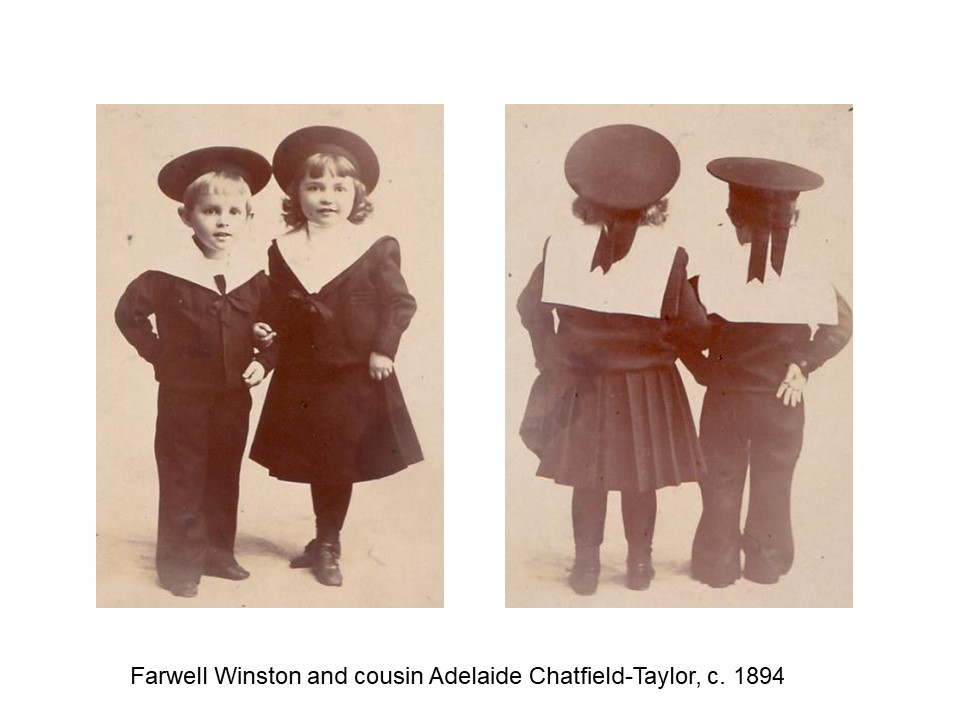 With his mother Grace widowed, she naturally leaned on her parents and sisters for support, and Farwell Winston grew up very close to his cousins – in particular, to Adelaide Chatfield-Taylor, who was just a year older. In 1895, Grace and Rose had these unusual photographs taken of the young cousins, from both the front and the back, putting the images in a double-sided frame.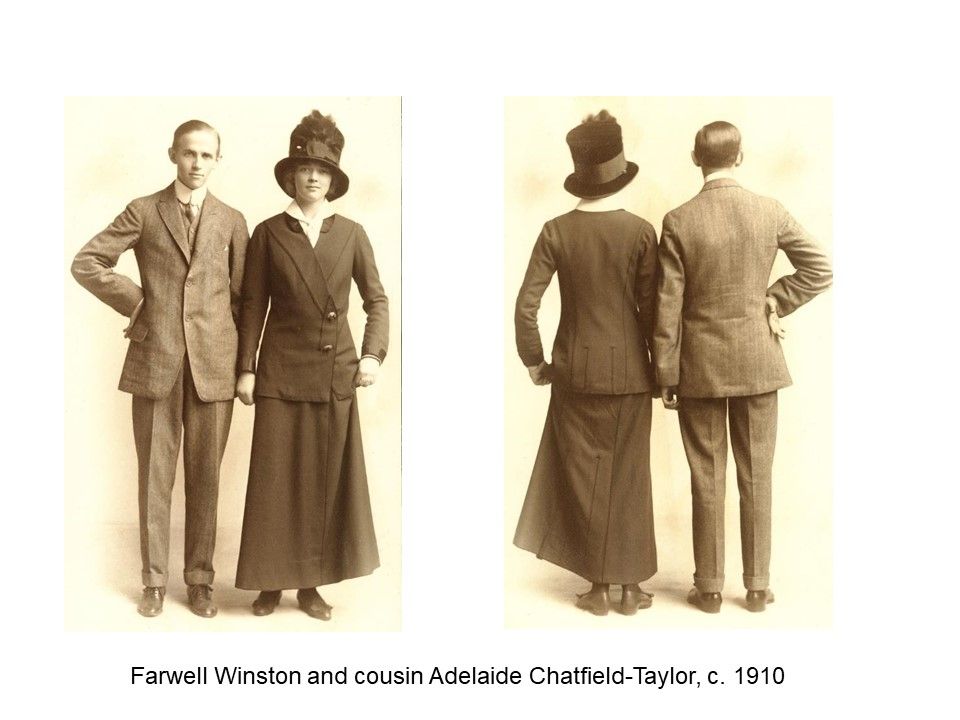 Then, about 15 years later, on a lark Farwell and Adelaide decided to have the process repeated, and hired a photographer to shoot updated front-and-back photographs, standing in the exact same positions – although they did not go so far as to don adult-sized sailor suits.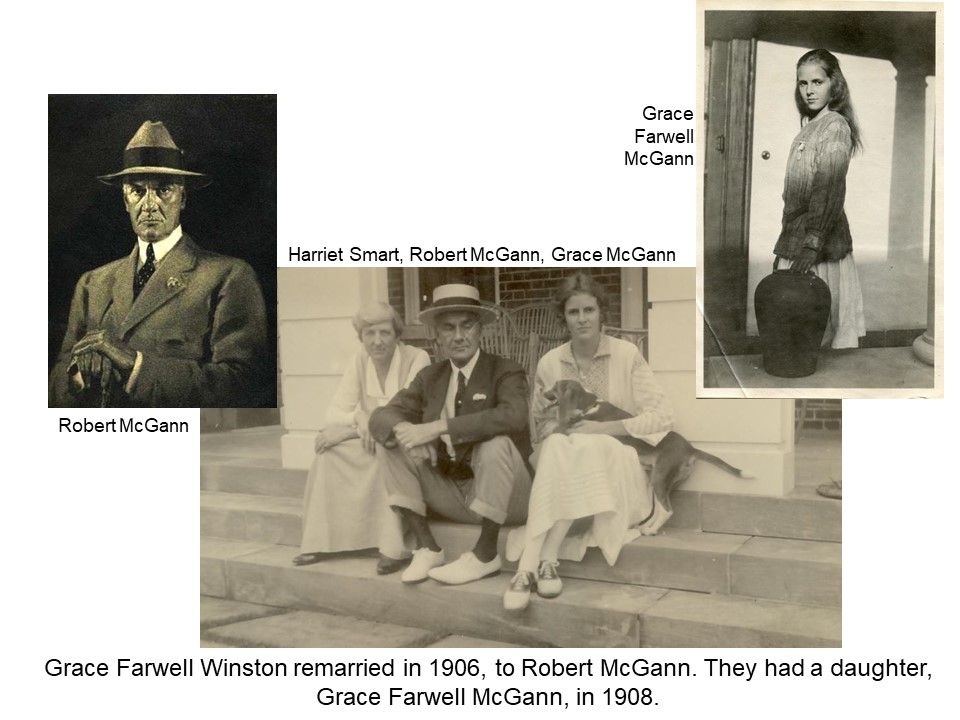 In 1906, Grace Farwell Winston remarried, to Chicagoan Robert G. McGann. They had a daughter, Grace McGann, born in 1908. Pictured here on the steps is Robert McGann with his daughter Grace on the right, and Grace's nurse Harriet Smart, who lived with the McGanns, on the left. Farwell Winston's daughter Lucia recalls that Harriet Smart, whom they all called "Baba," was the nicest person in the family.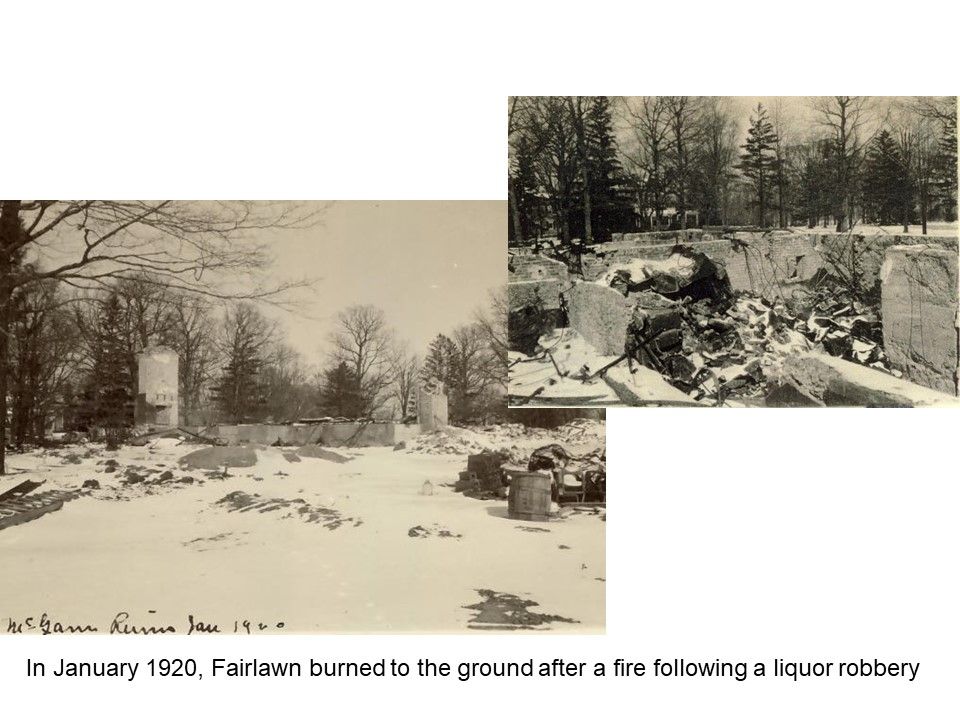 In 1918, after the death of her sister Rose Farwell Chatfield-Taylor in California, Grace and the Chatfield-Taylors decided to essentially flip-flop properties – Grace and Robert McGann would take on Fairlawn, which Rose had been caring for since the death of their parents, and Rose's son Wayne Chatfield-Taylor would have the House in the Woods property on Lake Road.

Shortly after Grace moved back to Fairlawn, the house suffered a horrific fire – you can see the devastation here. It was pretty much a total loss; fortunately no one was hurt. The fire occurred directly following a liquor robbery in the home – I should mentioned that this was January, 1920 – just as Prohibition was being ratified.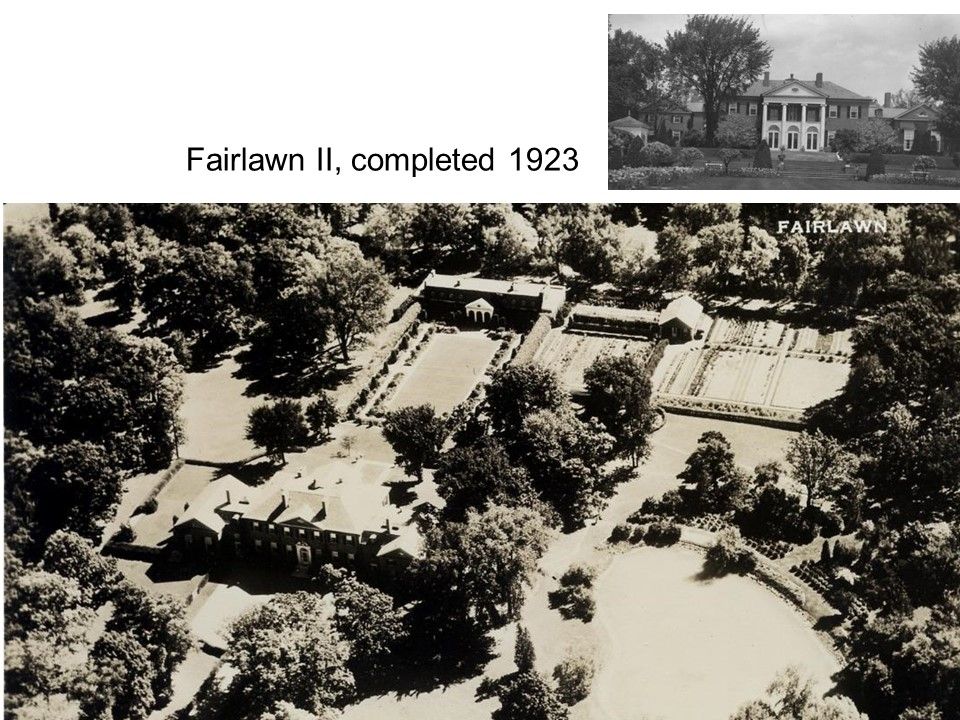 Grace Farwell McGann elected to rebuild on the same site. She did not recreate her parents' house, but went in a completely different direction, hiring architects Delano and Aldrich of New York to create a home that led to a new trend in estate building in Lake Forest. Their design combined elements of the classically-inspired Italian villa tradition – which hearkened back to her parents' Fairlawn – with the Colonial Revival style that was becoming so popular.

In the aerial photograph, you can see the house in the foreground, with the garage facing Spring Lane in the back. The pond is at right.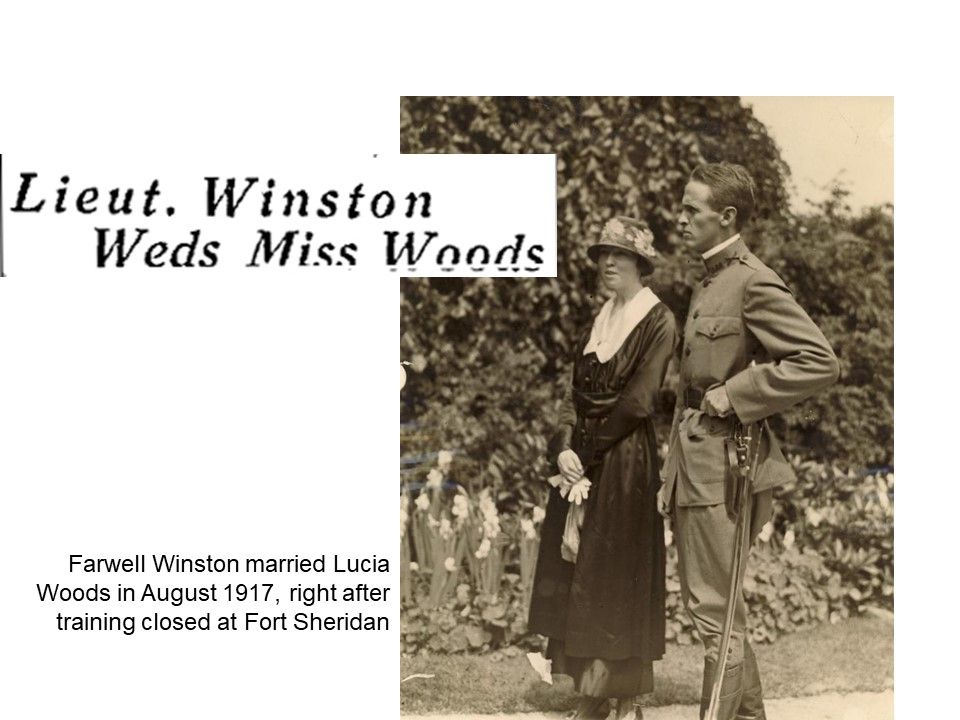 Grace's son Farwell Winston attended the Latin School in Chicago and graduated from Yale in 1915. He went to Kansas City for a short time after college to work for Armour & Co. – it was there that he met Lucia Carey Woods, the daughter of Mr. and Mrs. William Stansbury Woods. They became engaged just as the United States entered World War I in 1917. Farwell Winston joined his Tuttle and Chatfield-Taylor cousins that spring at the three-months-long officers' training camp at Fort Sheridan. Directly afterward, Farwell Winston and Lucia Woods were married in Kansas City. Two of his cousins, Wayne Chatfield-Taylor and Arthur Tuttle, also got married that week. They then reconvened at Camp Grant in Rockford, where he had a commission as a lieutenant to train the new draft army.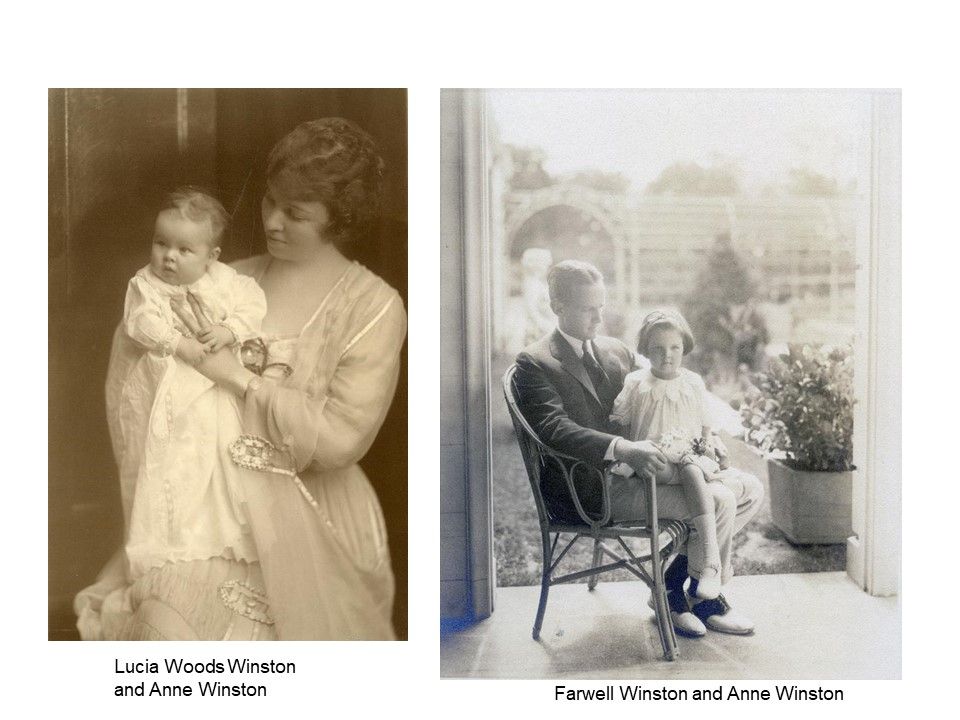 While Farwell Winston was overseas in France, his daughter was born – his wife Lucia wrote to him and asked if they shouldn't name her "Eveline" after her grandmother – Farwell Winston wrote back to the effect of, "No – if you do I might not come back." They chose the more popular "Anne" instead.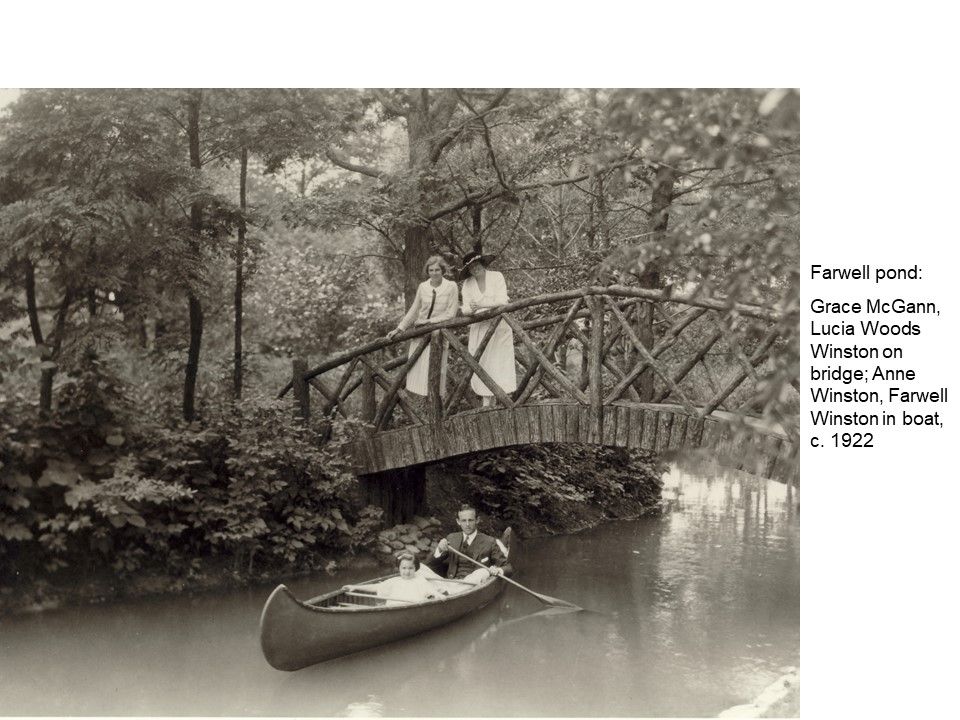 This photograph really captures the beauty of the pond at Fairlawn. Here you see Grace McGann on the bridge with Lucia Woods Winston; her husband Farwell Winston and daughter Anne are in the boat on the pond.
In 1927, Grace McGann married James H. Douglas Jr. He would go on to become a senior-level official in several presidential administrations: Assistant Secretary of the Treasury under Presidents Hoover and Roosevelt; and Secretary of the Air Force and Deputy Secretary of Defense under President Eisenhower.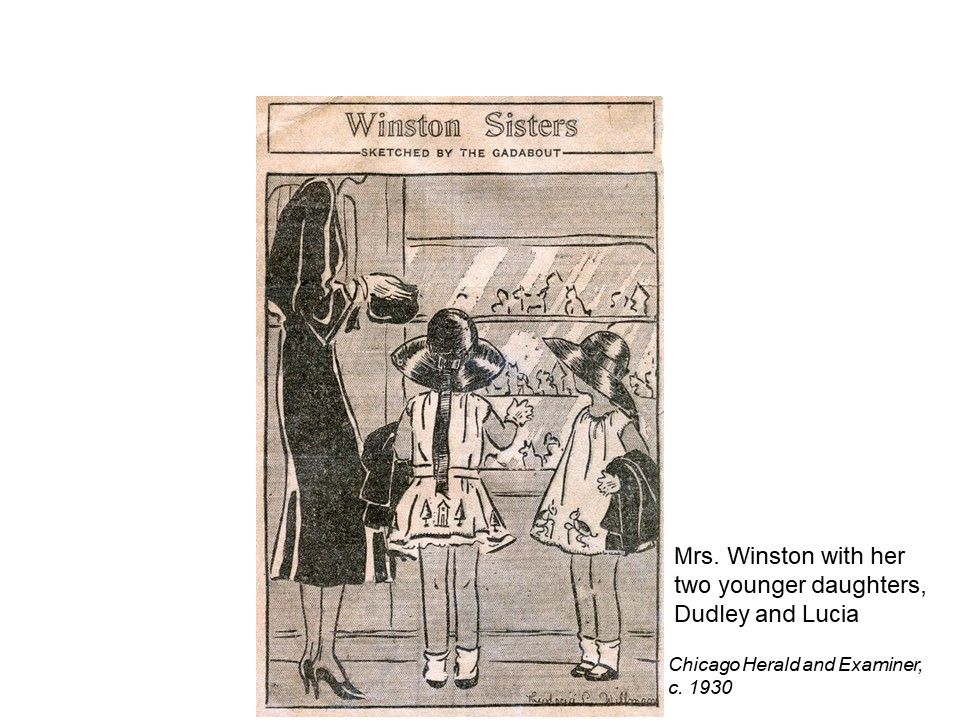 The family had two more daughters, Dudley, named for Farwell Winston's father, and Lucia, named for her mother. You can see a sketch of them here that appeared in the Chicago Herald and Examiner around 1930. The accompanying blurb is a quintessential example of the society pages in those times, so I think I'll quote it here: "Dudley and Lucia Winston, the petite daughters of the Farwell Winstons, were in from Lake Forest one day last week, doing a bit of shopping and lunching with their attractive young mother. They looked so cunning dressed exactly alike that I made this little sketch of them. Their dresses of white linen had little houses, trees and amusing doodle-bugs embroidered in blue and red around the bottom. They both wore very large navy straw hats with bands and streamers of matching grosgrain ribbon. Their tiny yellow gloves added just the right note of sophistication to their quaint and charming ensembles."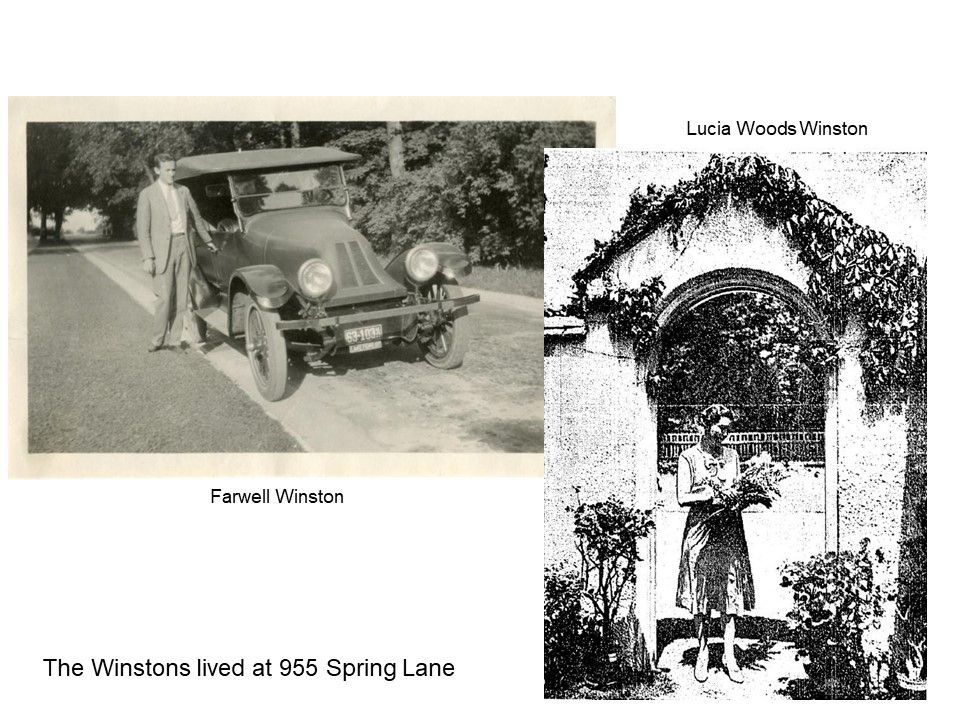 The Winstons lived just south of Fairlawn at 955 Spring Lane (now the address is 969). The backyard was adjacent to that of the Porter house on Lake Road, and Lucia Winston Heyworth recalls and she and her friend Anne Porter strung a long string between their houses and used to talk to each through tin cans.

Her mother Lucia Woods Winston was a member of the Lake Forest Garden Club and was a very good flower arranger, which you can see from this Chicago Tribune photograph.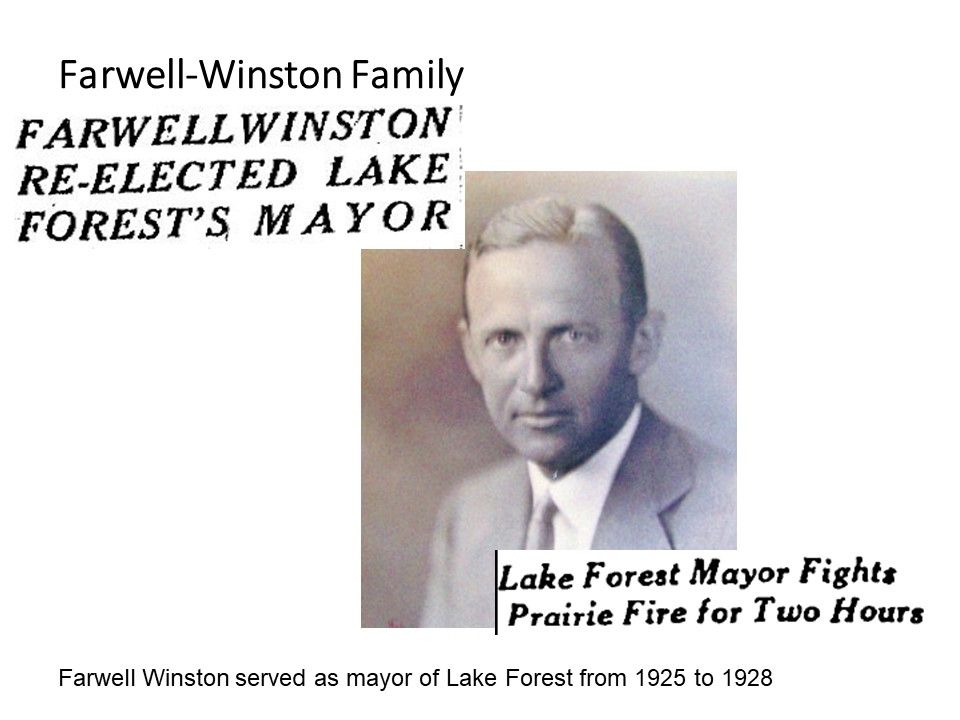 From 1925 to 1928, Farwell Winston served as mayor of Lake Forest, and was at the helm to oversee the largest expansion of the city since its incorporation. In 1926, the Plan Commission was established; later that year, 9 square miles of territory west of town was annexed to Lake Forest; the next year, the Knollwood Club property was added as well.

In 1928, Mayor Winston spotted an opportunity to serve the Lake Forest community even more directly. He noticed, while driving one Sunday past the Earle Reynolds estate on Green Bay Road, that a prairie fire was threatening the outbuildings, and rolled up his sleeves, seized a shovel and spent two hours on Sunday fighting the fire, aided by other residents in the vicinity.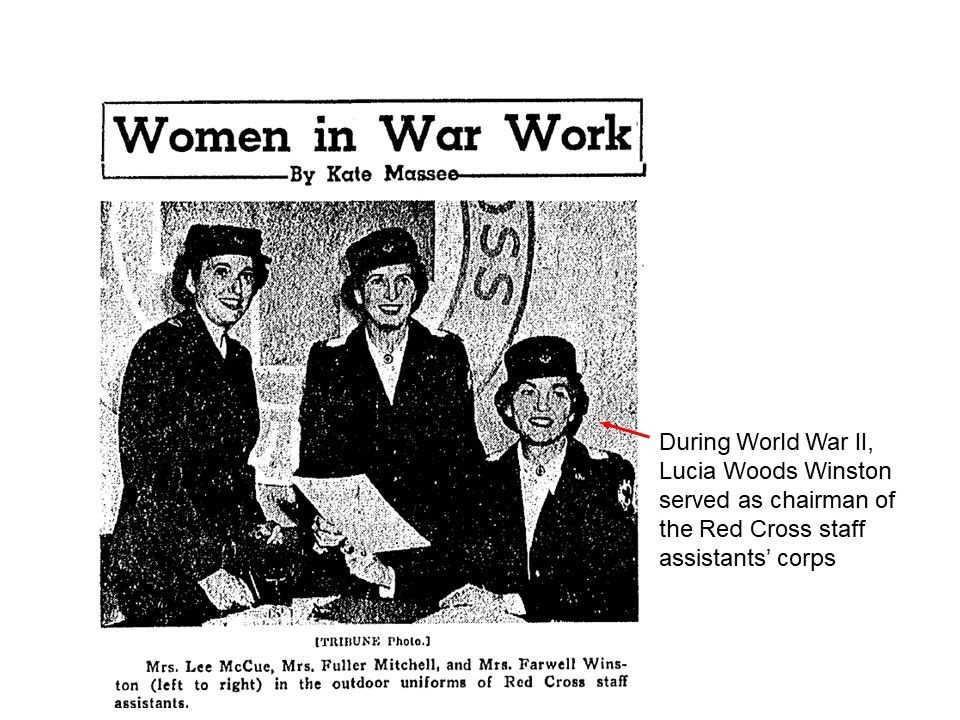 During World War II, the Winston family closed up their Spring Lane house, living in Chicago during the winter and spending the summer at the Onwentsia cottages. One of the reasons was Lucia Woods Winston's high level of activity in the Red Cross in Chicago. She served as chairman of the staff assistants' corps during World War II, coordinating and training the hundreds of staff assistants, who dispensed public information, manned switchboards and conducted other office work at the blood bank, Red Cross headquarters, hospitals, Fort Sheridan and Great Lakes.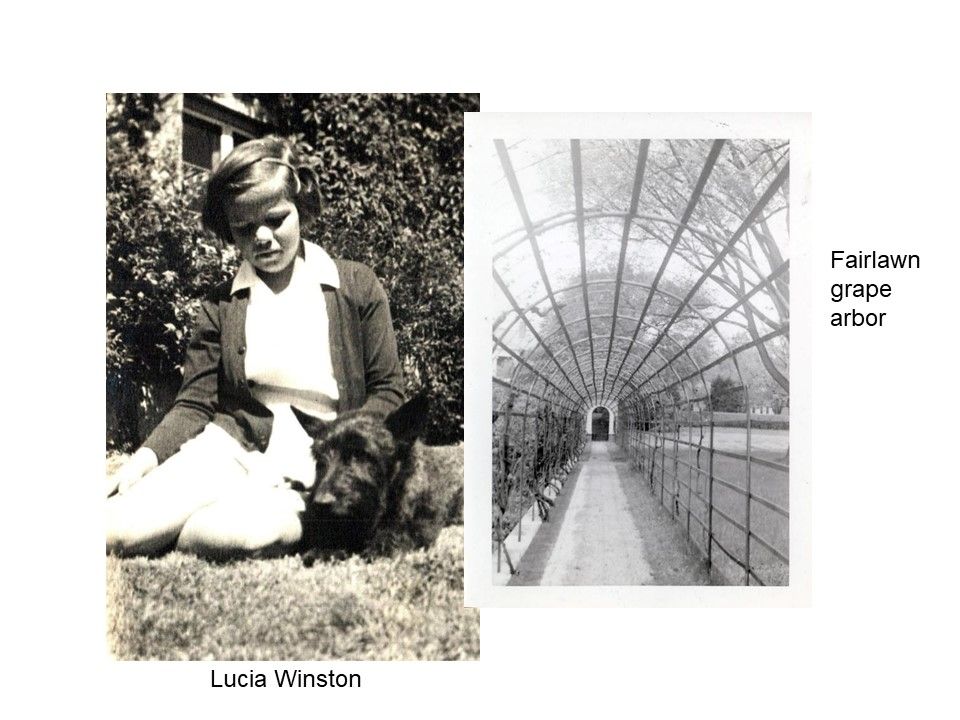 The Winstons' youngest daughter, Lucia, loved riding her bicycle around Lake Forest growing up. From her house on Spring Lane, she would cut through the grounds of her grandmother's home, picking up speed while racing through the Fairlawn grape arbor, seen here, and then exiting at Deerpath.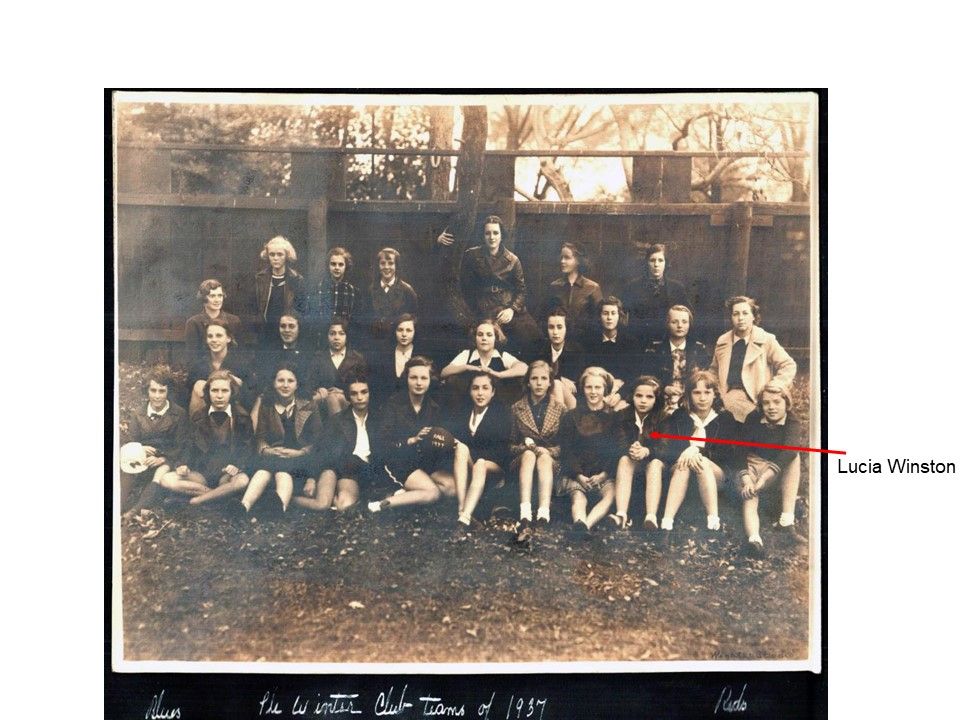 One of her favorite destinations was the Winter Club, where she would play both in the summer and during the school year, after classes let out for the day at the Bell School. Here you can see the "Blues" and the "Reds" – Winter Club soccer teams of 1937.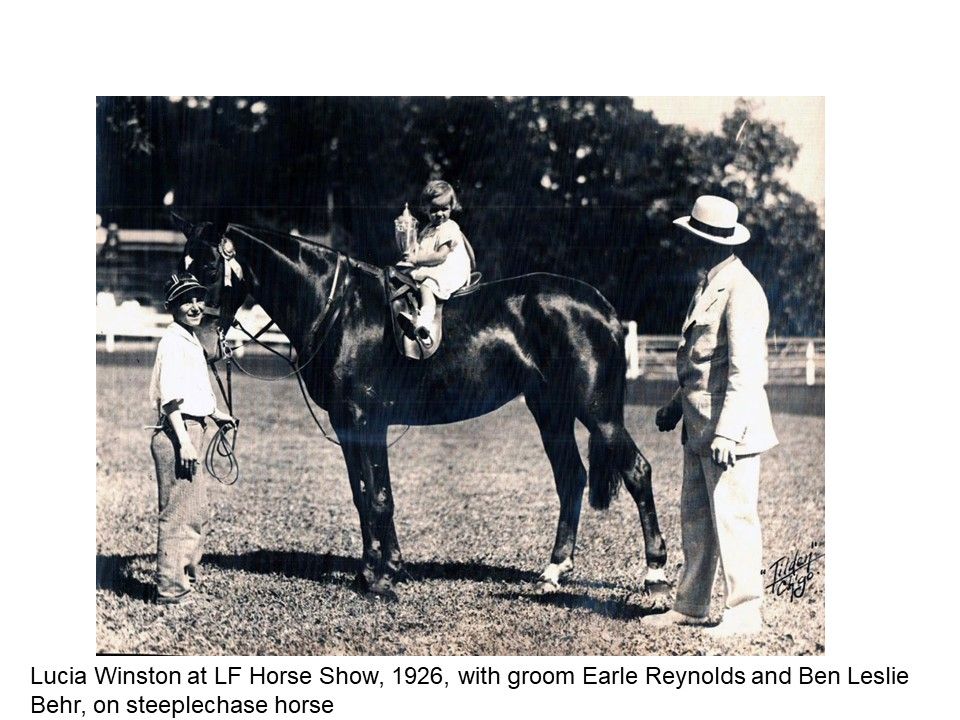 She would also head to the Onwentsia Stables on her bicycle, where she loved to go out riding. You can see from this photograph that she was encouraged in this pursuit – even crowned a champion – from a very early age!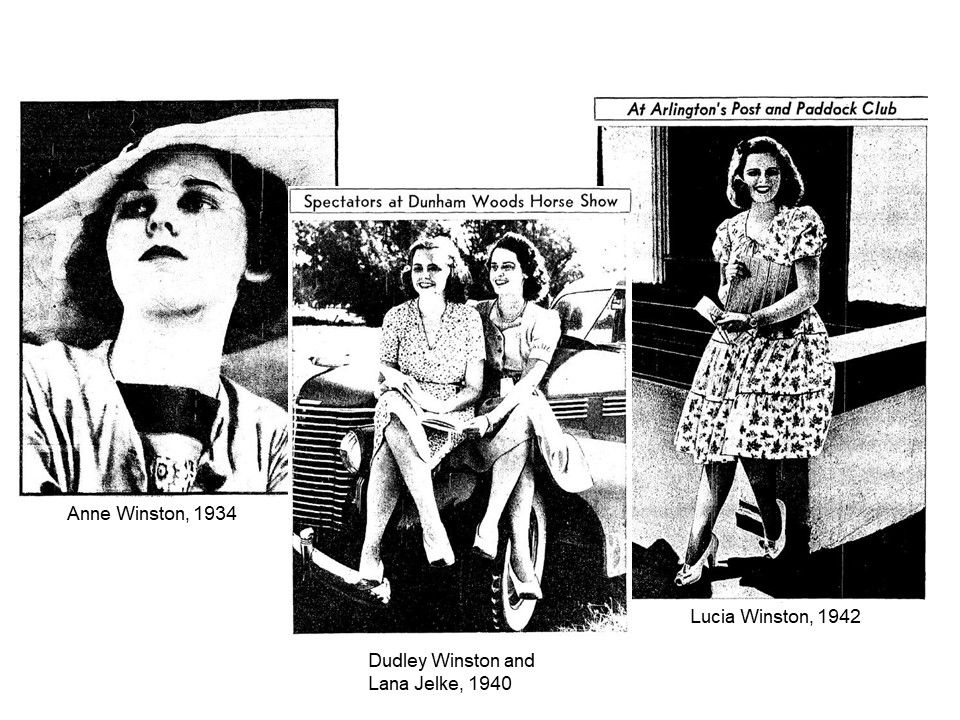 Like many Lake Forest girls of the time, the debuts and social doings of the Winston sisters were chronicled in the Chicago newspapers. Anne Winston married Carleton Ellis, Jr., in 1939. Dudley Winston attended the Chicago Conservatory of Music and became an excellent concert pianist.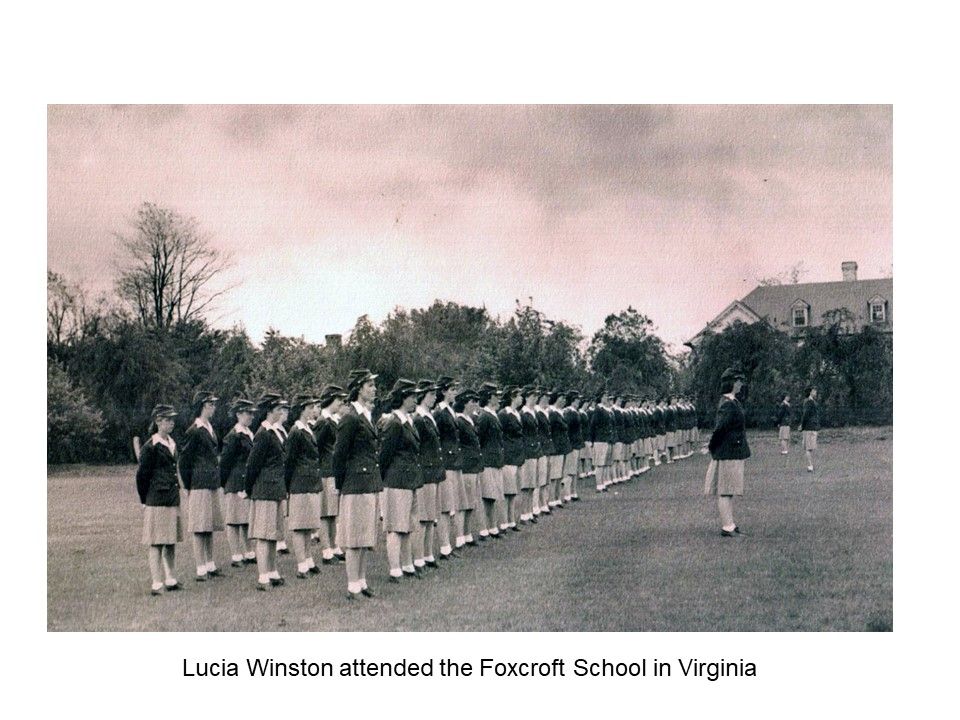 Lucia Winston attended the Foxcroft School in Virginia – she remembers the girls doing military marches and drills in the lead-up to World War II. Once, the Duke and Duchess of Windsor (the former Mrs. Wallis Simpson) visited the school; the American students were all excited, but none of the English girls who attended would even acknowledge her.

During the war, Lucia Winston came back to Chicago and served in the Red Cross, including as a nurse's aide in the Cook County hospital. Her future husband, Vaughan C. Spalding, was at Yale – his class had to do their final exams orally, since they'd been called to go off to war.

Lucia Winston and Vaughan Spalding were married in 1947; their children were Vaughan III and Kathleen.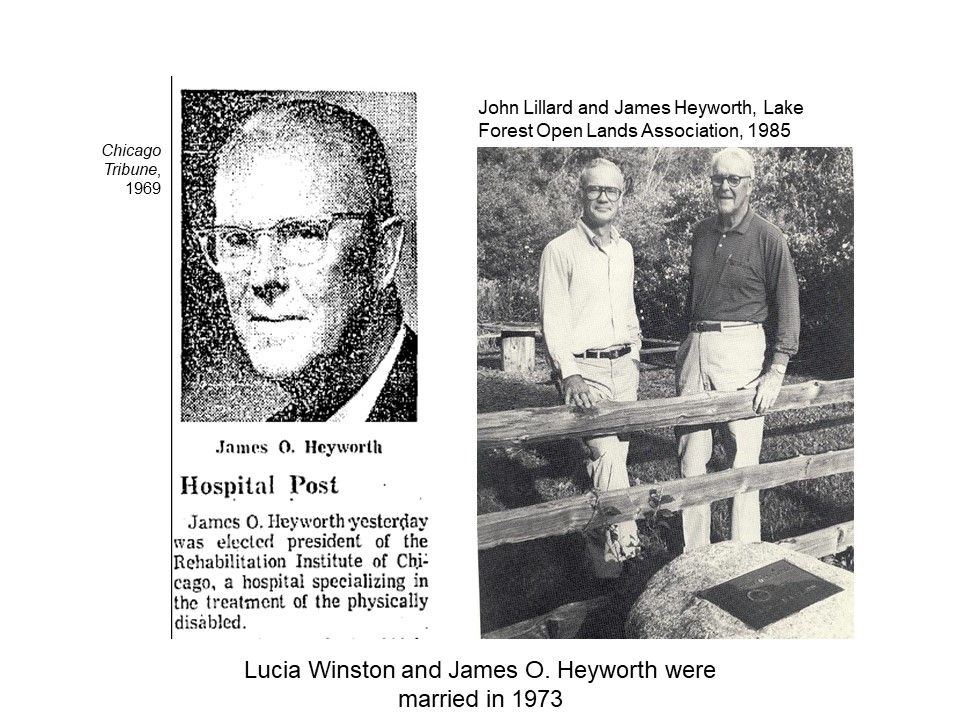 In 1973, Lucia married James O. Heyworth, who had three children from his first marriage, Martica, Mallory and James Jr. Jim Heyworth was, at that time, the president of the Rehabilitation Institute of Chicago. He had left a successful business career in 1968 to serve as the RIC's first president, wanting to give something back to those in need, and over the next decade really built it to lead the field in rehab medicine.
In 1978, he served as President of the Lake Forest Open Lands Association; you can see him pictured here with John Lilliard in 1985. He expanded the Open Lands vision considerably by recognizing its potential to grow beyond its first preserve in the Skokie Valley.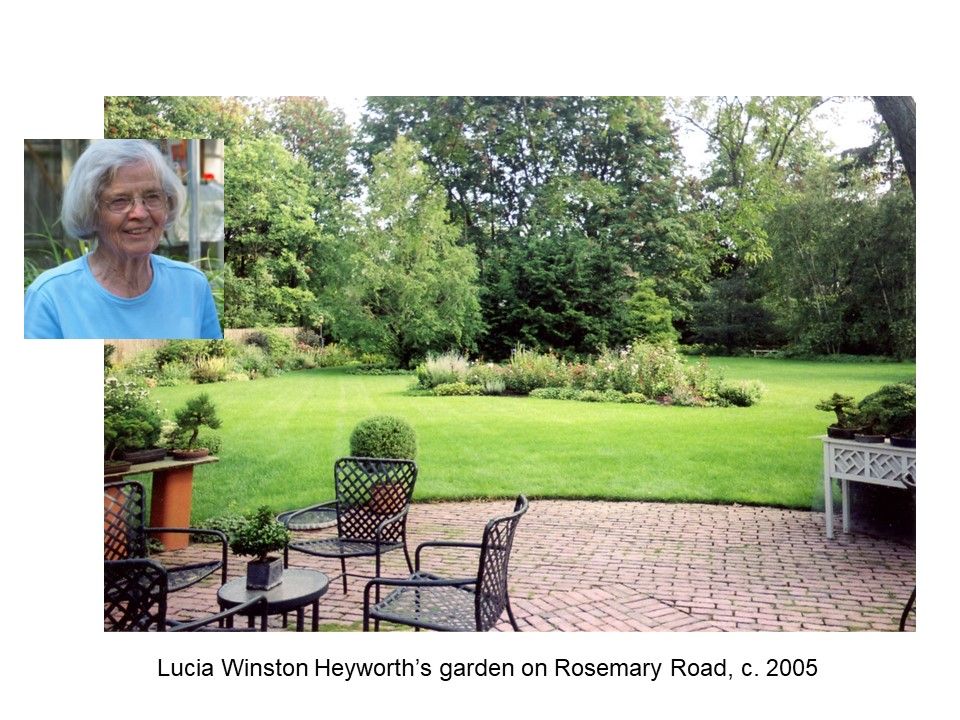 Lucia Winston Heyworth has been a member of the Lake Forest Garden Club for nearly 50 years, and she has become one of their most talented and decorated horticulturalists, receiving awards in each of the past four decades for her bonsai, fern and orchid collections from the Chicago Horticultural Society, the Mid-America Bonsai Show, and others. You can see an image of her garden here from about 10 years ago.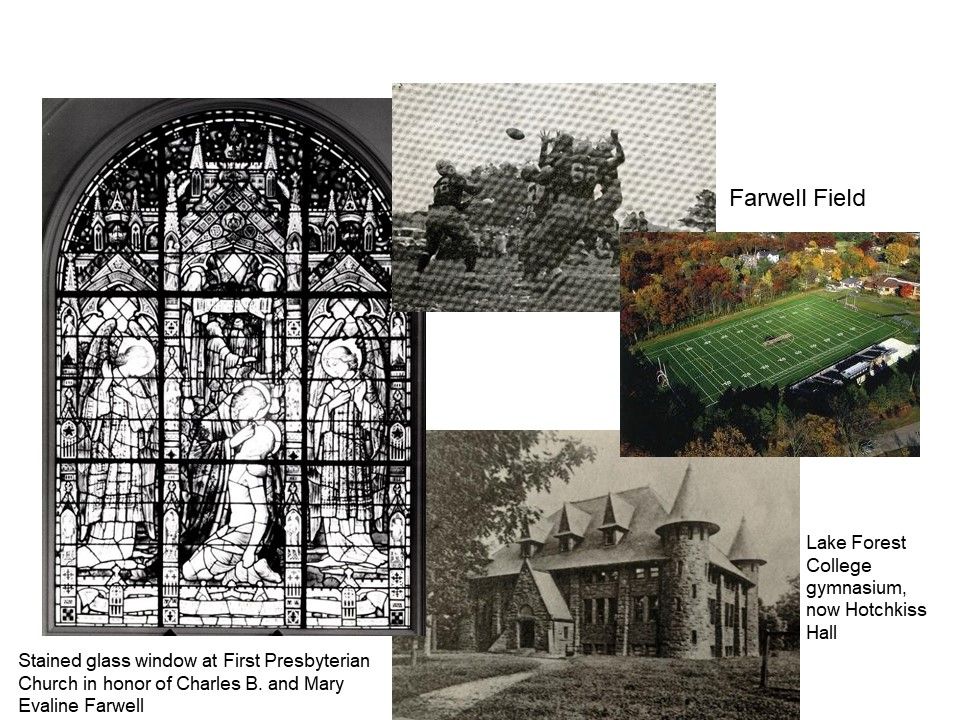 As we have seen, the Farwell family's roots are nearly indistinguishable from those of Lake Forest itself. You can see a few images that represent their legacy here – a stained glass window at First Presbyterian Church, Farwell Field and the building that served as the college's gymnasium, created after gifts from the family. Their greatest legacy, though, can be seen all around us as the town and college continue to thrive.