Lanners-Rose Family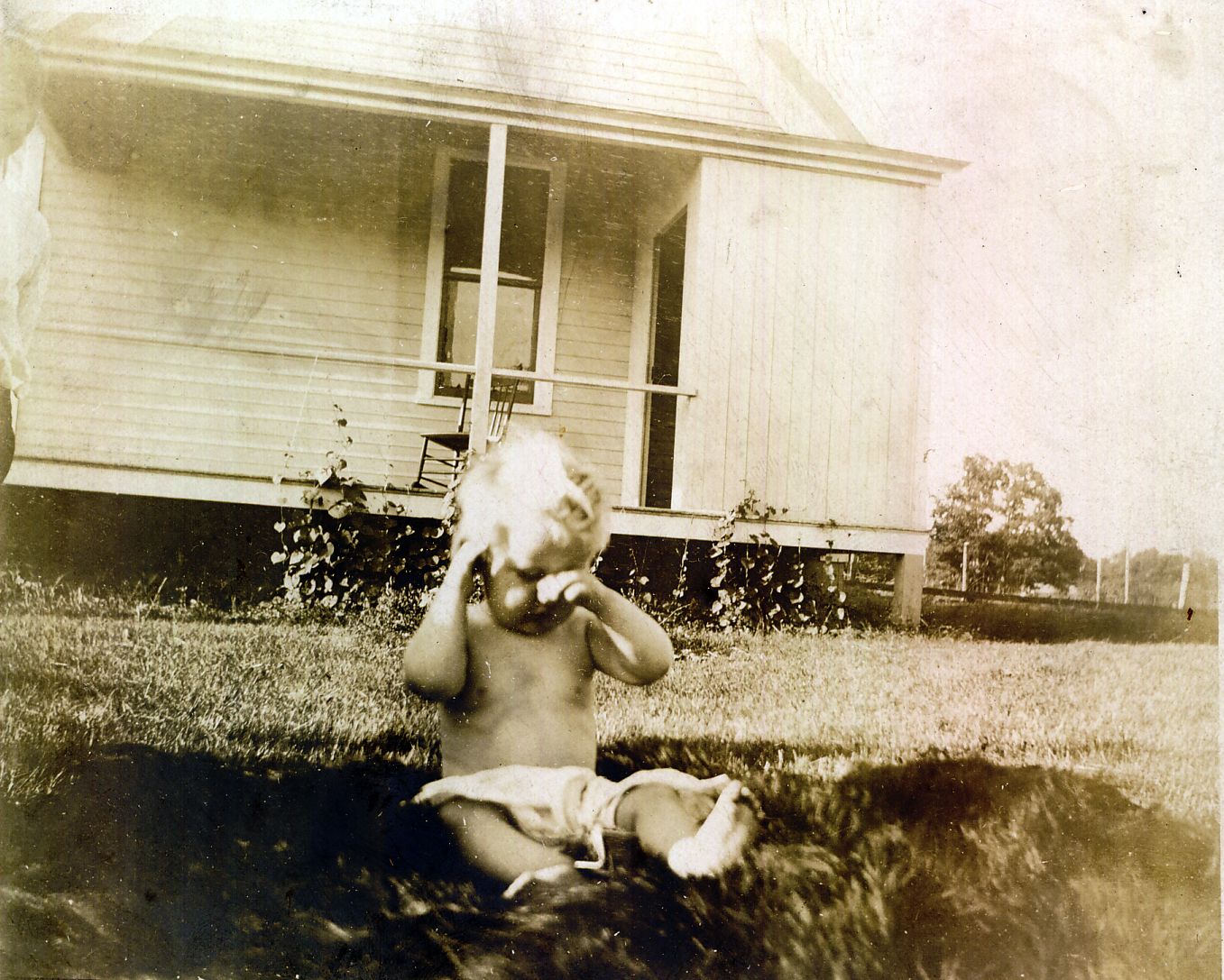 Joseph Lanners, 1909.
Michael Rose was born in Clarke's Beach, Newfoundland, where the fishing industry dominated the landscape. He married Mary Josephine Walsh, who hailed from one town over, North River, in 1887, and within a year they'd decided to migrate to the United States. The Roses followed the same path from Newfoundland to Chicago's North Shore as several other Lake Foresters, including another of our Centennial families, the Baldwins.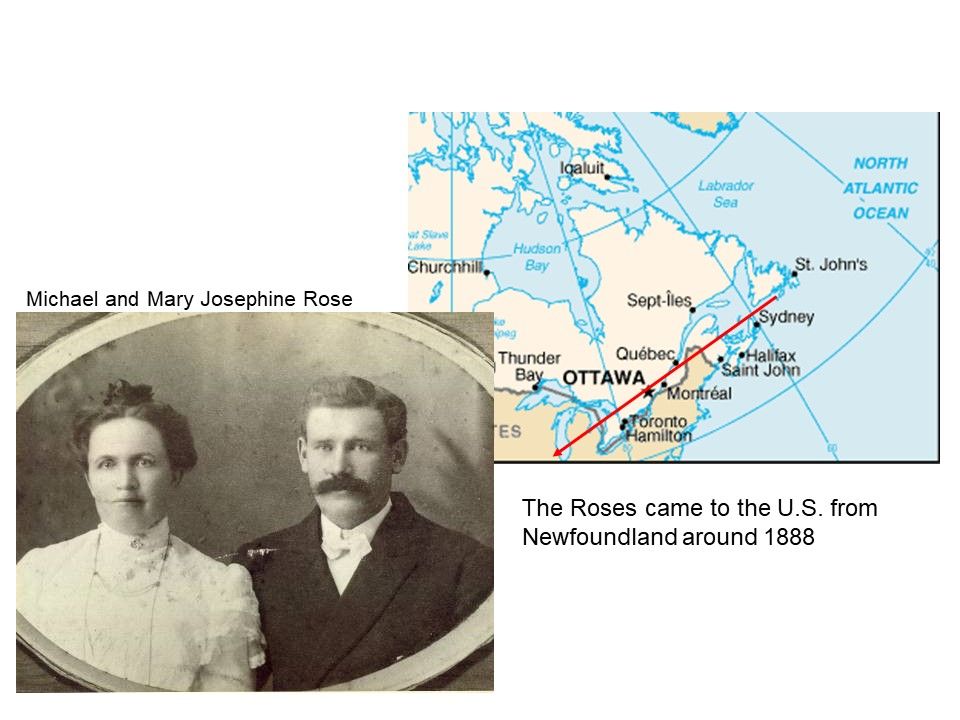 The Roses settled in a home on Oakwood Avenue in Lake Forest, which was located right where Oakwood meets Wisconsin until it was torn down in the 1970s. Michael found work as a mason, while Mary utilized the extra space in their rambling house to take in boarders and supplement their income to support their growing family.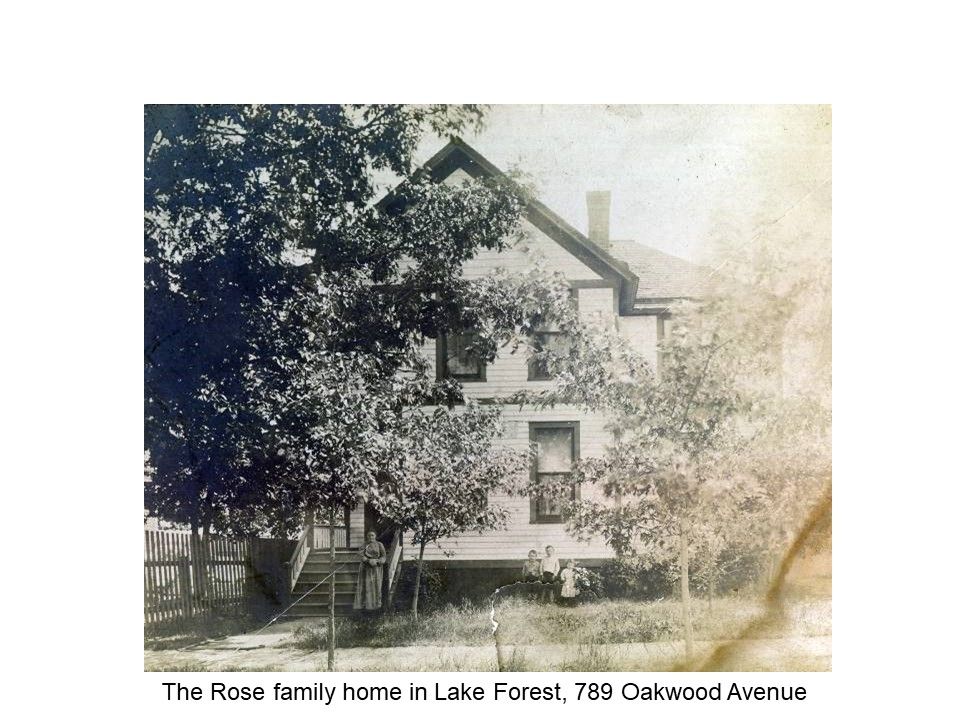 The Roses had nine children, who were all baptized at St. Mary's Church. The eldest, Minnie Rose, married Joseph Gist, a child of German immigrants who was born "at sea" during the voyage to America. Their son Joe served for years as a Lake Forest policeman.
Richard and Vincent Rose both went on to work for the Chicago and Northwestern railroad, living with their families in Waukegan. The youngest brother James moved to LaGrange and became a fireman.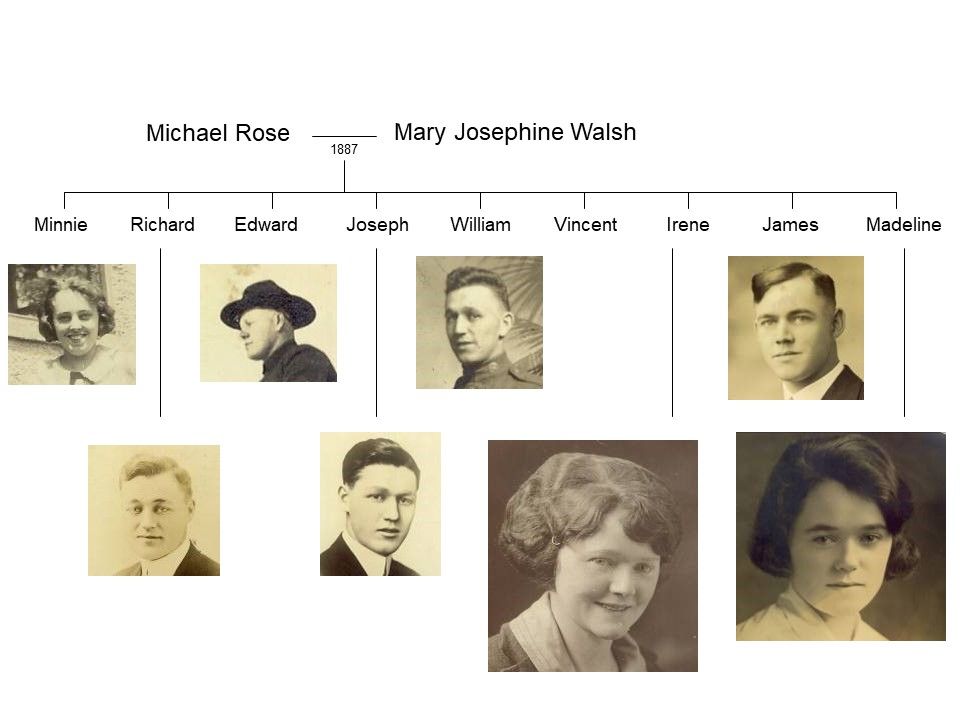 The three middle brothers of the Rose family, who had all found work as chauffeurs amidst the growing market for automobiles in the early 1900s, were all profoundly affected by the U.S. entry into World War I. Edward and William both served in the war, sending copious amounts of postcards home documenting their time in training camp. Edward's photos indicate he had a role driving around some of the top military officials. Because their brother Joseph's work at the Plaza Garage on Clark Street in Chicago was the most lucrative job of the three, he did not serve in the war. On his 1917 Draft Registration card he is listed as "supporting his mother and sisters," a role he took on when his father Michael left the family.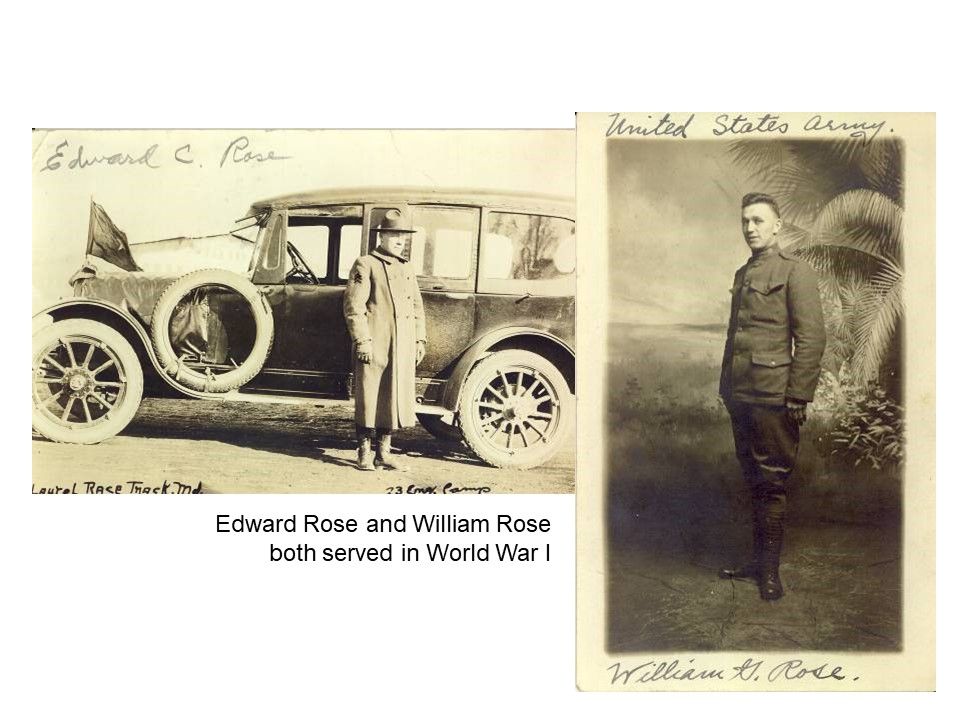 While their brothers were working or at war, Irene and Madeline Rose were still in school, and Irene did her bit in 1917 by achieving perfect attendance at Halsey School, which of course was located less than two blocks down the street from her house.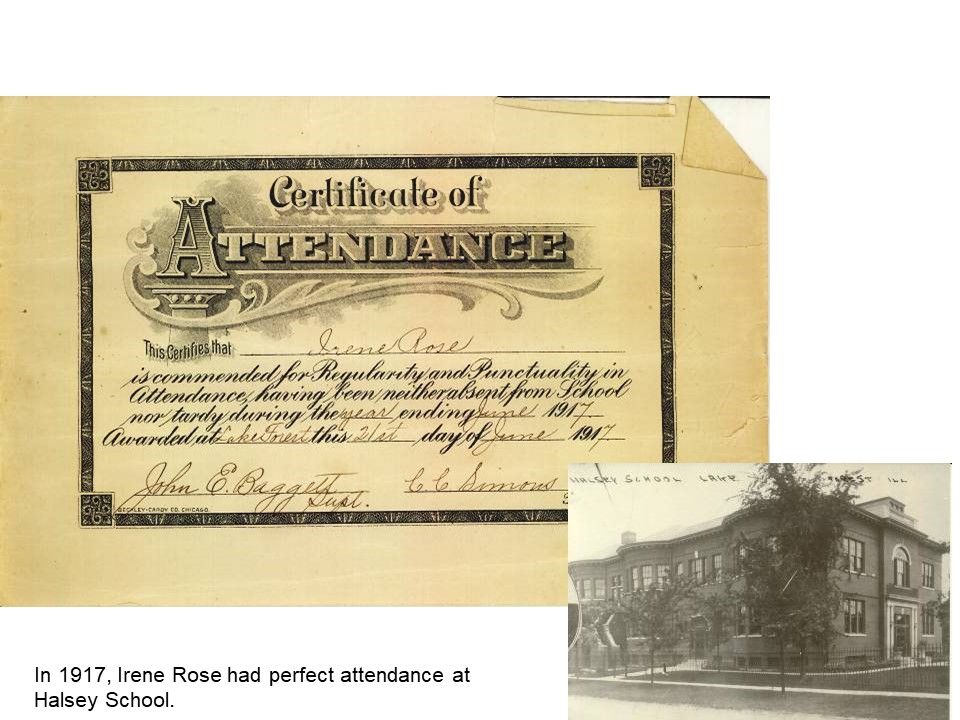 We'll now jump back a bit to talk about the other side of the family. Henry Lanners immigrated to the U.S. from Germany as a small boy in 1886. By 1900, he'd made his way to Lake Forest, when the census lists him on Western Avenue working in some capacity for the George Fitzgerald family. One of his coworkers at the time was a young man named Herbert Kenny, an Irish immigrant who may very well have been the relative who introduced Henry to his future wife Margaret. Henry and Margaret Kenny were married in Lake Forest in 1901.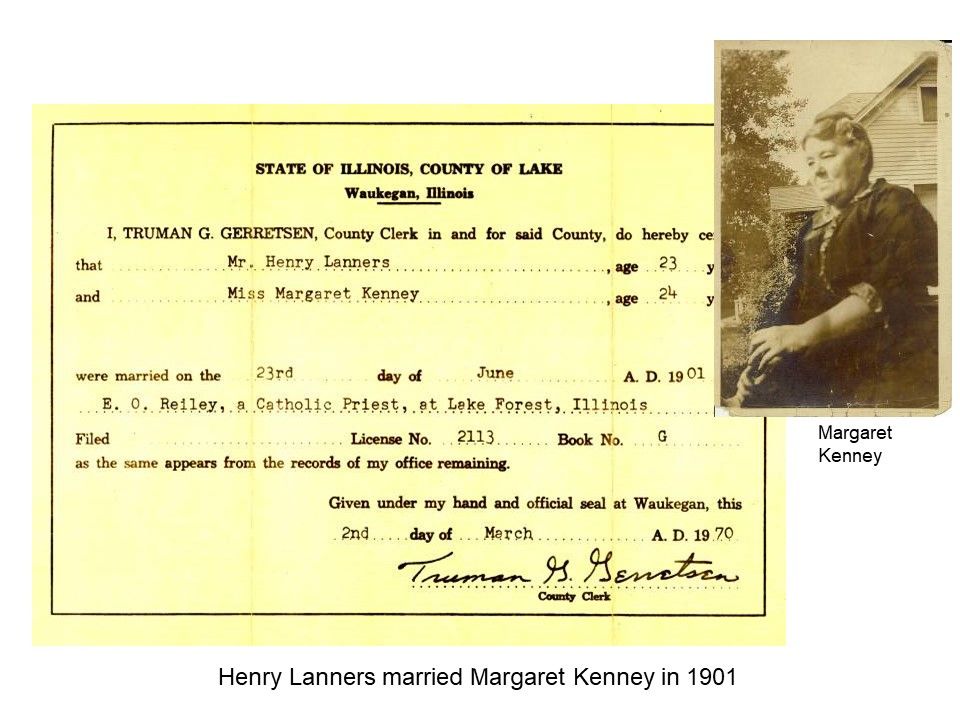 Henry Lanners worked as a farm manager, and the family lived out west on Waukegan Road. He and Margaret had four children: Henry, Margaret, Peter and Joseph. Below you see Joseph, the youngest, as a baby in 1909.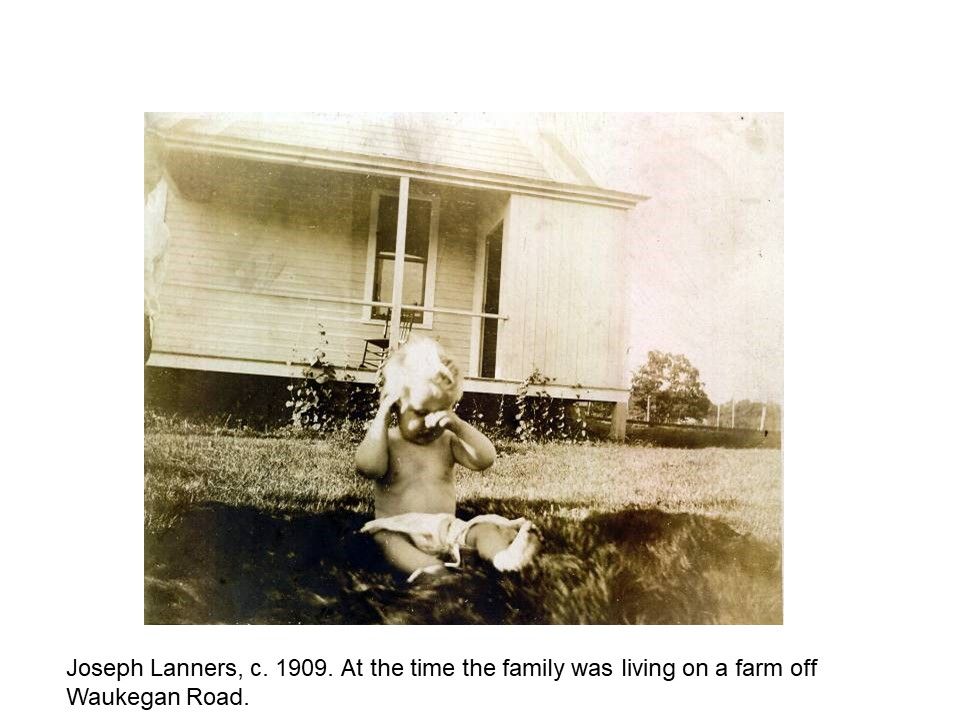 The Lanners children attended the Vickerman school, which was located on Waukegan Road north of Deerpath, across from the entrance to Elawa Farm. At the time this was not part of Lake Forest, so it was school district 66, as you can see from this scan of Joseph Lanners' "Bird Study" project. Such a nature-based school assignment was probably enjoyed greatly by Joseph, a future Boy Scout leader.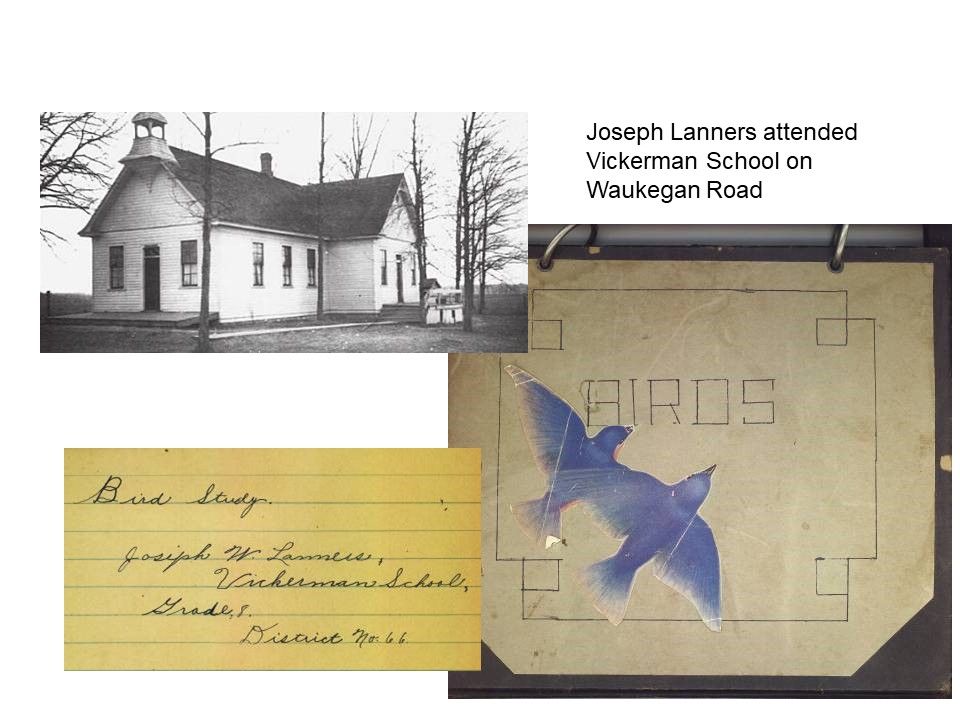 As the western edges of Lake Forest and Lake Bluff became more developed and farmland decreased, Henry Lanners had to seek another line of work. By the 1930s, he became an engineer for Lake Forest's Market Square syndicate, and his family had moved into a new house on Edgewood Road in town.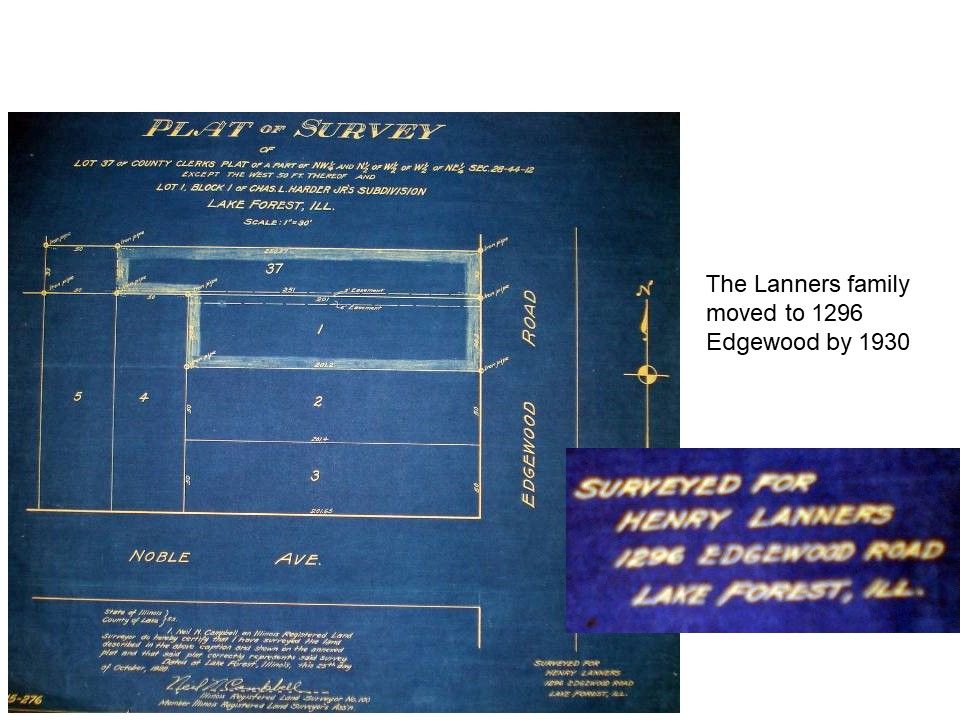 Around 1930, Joseph Lanners' life became a flurry of activity. He started a brand new Boy Scout troop at the School of St. Mary, serving as the Scout leader for 19 boys. He volunteered for the responsibility of organizing the Lake Forest Day kids' parade. And he got married, to Irene Rose, on New Year's Eve, 1931.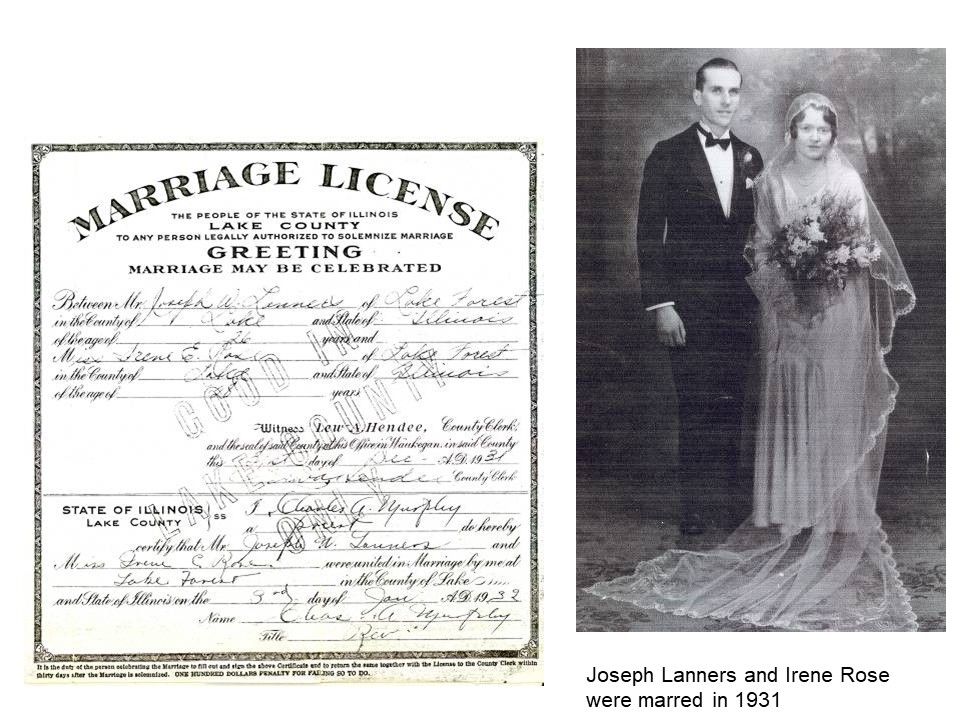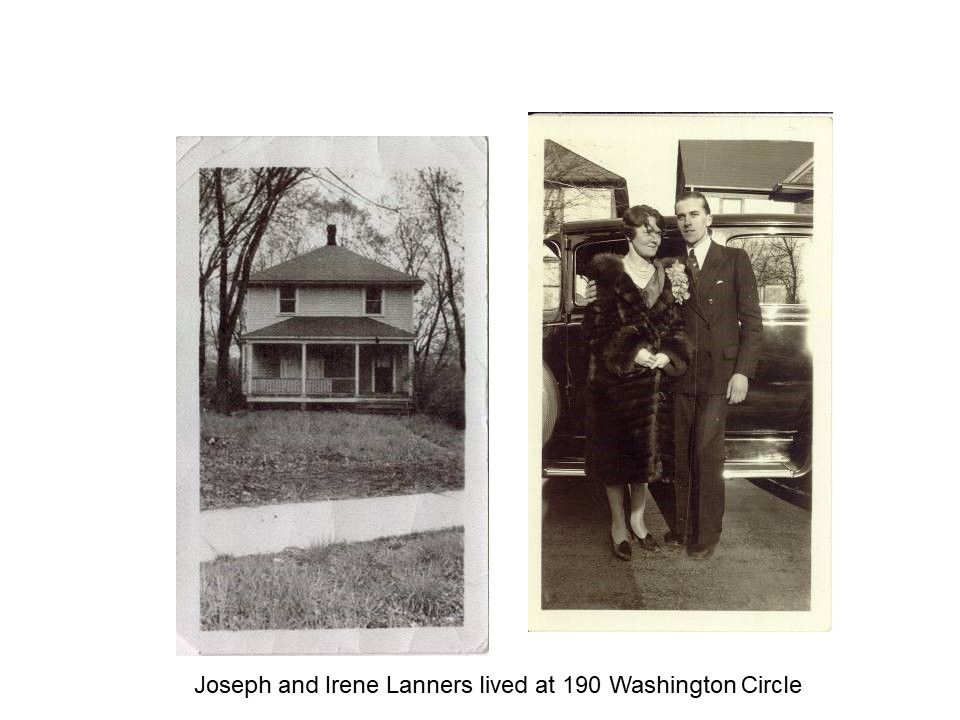 When he was married, Joseph was worked at a small grocery store at the corner of Western and Westminster, Barker Market. But soon he found a new job at Lake Forest College. For 40 years, he worked as Administrative Assistant of Buildings and Grounds at the college, retiring in 1976.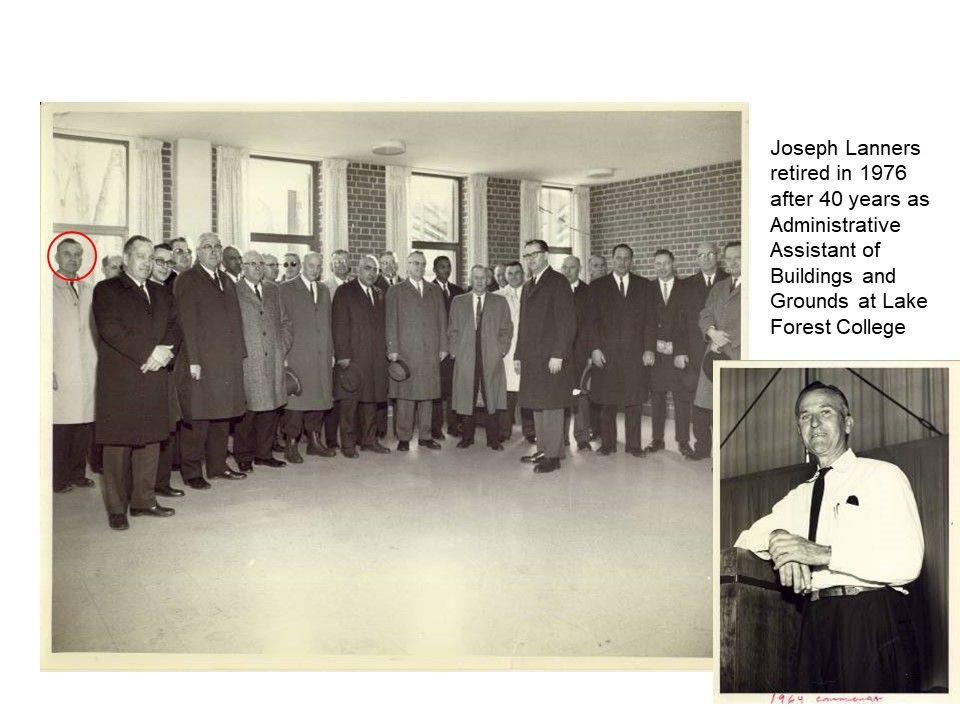 Living with the Lanners on Washington Circle was Irene's younger sister, Madeline Rose. Madeline worked for North Shore Gas for 47 years as their bookkeeper. She was known to all her nieces and nephews as "Aunt Lol" or "Lolly," because while she loved to sing, she never knew the words to the songs, so she would always just say "tra la la la la" instead.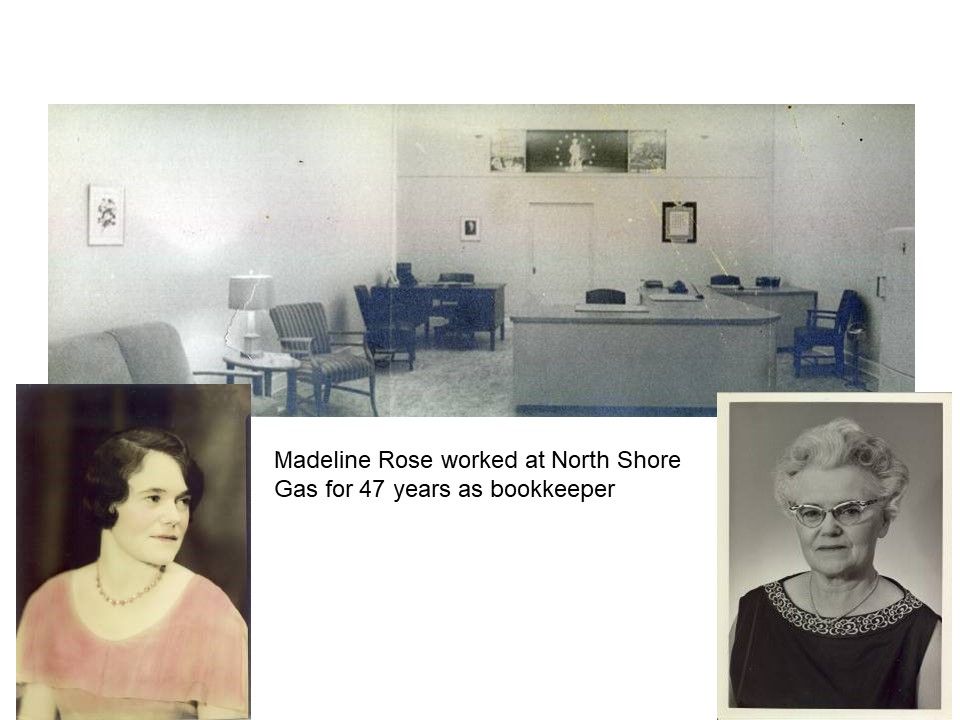 Joseph Lanners and his sister-in-law Madeline Rose worked together to organize the Lake Forest Day kids' parade. Their involvement also extended to the main parade: here you see Joseph with his sister Margaret and her husband William St. John next to their Lake Forest Day parade entry.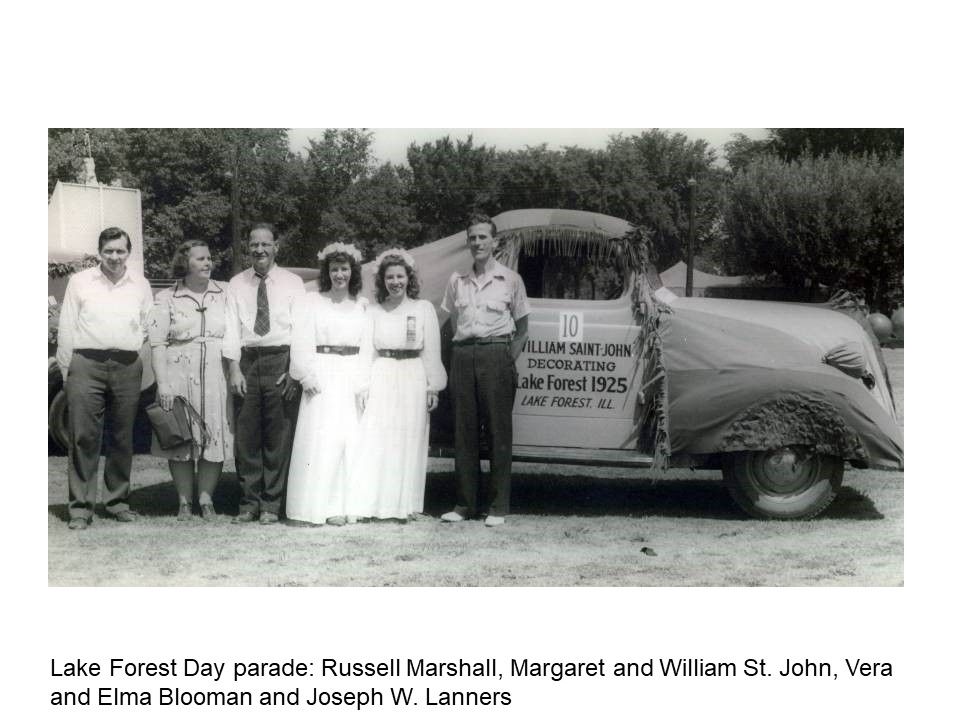 Joseph and Irene's daughter was named Madeline after her aunt. Here you can see the family celebrating Madeline's first birthday.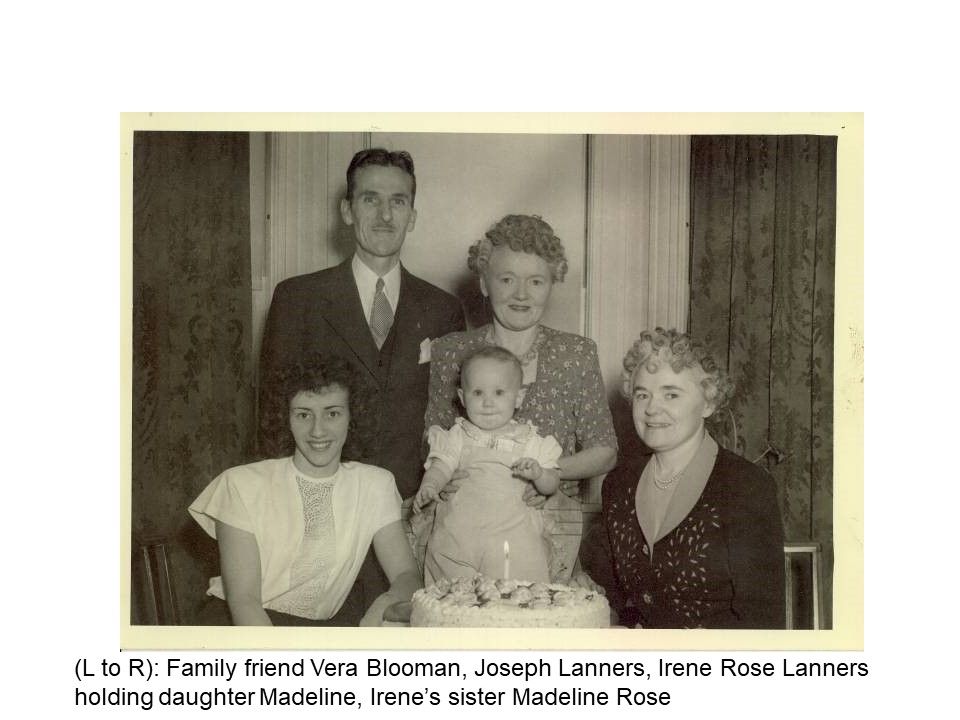 By age 5, she was old enough to help cut the cake. At the time, she was attending Halsey School and then the School of St. Mary, where her dad had his Boy Scout Troop.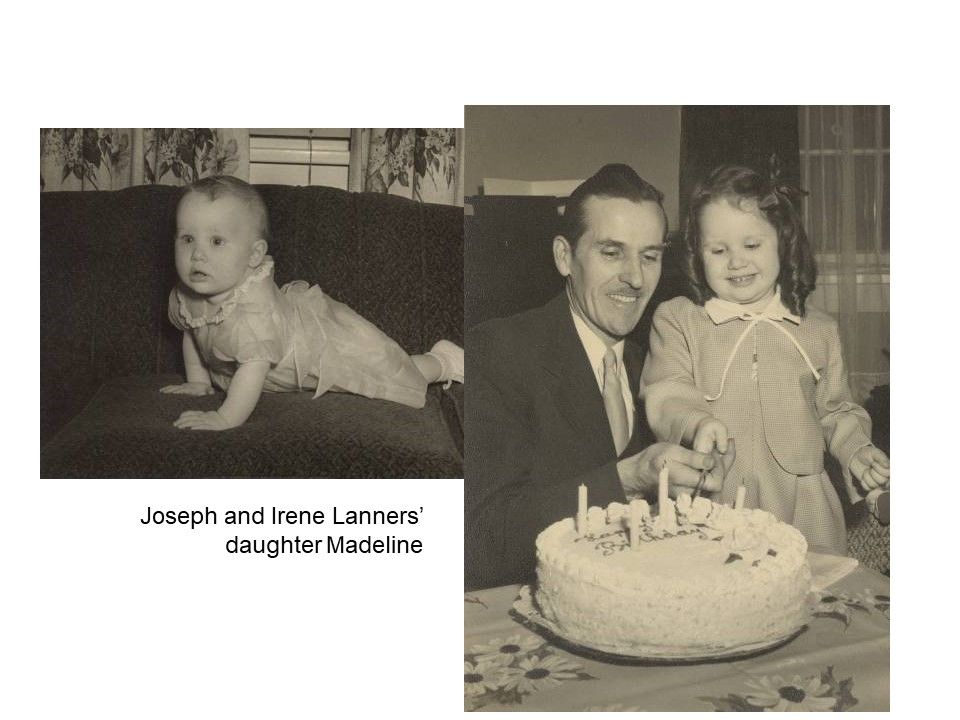 As the daughter and niece of the organizers of the Lake Forest Day kids' parade, Madeline Lanners had plenty of opportunities to take part. You can see her father smiling in the background as his daughter and her friends get ready to ride the kids' parade route, which started at Wisconsin and Western, went south and then turned to the west on Deerpath, north on Bank Lane and ended in Market Square.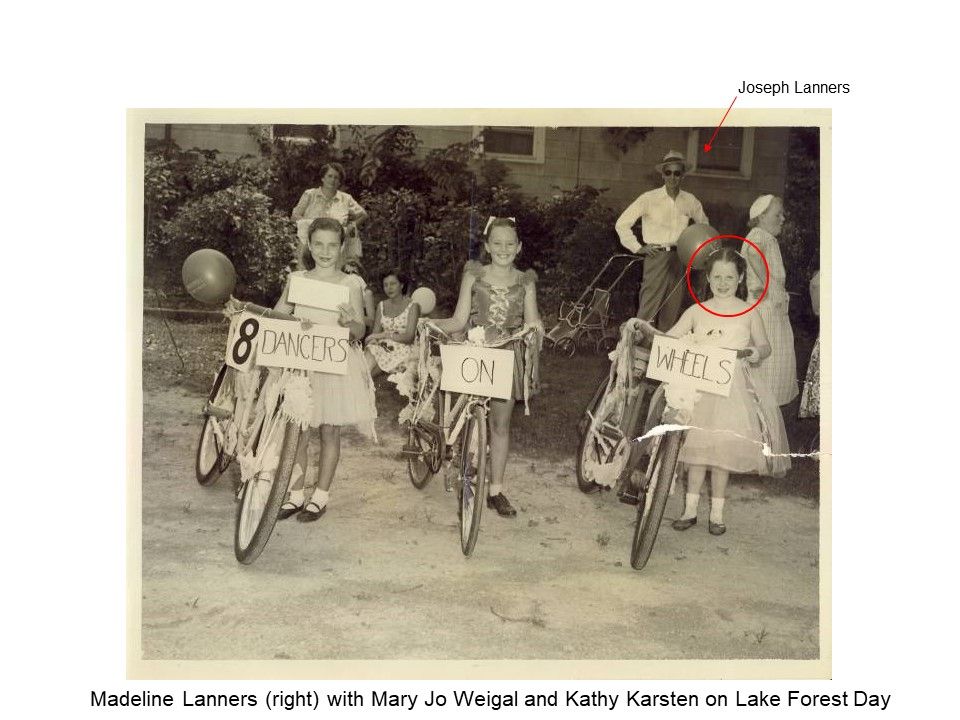 Madeline Lanners also made it onto some of the floats in the main parade. This is the parade entry for Vivian Peterson's Maternity Shop in 1956.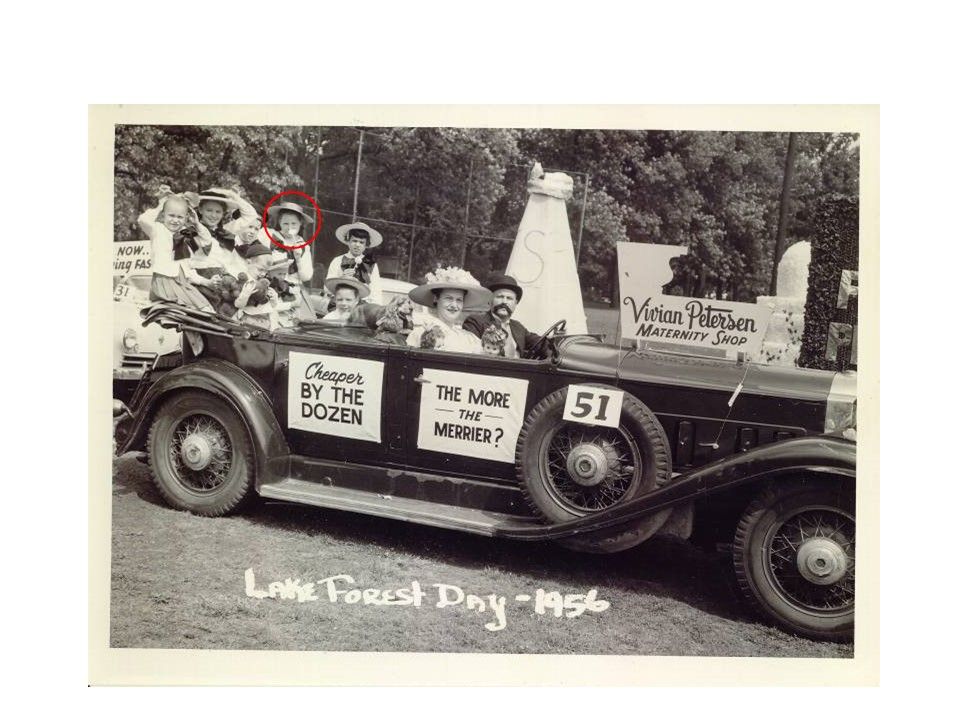 In 1983, Joseph Lanners and Madeline Rose were honored by the American Legion for their 52 years of service in organizing the kids' parade.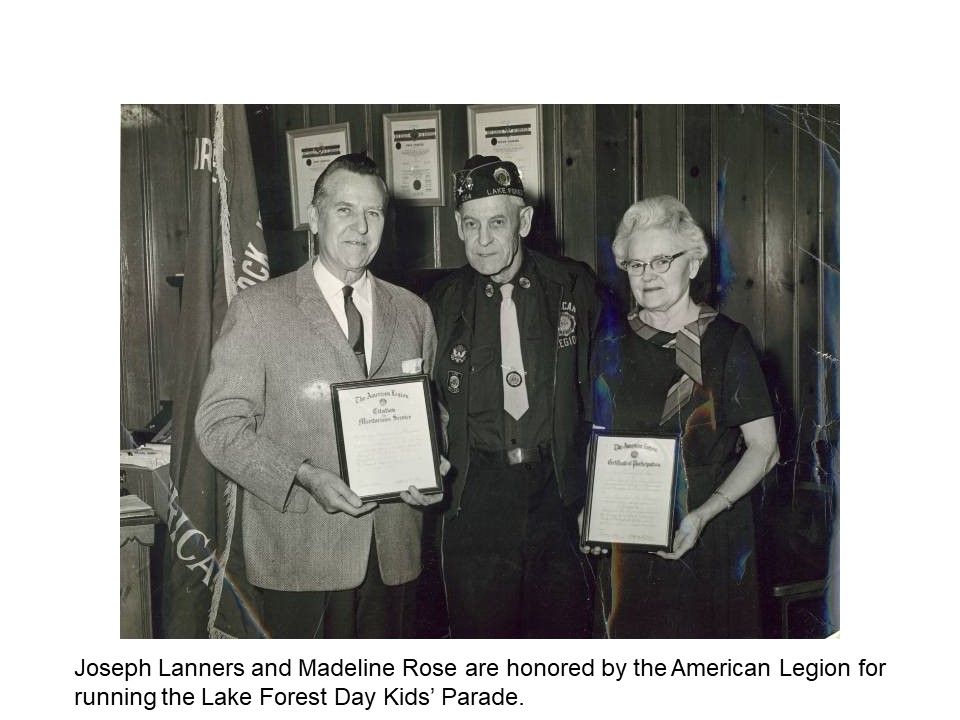 When Deerpath School opened in 1955, fourth grader Madeline Lanners became part of the school's first class. What with all the changes in the Lake Forest schools at the time, she was an old hat at getting used to new school buildings: by age 9 she had already attended Halsey, St. Mary, and Gorton, in addition to Deerpath. All of this accidental training in the ins and outs of how schools were run would come in handy later in life, as we will see.
It may have been sometime in high school when Madeline Lanners first encountered Michael Mobile, who grew up in Lake Bluff. Neither of them remembers the first time they met. What they do remember, however, is the first time they went out together: Michael was set up with one of Madeline's friends, and he wasn't too thrilled about it – apparently he sat in the front seat of the car and barely said a word. Needless to say, that relationship barely lasted one date, but the one he shortly begun thereafter with Madeline Lanners has lasted over 50 years. You can see pictures of them here at both junior and senior prom.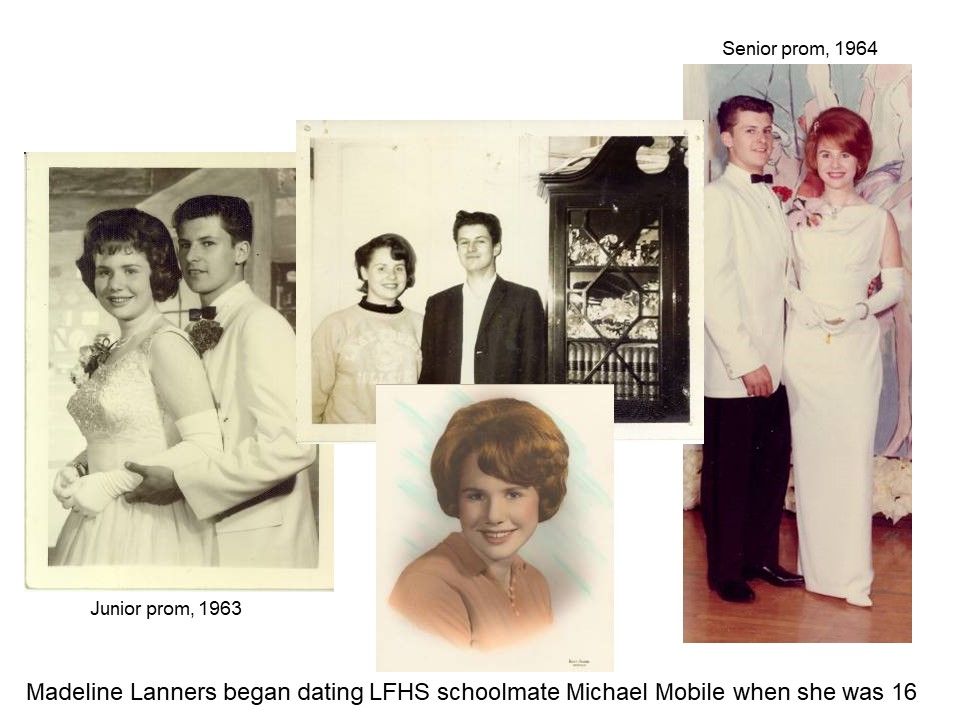 Madeline Lanners and Michael Mobile were married in 1968. Michael worked at a cabinet shop and then for nearly 25 years as the supervisor of the carpenter shop at the Chicago Botanic Gardens. The Mobiles and their children Joseph, Raymond, Daniel and Michael, lived just down the street from Madeline's parents on Washington Circle.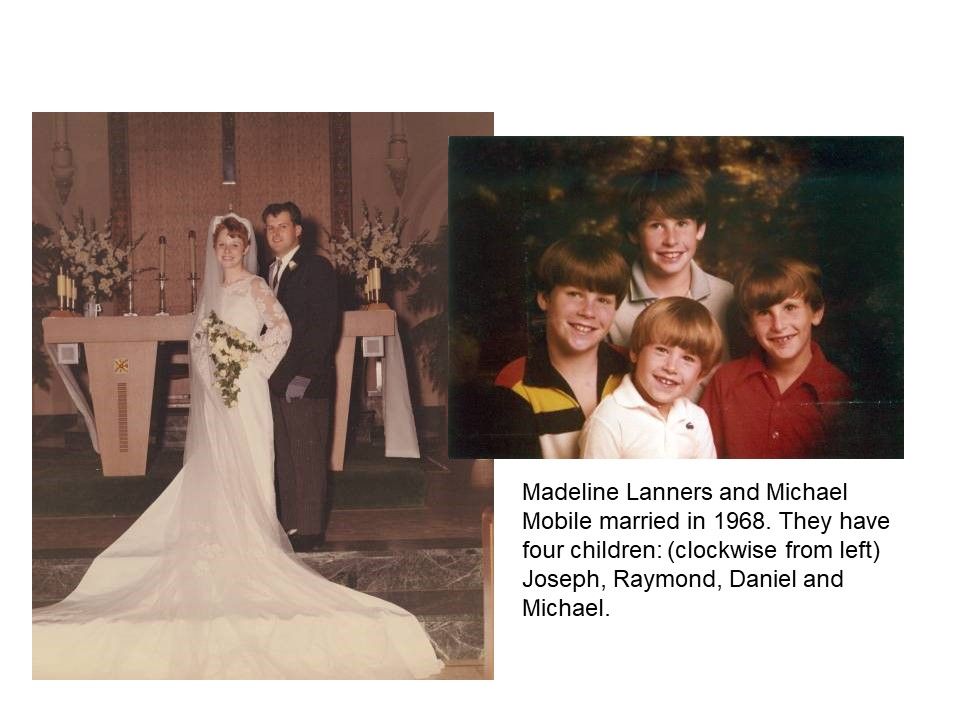 Considering the family traditions – and their four boys – it was natural for Madeline and Michael to become Boy Scout Leaders, a capacity in which they served proudly for 18 years.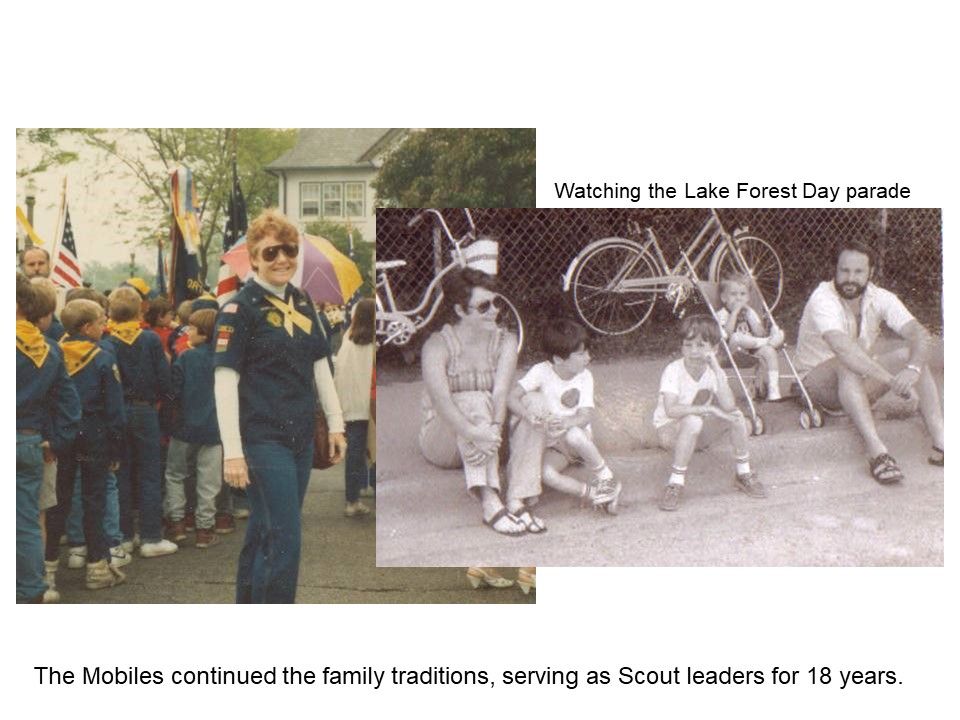 Although Madeline Mobile had her hands full at home with the kids, something kept drawing her to the office at Sheridan School – and it wasn't the boys getting sent to the principal. One day one of the school secretaries was having trouble finding a substitute for the front office, and her eyes settled on the house across the street, where the Mobiles lived. She picked up the phone and must have been pretty convincing, because Madeline agreed to the temporary post. Then, in 1980, the secretary was leaving her position, and she knew who she wanted to take her spot. The school superintendent agreed, and Madeline Mobile was hired.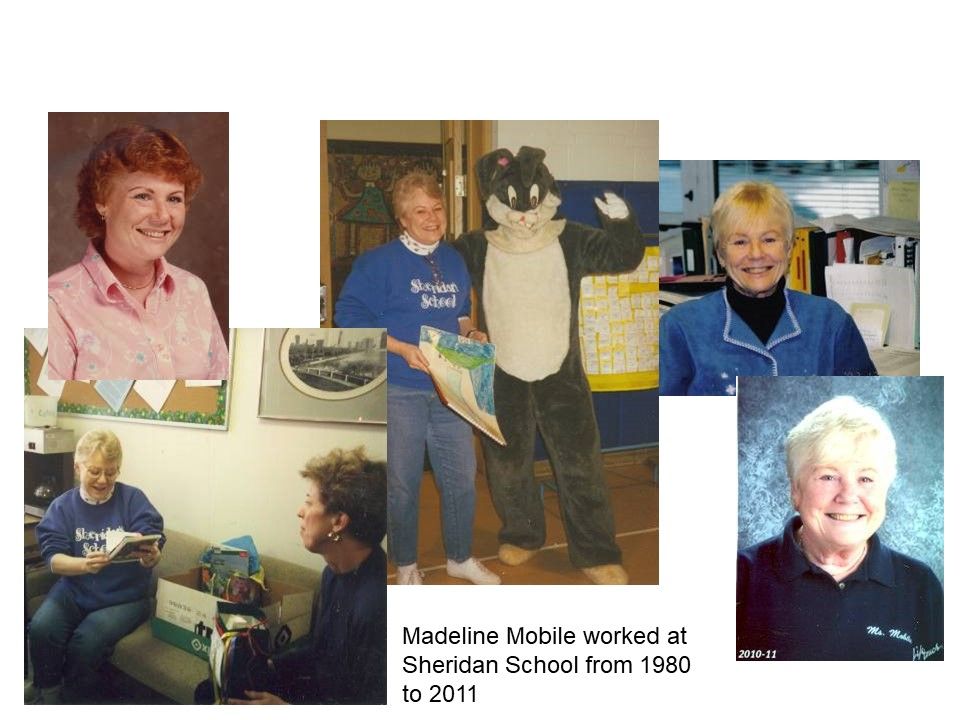 For years, she was the face of Sheridan School, one of the first people parents and children interacted with when they arrived, and because she was there over 30 years, the person they visited when they returned. Sheridan School became a family affair: her sons attended, her father Joseph worked as an aide in one of the first grade classrooms after his retirement, and her son Joe returned as an adult through his work at the Parks and Recreation Department. The photo you see is Joe dressed up to surprise her on her birthday, which the kids all got a kick out of.

During her last four years at the school, Madeline Mobile utilized both her many years of experience and her ability to adapt to changes (since when she started it was still shorthand and mimeographs!) to serve as the technology coordinator for District 67.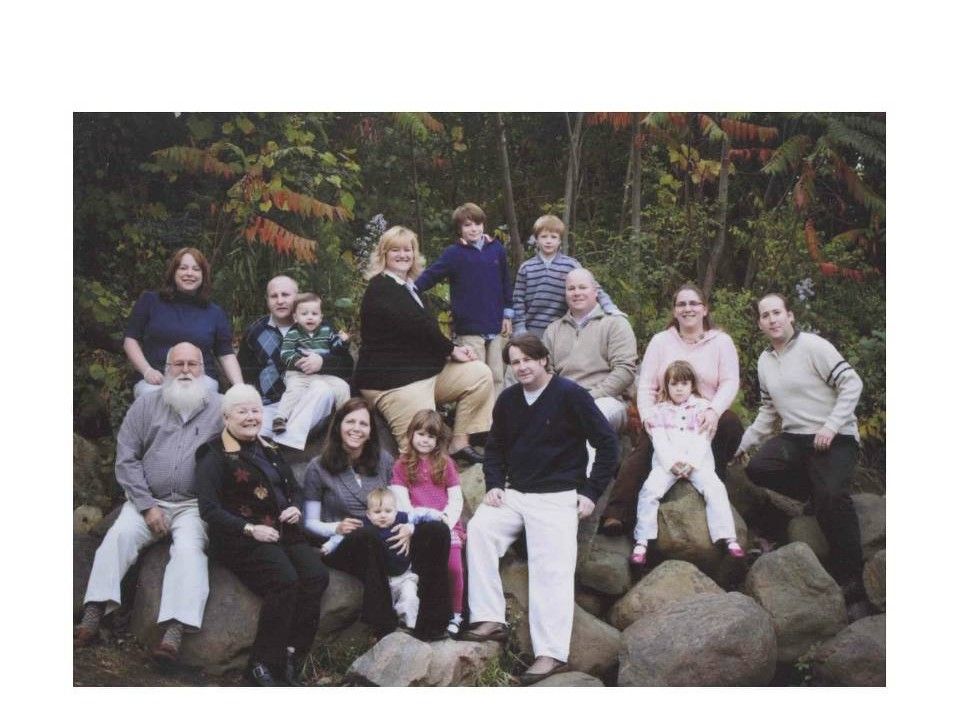 In June 2011, Madeline retired after 31 years at the public schools. In planning for retirement, she and Michael visited the Social Security office, and the agent there logically asked Michael, "Well, now, so when are you planning on retiring?" To Madeline's shock he said, "Oh, I guess June of 2011." It was the first she'd heard of it.

Since then, they've been enjoying spending time with their children and grandchildren, all of whom still live nearby the town that Madeline's Rose and Lanners grandparents adopted as their own over 100 years ago.