Kelley Family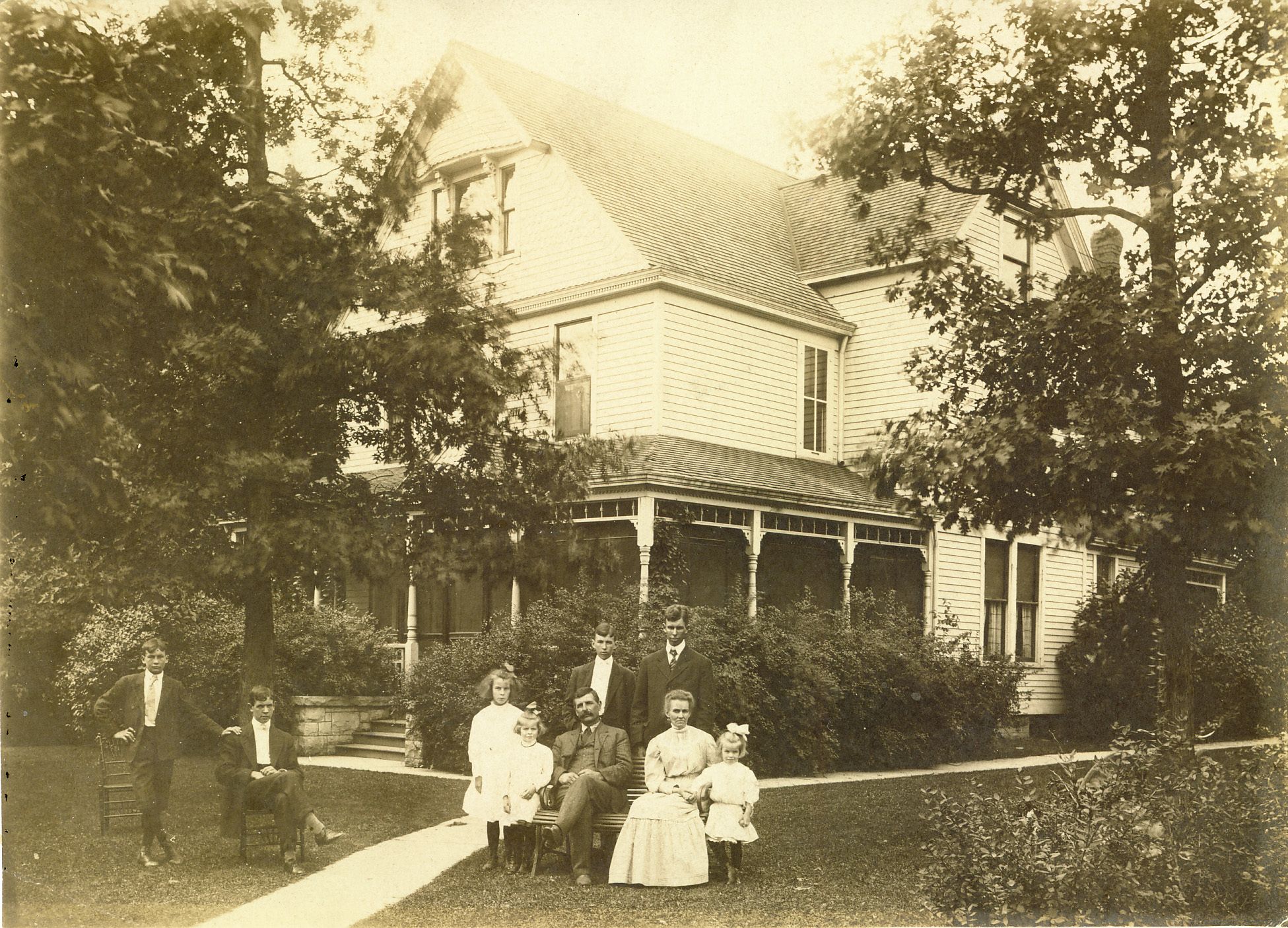 The Kelley family's presence in Lake Forest owes much to the livestock concerns of James Anderson and George Findlay. In 1878, they imported the first lot of Aberdeen angus cattle to the U.S. Accompanying the lot across the Atlantic was Alexander Kelley, a young man who had been orphaned at the age of 12 and previously earned his living as a shepherd.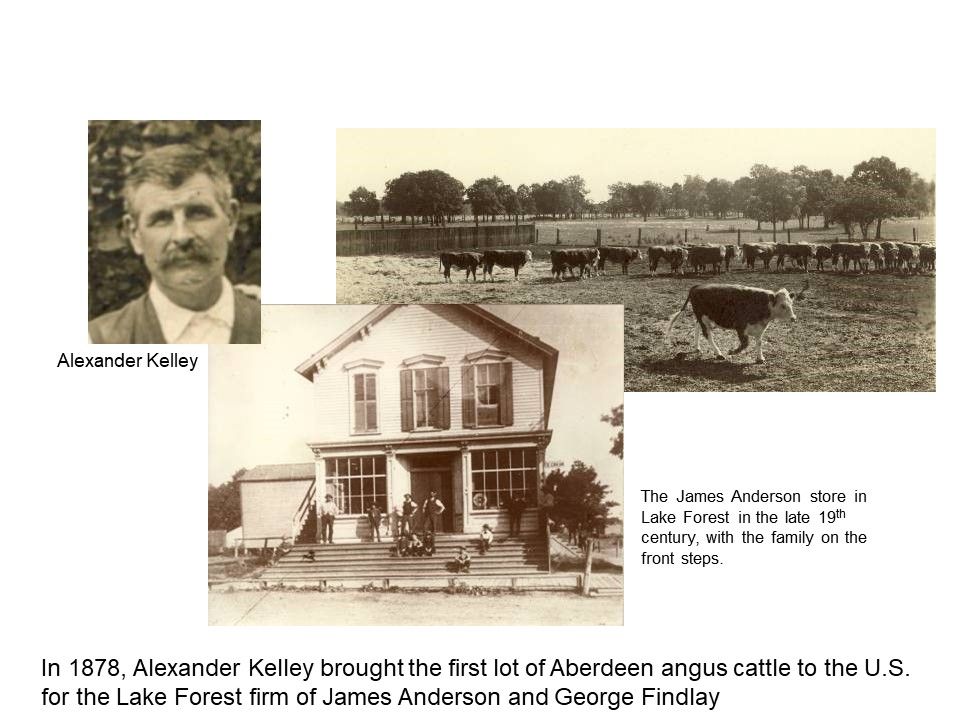 Soon after, he brought another imported shipment, this time for the Farwell brothers. Having been icebound with the cattle in the St. Lawrence River for several weeks, Alexander Kelley determined this lot would be his last, and in 1882 he settled permanently in Lake Forest.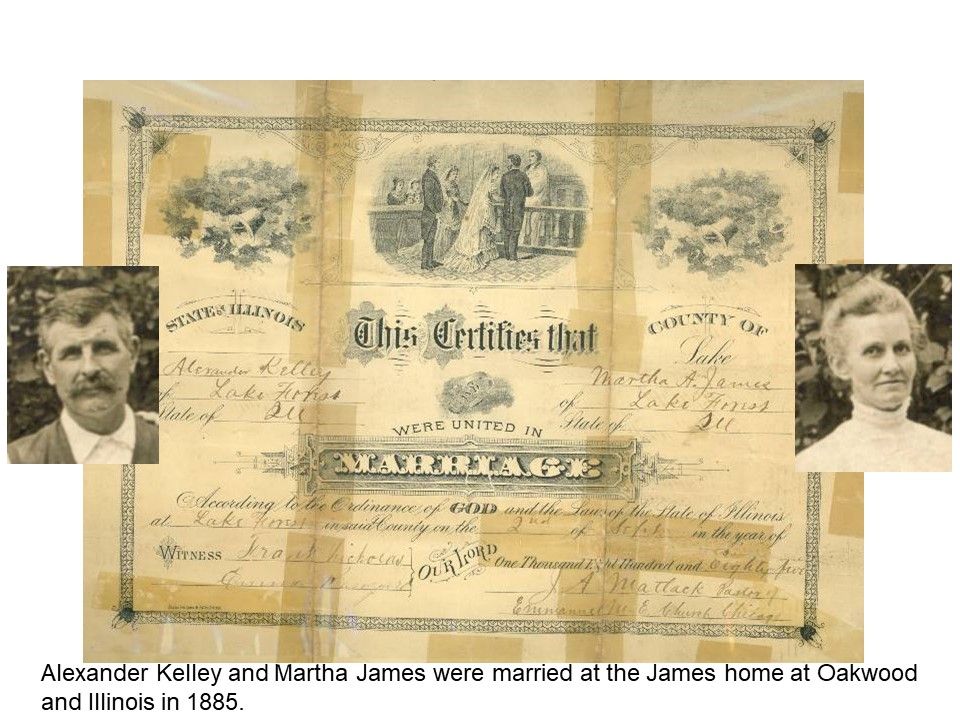 In 1885, Alexander married Martha James at the James home on the corner of Oakwood and Illinois Road. According to a local story, "they didn't take much time off from work in those days, so the groom went to work on the wedding day, came home at noon, changed clothes for the ceremony, and after the reception went back to work." In those days Alexander Kelley's work was the teaming business. Martha's younger brothers Dave and Elmer, who were in her care after their parents died, worked and lived with them.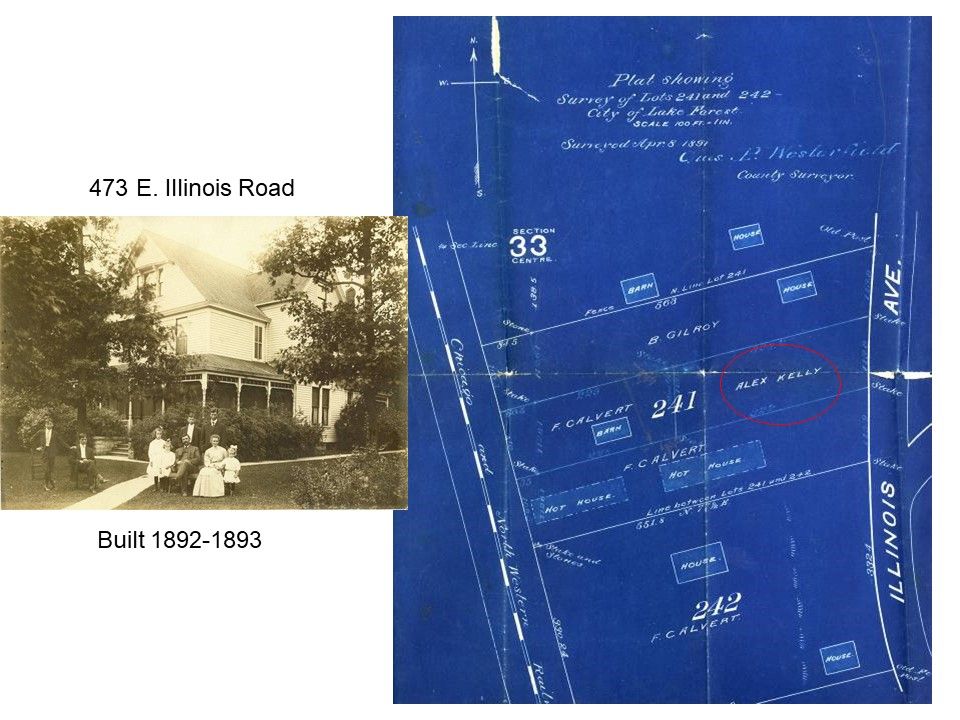 The young family moved a few times in Lake Forest as Alexander Kelley sought to establish himself in town. They were living at the future site of the Onwentsia Club in 1891 when he bought a tract of land on Illinois Road next to Calvert's Greenhouse. Their home, 473 E. Illinois, was completed in 1892; they would live there for the next 30 years, and own it for the next 60.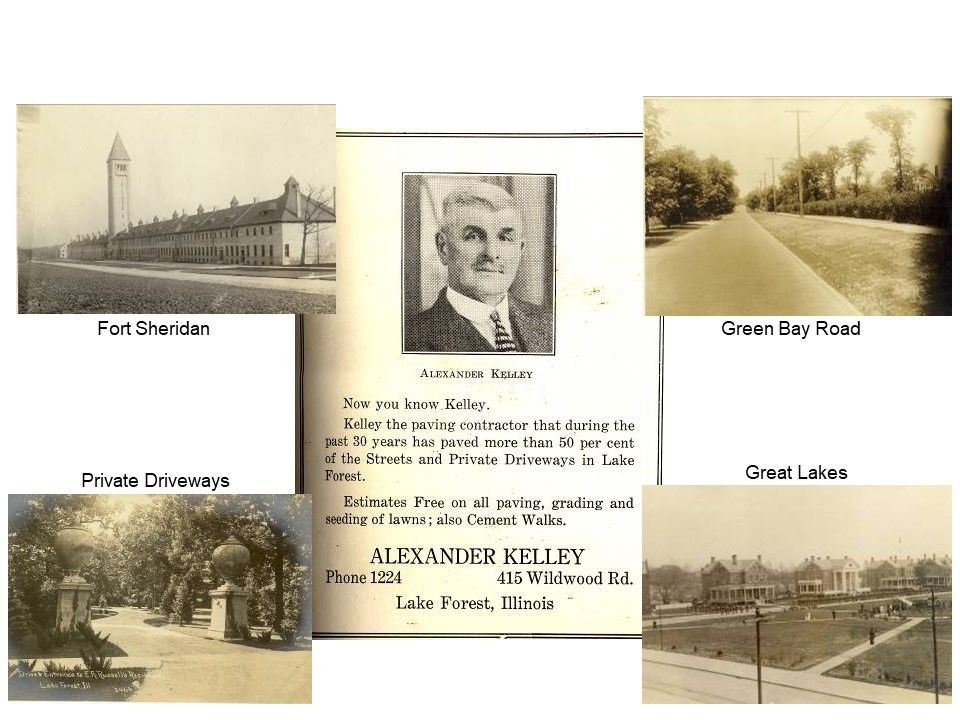 Alexander Kelley started a road contracting company in the 1890s at exactly the right time. Not only was Lake Forest set for a boom in population in the next two decades, but an army post and a naval base would be built at its borders, and the increased use of automobiles created a demand for smooth, paved streets. By 1923, an ad boasted that "Kelley the paving contractor" had paved over half of Lake Forest's streets and private driveways. This included Lake Road and the beach approach road, as well as the streets at Great Lakes and Fort Sheridan.

Green Bay Road south to Fort Sheridan apparently posed a particular challenge. Alexander's son Gordon recalled that it was a sea of seemingly bottomless mud that took the crew nearly a year to finish – every rain shower was a new setback.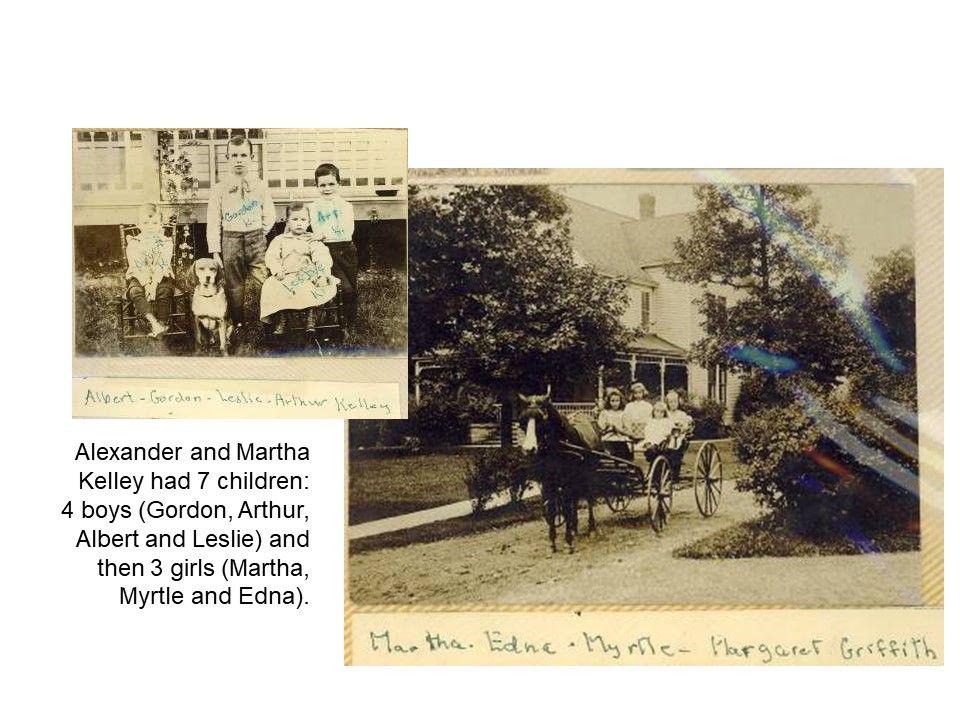 Gordon was the oldest of the Kelley children, of which there were seven: four boys (Gordon, Arthur, Albert and Leslie) and then three girls (Martha, Myrtle and Edna). The boys all grew up working on the roads with their father, and the girls would use the horse and buggy to take the men their lunches when they were working too far away to venture home, like at Fort Sheridan.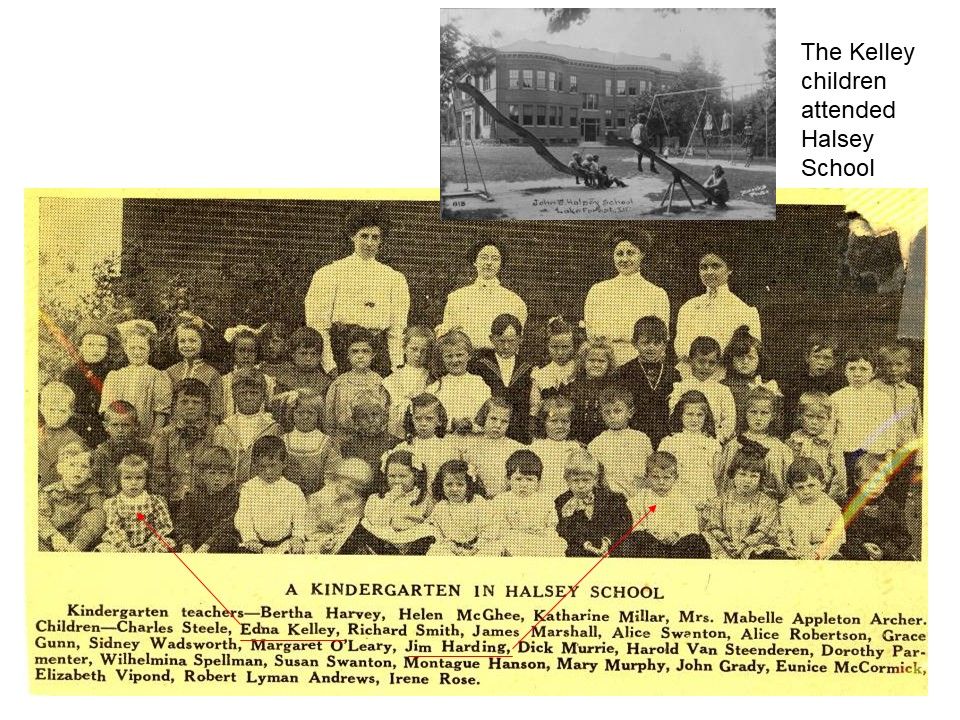 The Kelley children all attended Halsey school. The kindergarten class photo you see here is of interest for two reasons. First, you can see Edna Kelley as a student at an institution where she would teach herself, twenty years later. Second, one of the boys in Edna's class, Jim Harding, would in the future become her sister Myrtle's husband, a fact which doubtless would have surprised all three of them at the time.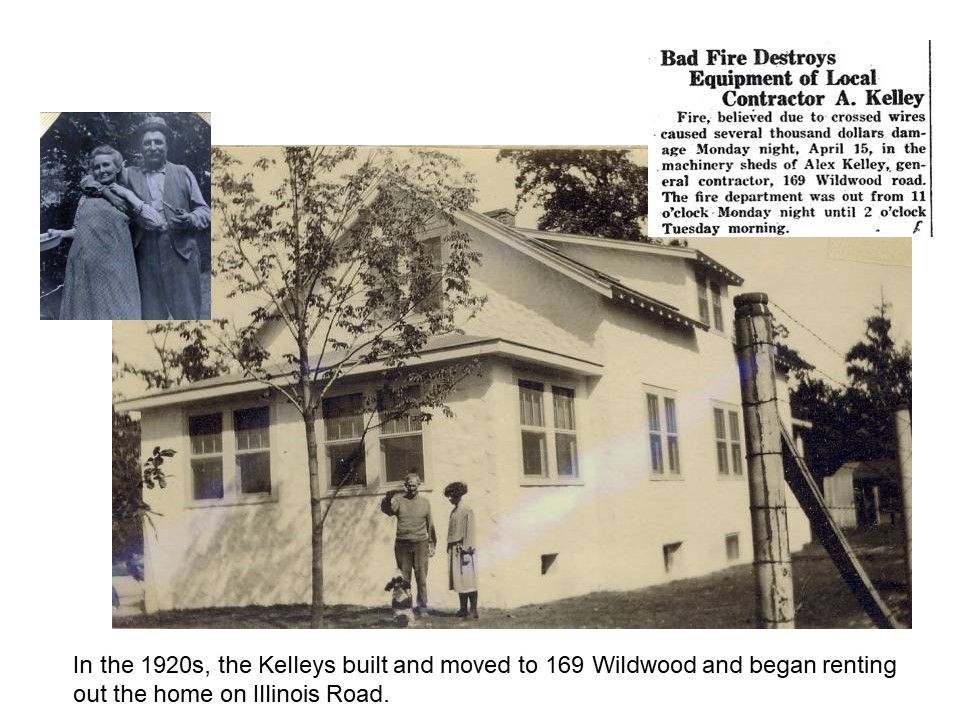 In the 1920s, the Kelleys began renting 473 E. Illinois and built a new home just down the street on Wildwood Road, on the same street as two of their sons. In 1929 they suffered a setback at this location, when crossed wires started a fire in the machinery sheds out back, destroying two steam rollers, three trucks and a tractor. Fortunately the fire department was able to protect the home and garage from flying sparks.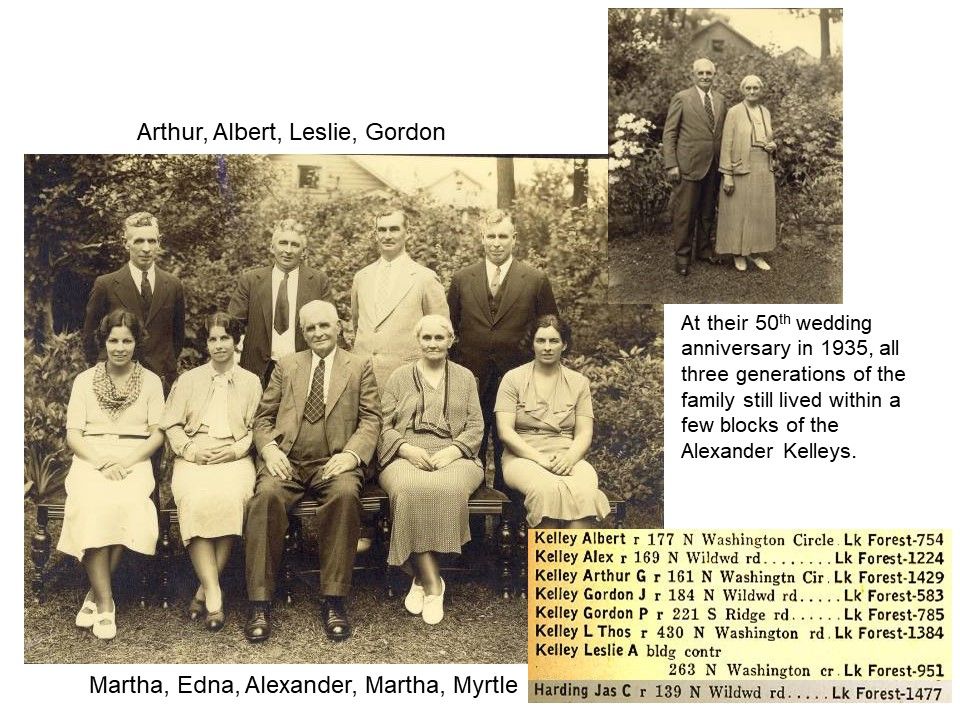 In 1935, Alexander and Martha Kelley celebrated their 50th wedding anniversary. An impressive feat in itself, the more remarkable fact was this: there had not been a single family death in all those fifty years, and all three generations still lived within a few blocks of each other, as the 1935 phone book attests.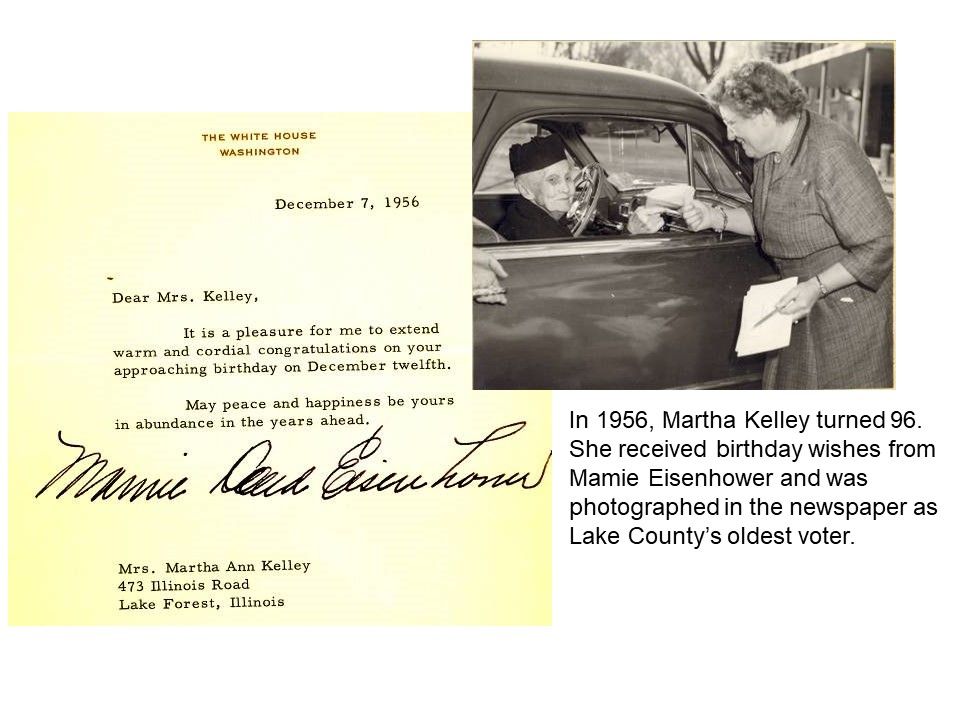 With the start of World War II, the supplies needed by the Kelley contracting company were not available, so the business was dissolved, and it was decided not to reactivate it after the war. Alexander Kelley passed away in 1948 at the age of 89; his wife Martha lived on until age 96. In the 1950s she was in effect the matriarch of Lake Forest. She was photographed for the newspaper in 1956 as the oldest voter in Lake County; perhaps she used that vote to support Dwight Eisenhower, whose wife wrote her a birthday greeting that December.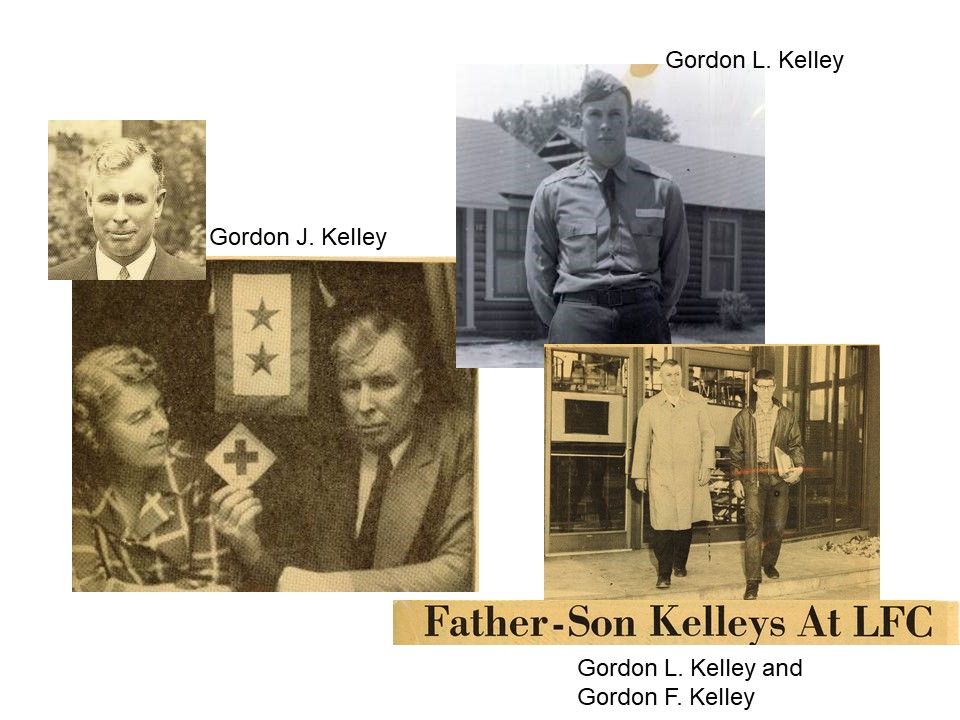 Now for a brief sketch of what happened to the seven Kelley children. Gordon married LeMoyne Stafford; he was the City Supervisor of Streets for Lake Forest in 1916 and had his own business installing metal curbing on private drives. Gordon's son Gordon L. Kelley was at Hickam Field at the time of the Pearl Harbor attack, and became a decorated fighter pilot in World War II. In 1966, Gordon L. and his son Gordon F. became the first father-son combination in the history of Lake Forest College, when Gordon L. returned for a few months to finish his degree that the war had interrupted.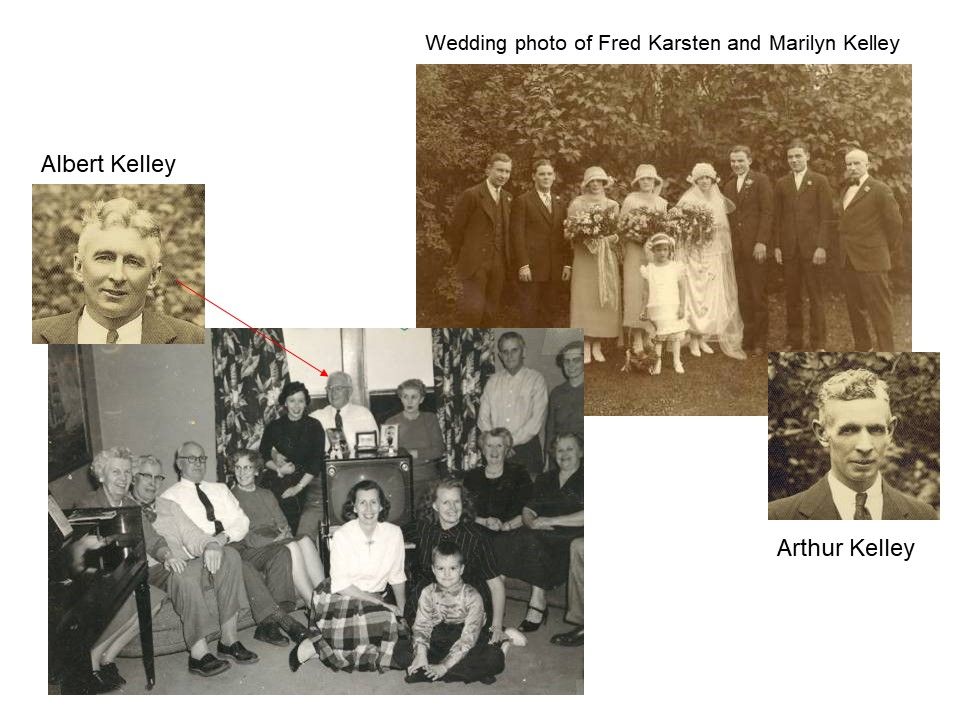 Arthur and Albert Kelley both worked for the Kelley Contracting company until its demise. Albert also served for a time as highway commissioner of Shields township. Arthur's grandson Doug Karsten is one of the few members of the family remaining in Lake Forest today.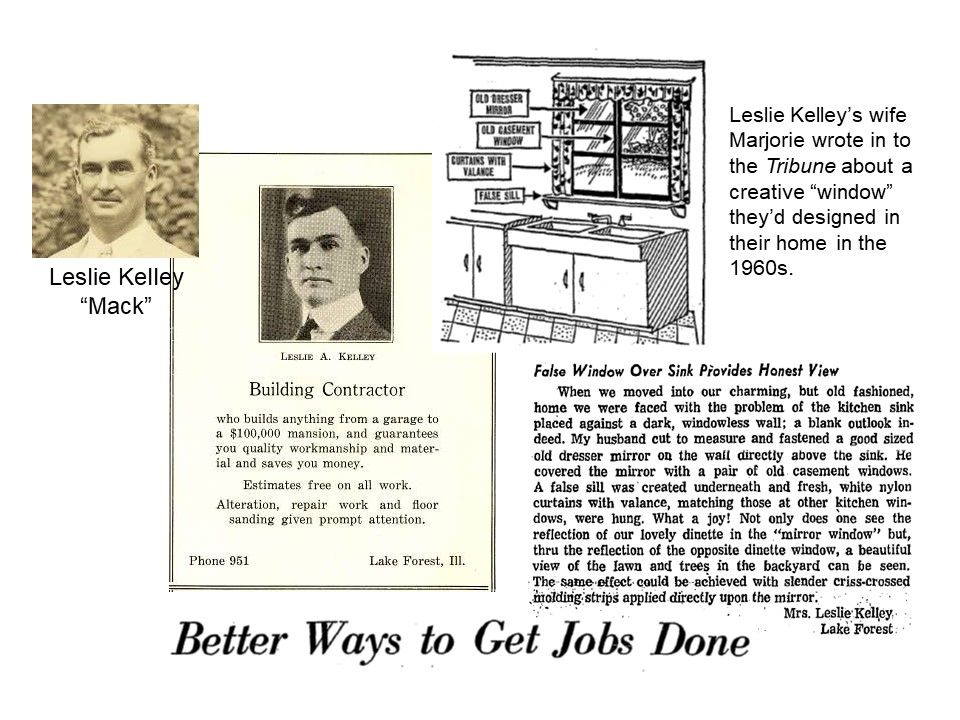 Leslie Kelley, always called "Mack" by his family and friends, worked as an apprentice carpenter, then started his own home contracting business. He served as an alderman from 1928 to 1936. He and his wife Marjorie were both creative, practical people, as you can see from the letter she wrote to a Tribune "do it yourself" column in 1966.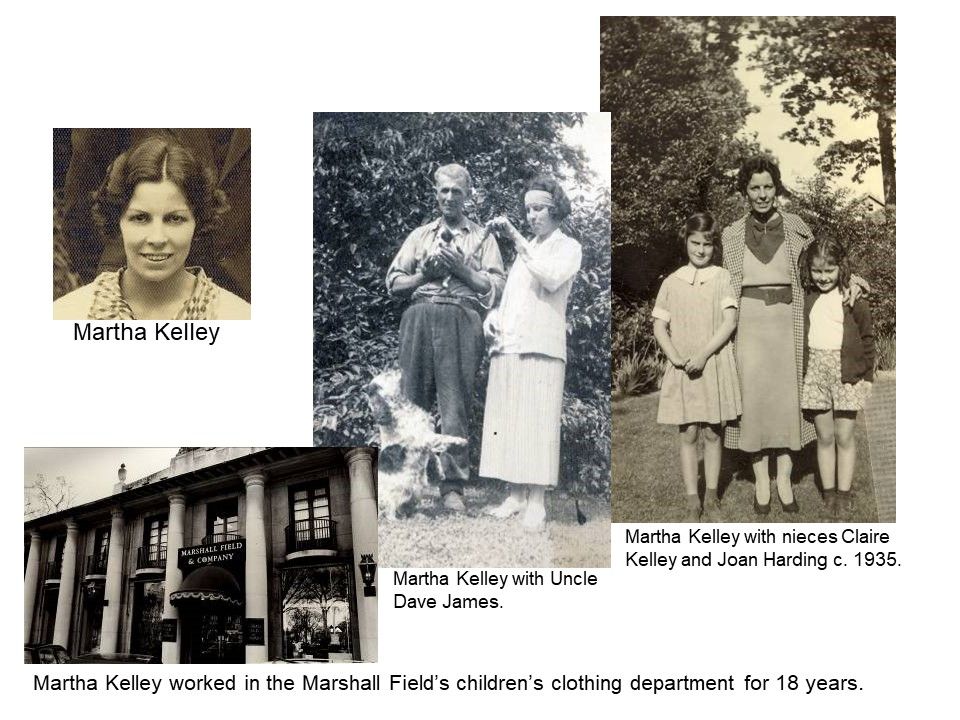 Martha Kelley, named for her mother, worked for 18 years at Marshall Field's as a saleswoman in the children's clothing department. Doubtless her nieces Claire and Joan received the benefit of her fashion expertise – and her discount!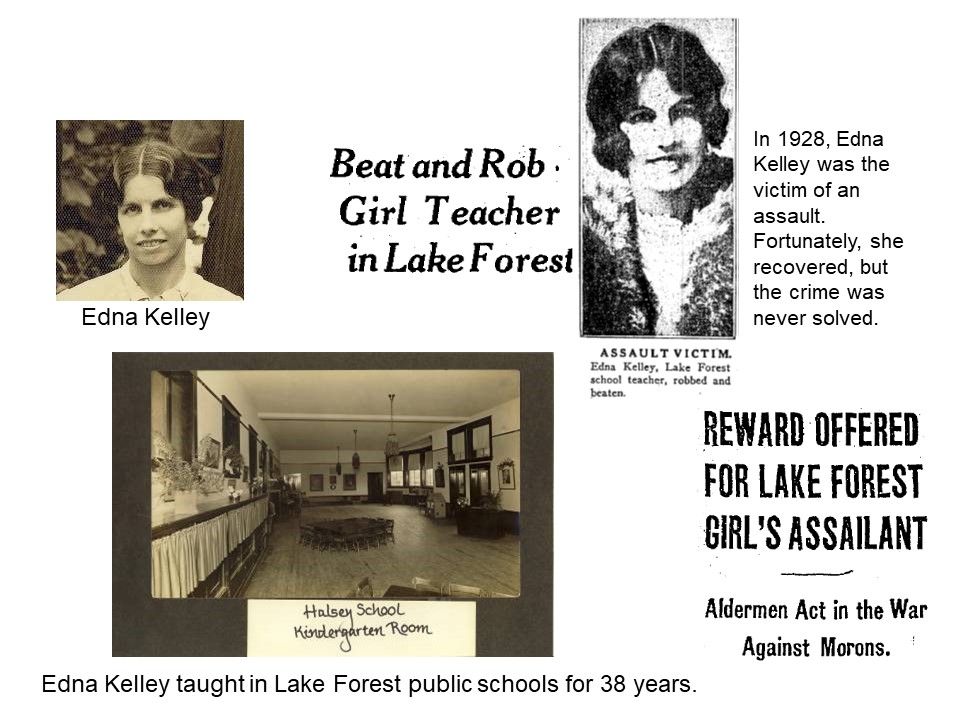 Edna Kelley taught in Lake Forest public schools for 38 years, retiring in 1963. She also worked as a director of recreation at South Park. In 1928, she underwent a frightening experience, from which she fortunately recovered: walking home along Illinois Road, she was attacked from behind with a blow to the head, robbed, and left unconscious. Her case was never solved.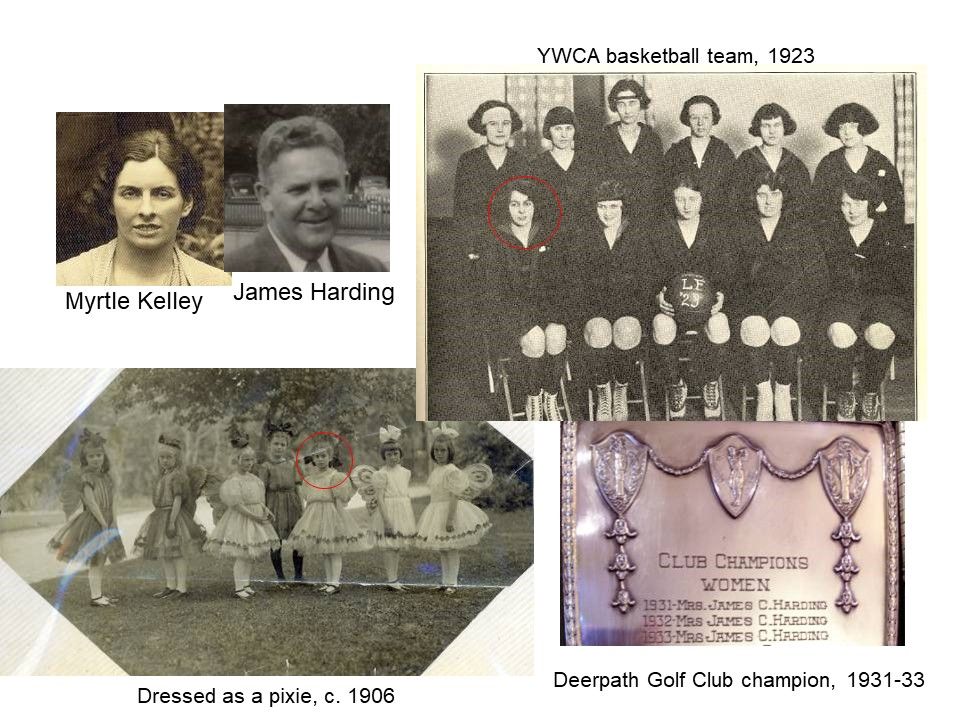 Myrtle Kelley was a talented athlete. She looks far more comfortable in her YWCA basketball uniform than in that pixie outfit you see in the photo below. She was also a very good golfer, and was especially known for her putting: when the Deerpath Golf Course instituted a woman's cup in the 1930s, she won it for the first three years in a row.

Myrtle married her sister Edna's kindergarten classmate James Harding, who worked for 42 years in the auditing department at First National Bank of Lake Forest.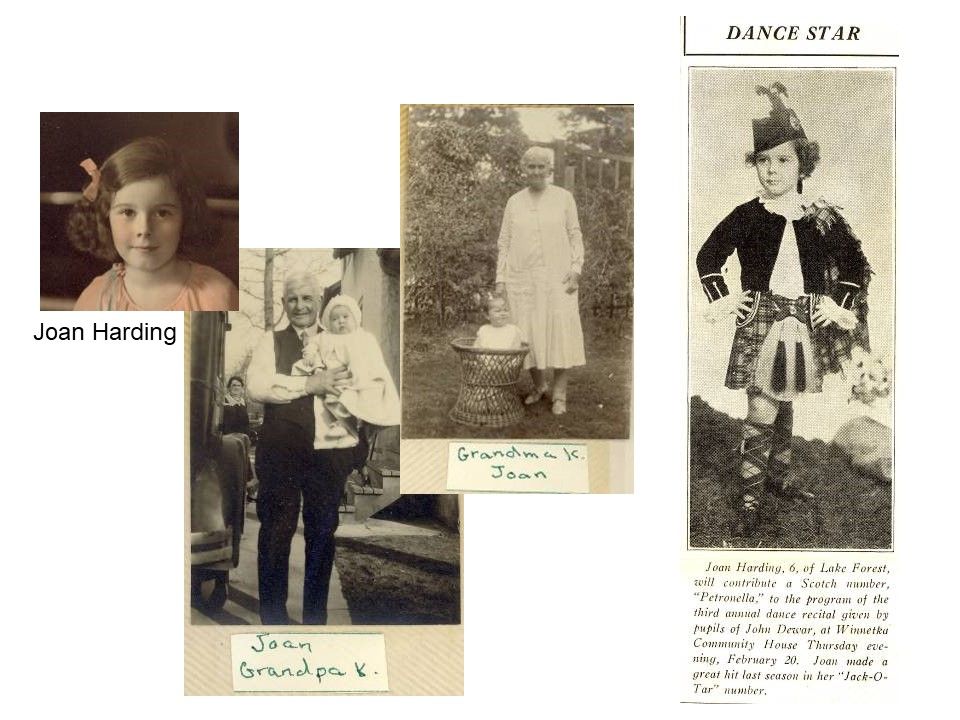 Myrtle and Jim's daughter Joan inherited her mother's athletic grace, and began dancing at the age of 5. Her costumes very much delighted her Scottish grandfather Alexander.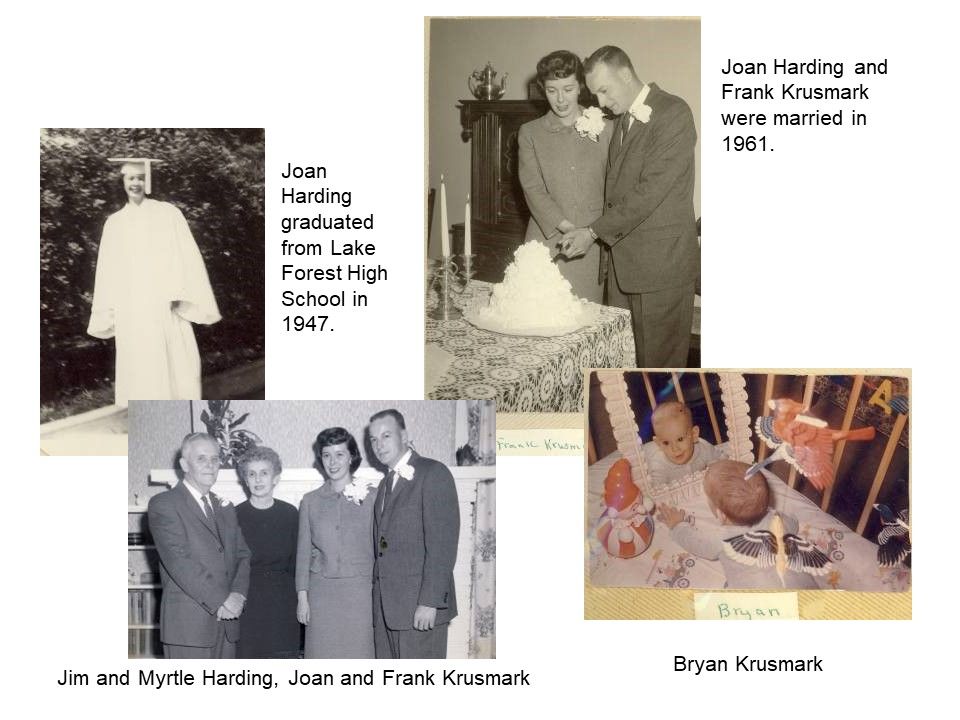 Joan graduated from Lake Forest High School, and met her husband Frank Krusmark, an electrician, when he was doing a remodel of the Lake Forest Sport Shop, where she worked. They were married from the Kelley house on Illinois road, possibly the last major family event to take place there before it was sold.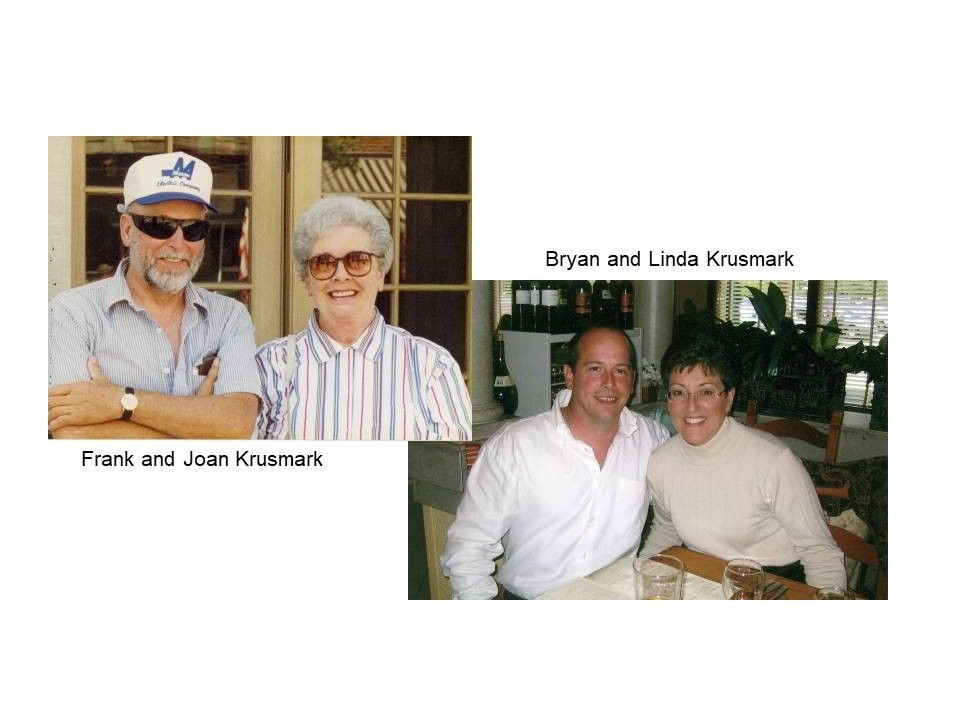 Joan and Frank's son Bryan Krusmark and his wife Linda moved back to Lake Forest into one of the homes built by the family on Wildwood, the street where his great-aunt Edna had lived until 1991.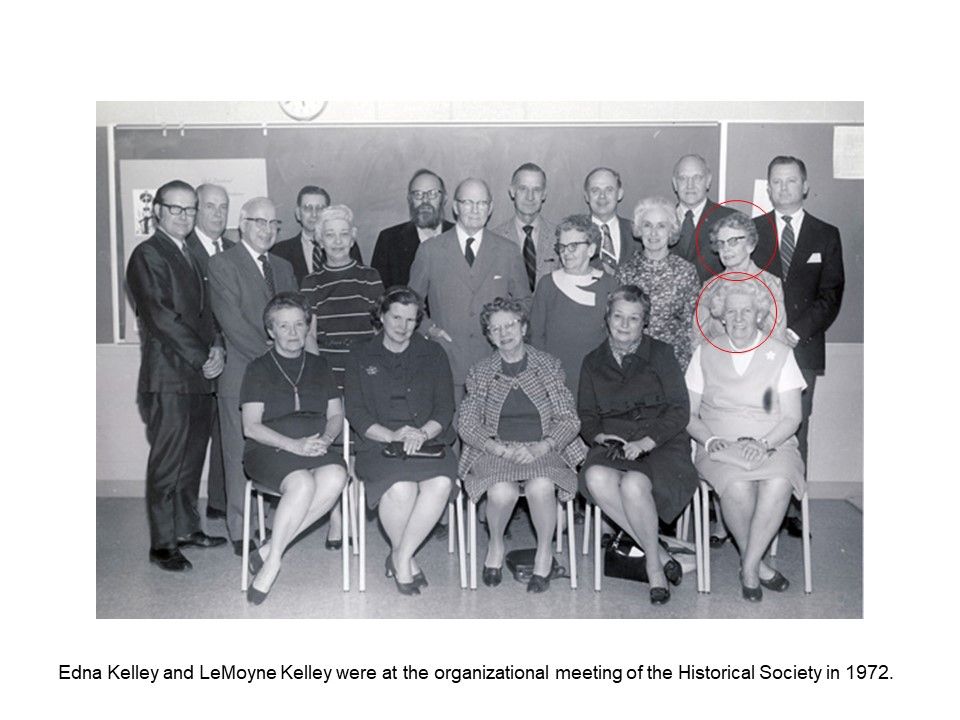 Two Kelleys, Edna and Gordon's wife LeMoyne, were among those who attended the very first organizational meeting of the Historical Society in 1972.